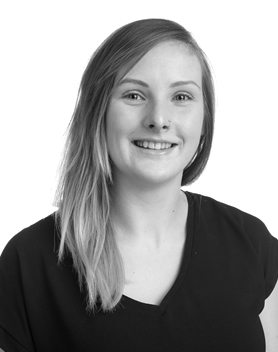 Abigail Cronin
Title: Research Assistant
Role: Researcher
Location: University College Cork
Email: abigail.cronin@ucc.ie
Phone: +353 (0)21 486 4331
Overview
Abi joined the Centre for Marine and Renewable Energy in February 2016 creating outreach materials such as posters, brochures and webpages for the ESA-funded CINMarS, and the H2020-funded Co-ReSyF; as well as researching Ecosystem-based Marine Management for the SIMCelt project. She is now involved in monthly reports, outreach materials, and communications for multiple projects.
Current Activities
Abi is currently working on:
The European Space Agency funded CINMarS project, developing a roadmap for clusters such as IMERC to drive and harness innovation in joint space-maritime opportunities.
The H2020-funded Co-ReSyF Initiative, building an online platform to enable non-EO experts and new coastal researchers to explore, and realise the potential of accessing the wealth of information contained in Earth Observation data.
SIMCelt is intended to support the implementation of the MSP Directive by member states within the Celtic Seas, and to contribute to supporting cross-border cooperation in relation to implentation of the MSP directive.
Abi contributes and leads on a number of technical and research reports which contribute to the above initiatives, whilst conducting various project coordination, science communications and outreach activities.
Background
Abi is a graduate of University College Cork, with a BA in English and Geography . In 2015, before joining MaREI, she completed the MSc in Applied Coastal and Marine Management in University College Cork.
Further information
Research Areas