Stakeholder Collaboration
Our researchers have considerable experience in stakeholder engagement at local, national and transboundary scales, working with NGOs, industry, government departments, local authorities, policy makers and community groups through their research projects and engagement work. The Governance and Public Engagement teams within MaREI are at the forefront of facilitating active participation, engagement and stakeholder dialogue for mutual benefit, and are focused on communicating science to enable informed decision making. We engage with a diverse range of stakeholders and utilise a variety of engagement methodologies and communication tools, continuously evolving our approach to enable greater participation of diverse actors.
The Climate Ireland team at MaREI played key role in the development of Sectoral Planning Guidelines for Climate Change Adaptation and are leading on engagement and capacity building with local authorities on climate adaptation planning measures, supporting the development and implementation of Regional Adaptation Plans by Local Authorities.
Engaged Research - Dingle Peninsula 2030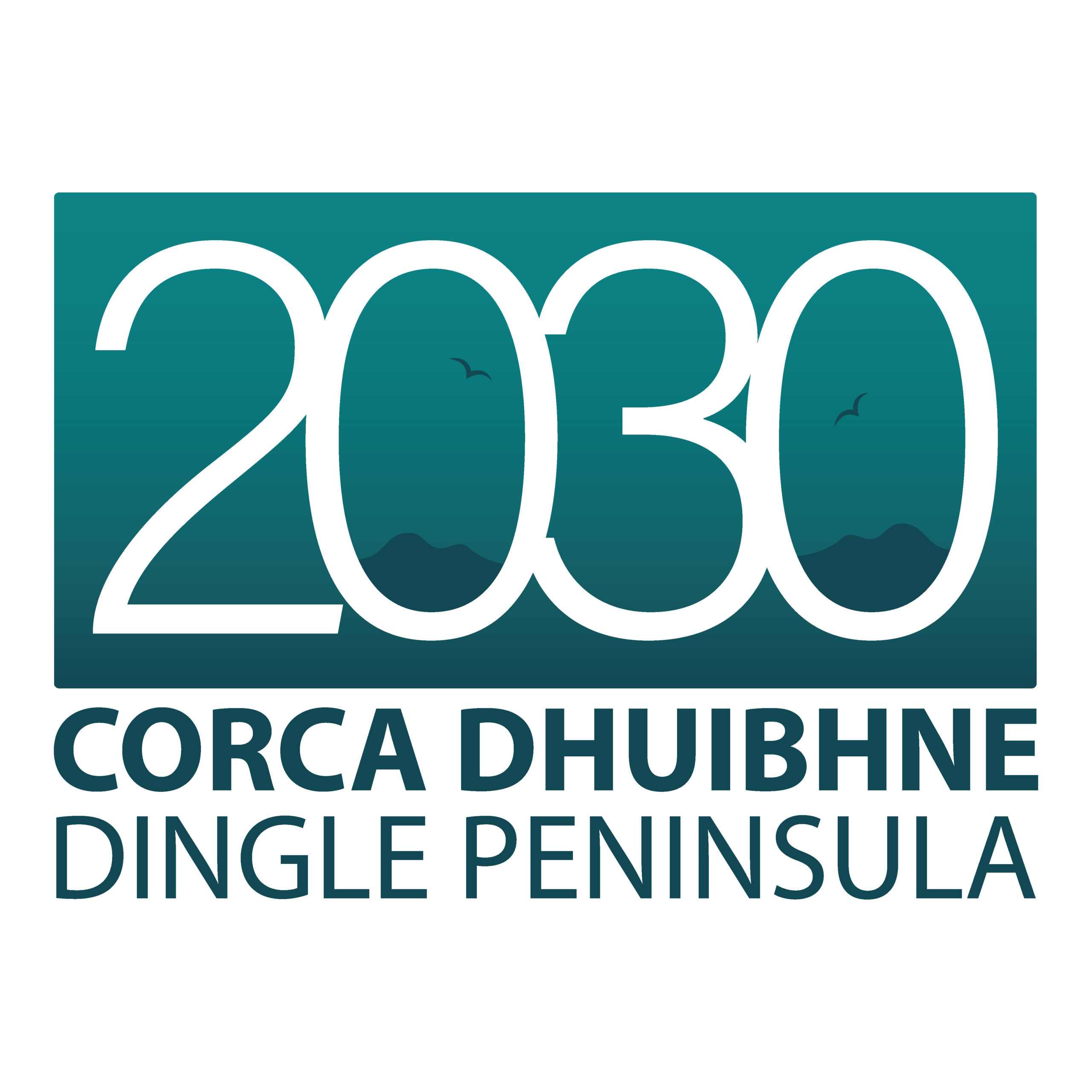 About
Established in 2018, Dingle Peninsula 2030 is an exciting and innovative multi-partner initiative on the Dingle Peninsula, Co. Kerry, involving the Dingle Creativity and Innovation Hub, ESB Networks, North East and West Kerry Development (NEWKD) and MaREI. The premise is based on the Quadruple Helix Model involving science, policy, industry and society. Partners are actively collaborating with the local community, schools, business, transport and farming sectors to enable the broader societal changes required for the sustainable transition.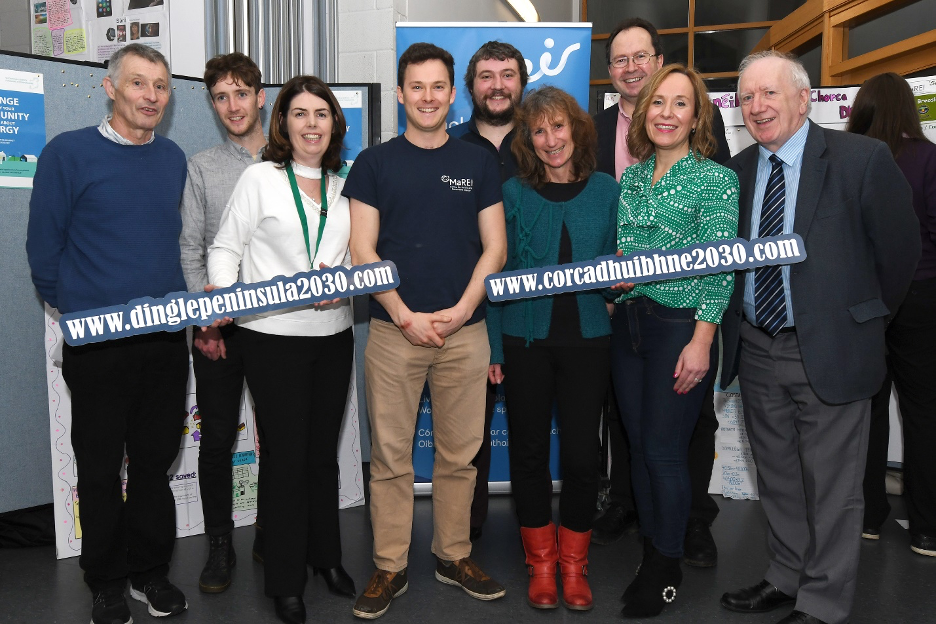 Team members, from left to right; Seamus O'Hara (NEWKD), Evan Boyle (MaREI), Deirdre de Bhailís (Dingle Hub), Connor McGookin, Niall O'Leary, Clare Watson & Brian Ó Gallachóir (MaREI), Claire McElligott (ESB Networks), Brendan Tuohy (Dingle Hub)
Over the past two years, this work has included:
Establishing the Dingle Sustainable Energy Community

Developing the Dingle Peninsula Energy Master Plan

T

rials

with

5 Ambassadors and

local participants involving PV panel, battery

management

system, heat pump, and electric car technologies

(beginning in Sept 2020)

,

run by ESB Networks

as part of

The Dingle Project

Developing an education and outreach programme and website

Piloting a 'Climate Hack' in local secondary schools, to encourage students to make informed decisions about the future energy system
Completing a feasibility study for an anaerobic digester

Initiating a pilot Farm Ambassador Programme, to increase agricultural sustainability and pr

oductivity

Training ten local energy mentors to support people in retrofittin

g and efficient use of energy

Supporting the emergence of a community energy co-operative

Delivering community meetings on the Peninsula, to develop a plan for a sustainable future
Development of a sustainable transport initiative

Mutual learning with other groups in the area, including Transition Kerry, and SEAI Community Mentors
Through engaged research with its Dingle Peninsula 2030 partners, MaREI is tracking, analysing, and documenting experiential learnings.
Engagement and Outreach
Launch of Dingle Peninsula 2030
The official launch of Dingle Peninsula 2030 was held on February 13th 2019, and attracted over 200 local people. It included the following:
The launch of the Energy Master Plan, developed by MaREI
The launch of the 'Activating the Energy Citizen on the Dingle Peninsula' outreach programme
An introduction to the Community Energy Mentors
Opening of applications for the ESB Networks Electric Vehicle Trial
Poster presentations by students from Meanscoil Nua an Leith-Triuigh, Coláiste Íde & Pobalscoil Chorca Dhuibhne that were developed as part of the 'Climate Hack' run during Science Week 2019.
An LED bulb swap
Information from local organisations such as DPTA Sustainable Tourism tips and Bus Eireann Transport options
Evidence-based planning with communities from Corca Dhuibhne
Throughout November 2019 and February 2020, Connor McGookin, Seamus O'Hara and Dr Breandán Ó Caoimh ran a series of community meetings in the parishes across the Dingle Peninsula. The purpose of these meetings was to explore the social, economic and environmental challenges facing each of the parishes within the area in order to develop a plan for a sustainable future. Please see HERE for further information
November 2019
February 2020
Parish
Date
Parish
Date
Lispole
Nov 12th
Annascaul
Jan 30th
Camp
Nov 13th
Castlegregory
Feb 3rd
Ballyferriter
Nov 14th
Camp
Feb 5th
Castlegregory
Nov 18th
Cloghane
Feb 6th
Annascaul
Nov 19th
Ballyferriter
Feb 17th
Dingle
Nov 26th
Lispole
Feb 18th
Keel
Nov 27th
Dingle
Feb 19th
Cloghane
Nov 28th
Climate Hack
During SFI Science Week (November 10 -17th) 2019, Connor McGookin and Deirdre de Bhailís, ran a 'Climate Hack' in the three secondary schools across the Dingle peninsula. These two-hour sessions involved initially providing the students with some fact sheets on the key challenges facing the area before asking them to develop their own ideas and solutions.
Blindboy Podcast
Prof Jerry Murphy and Clare Watson spoke with Blindboy about the wicked problem of climate change and what we can do to tackle it, with a focus on anaerobic digestion and the importance of community engagement. The interview was released on 6th November 2019, prior to SFI Science Week
You can listen to the podcast HERE
Roundtable with Taoiseach, Leo Varadkar
On 11th November 2019, as part of Science Week, Clare Watson spoke about Dingle Peninsula 2030, and the need to support community engagement at a meeting hosted by the Taoiseach, in collaboration with SFI. Clare attended alongside MaREI's Prof. Brian Ó Gallachóir and Dr. Barry O'Dwyer, and six other climate related scientists.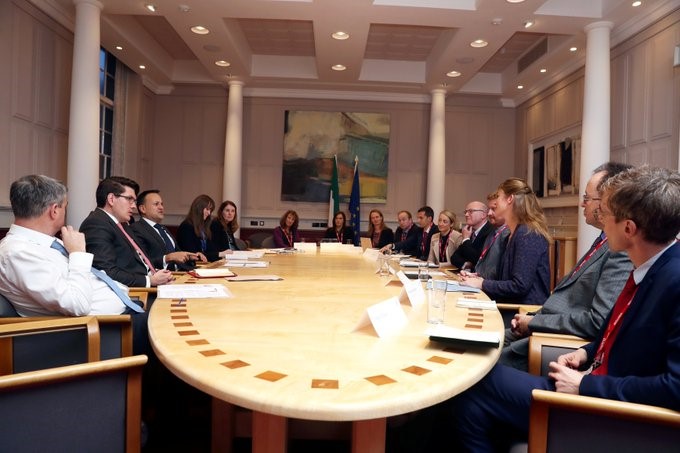 Farmer's Forum 2019
A second Farmer's Forum was held during the Dingle Food Festival on Friday, 4th Oct 2019, entitled 'Farming – the Key to a Sustainable Future', focusing primarily on bio-digestion. The event also included technology demonstrations.
Speakers were:
Deirdre de Bhailís, Dingle Hub
Xavier Dubuisson, Lead consultant on Anaerobic Digestion Feasibility Study
Áine Macken-Walsh, Senior Research Officer at Teagasc
Kieran Coffey – inventor of micro scale digester for the treatment of home food waste
Panelists included:
Denis Galvin, Lispole ESB Networks Ambassador and IoT Farm Ambassador
Noel Malone, Gortadoo StoreNet battery project participant
Richard O'Shea, MaREI Researcher focusing on the use of by-products from the food and drink industry to produce renewable gas.
Presentations to the SFI EPE Meeting
Deirdre de Bhailís, Claire McElligott, Clare Watson and Evan Boyle presented the work of Dingle Peninsula 2030 to the Education & Public Engagement reps from the 17 SFI-funded Centres in the ERI on 2nd October 2019.
LED bulb swap
The first 'LED bulb swap' event was held in April 2019. The overall aim was to begin a discussion on home energy use, by demonstrating how something as simple as changing to LED bulbs can have a significant impact on the amount of electricity used – even small things do add up.
Farmer's Forum 2018
A Farmer's Forum was held during the Dingle Food Festival on Friday, 5th Oct 2018, entitled 'Farming and Energy – A Time of Transition?'. The event focused on the biogas opportunity, and sustainable energy on farms, and included an information fair with key stakeholders and companies involved in the sustainable energy sector
The speakers were:
Deirdre de Bhailís, Dingle Hub
Ian O'Flynn, Gas Networks Ireland
Shane McDonagh, MaREI
Xavier Dubuisson, XD Consulting & SEAI SEC mentor
Barry Caslin, Teagasc
Thomas O'Connor, Manna Organic Farm and Store
Participatory Mapping
In 2018, Evan Boyle brought a number of organisations in the community together for a mapping workshop. This exercise sought to map out the different goals of the organisations underneath the shared vision of Dingle Peninsula 2030, and to assist in future goal planning. Alongside this, the wider organisational support network and the support types in place to achieve these goals were highlighted. Representatives from the following organisations attended:
Mol Téic
NEWKD
Transition Kerry
Údarás Na Gaeltachta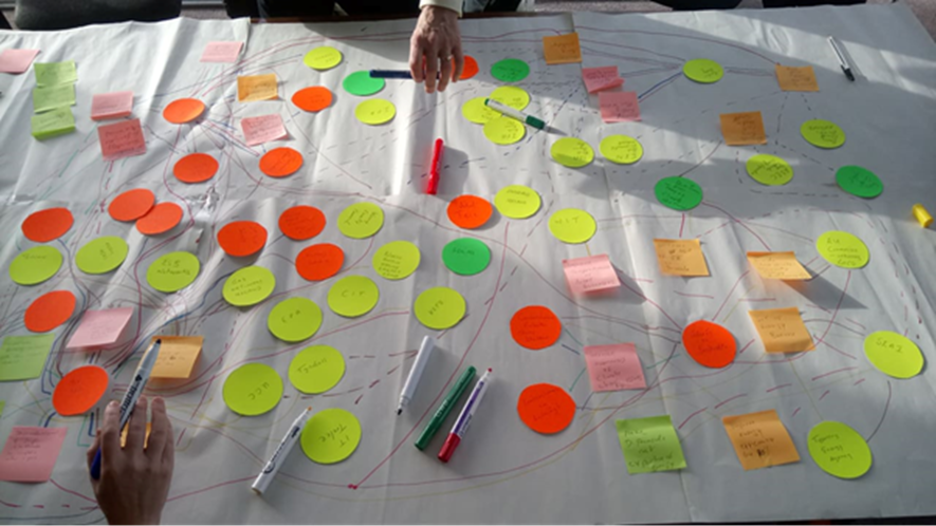 Meeting on Anaerobic Digestion
A meeting was held in the Skellig Hotel in Dingle on 1st August 2018, with six local farmers and other key stakeholders to discuss the potential for an anaerobic digester on the Dingle Peninsula. Prof Jerry Murphy, MaREI gave an opening presentation, which was followed by a group discussion.
Seminar on Dingle Transition Project
Prof. Brian Ó Gallachóir gave a presentation on the work of MaREI at a seminar with key local and national stakeholders, organized by Brendan Tuohy, and held in the Skellig Hotel, Dingle on 4th December 2017. Also in attendance were MaREI's Gillian Bruton, Aoife Deane, Clare Watson, Connor McGookin and Evan Boyle.
One Green Village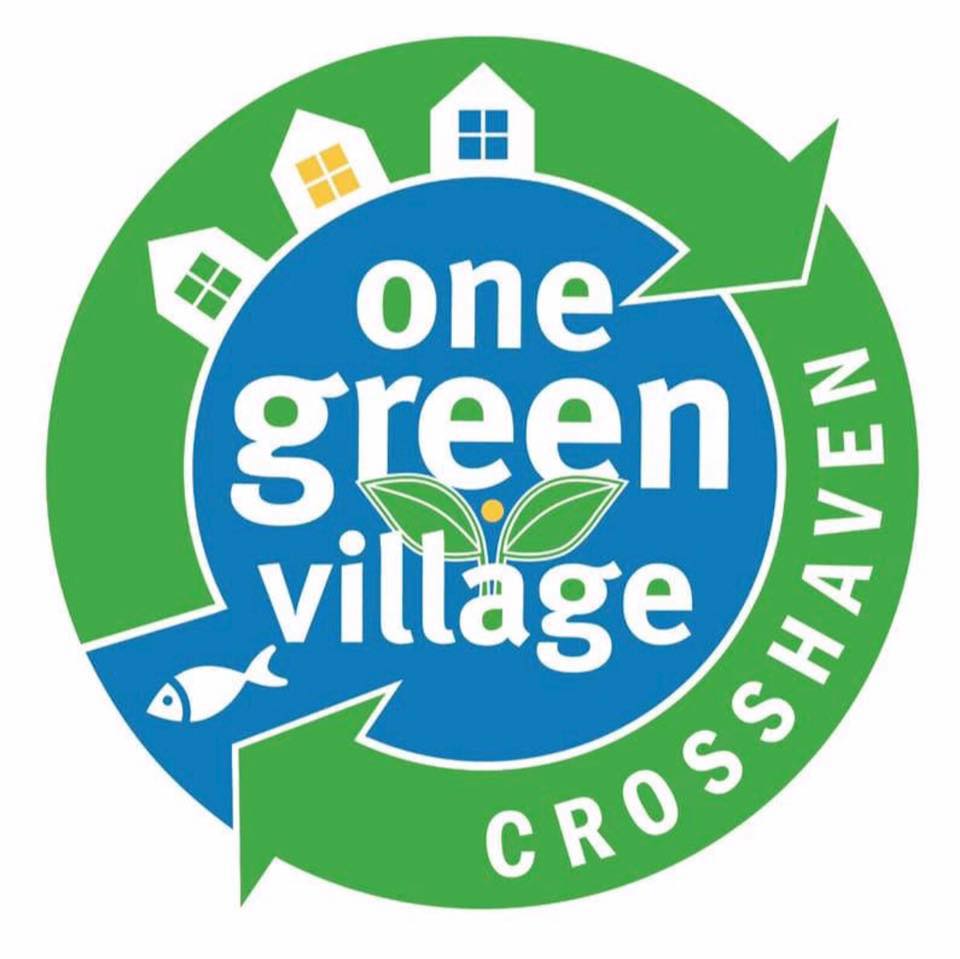 One Green Village is a community led initiative to empower residents and businesses to live more sustainably. Originating in Crosshaven, Co. Cork, the concept can be adopted by any community who want to tackle environmental challenges like climate change, energy transition, biodiversity loss and waste. Through facilitated group discussions community representatives have started to co-create a vision for a more environmentally friendly and sustainable community. With the support of MaREI, the community group have successfully attained a local government grant to run a number of capacity building workshops, the piloting of a reusable cup scheme in local businesses, a waste reduction initiative in local schools, and support for community events to be run more sustainably. Keep an eye on the One Green Village Facebook page for updates on the initiative.