Entrepreneurship and Innovation Events
"We believe that opportunities are created through the interaction of people. People from different backgrounds, with different skillsets and with different outlooks."
Creating events that bring people together is an important part of our strategy. These events are designed around specific objectives and foster an atmosphere of collaboration, openness, and support to generate new opportunities for all.
Our events cater for the broad range of stakeholders that exist in Energy, Climate and the Blue Economy including; Industry Partners, Academics, Researchers, Students, Sectoral Support Organisations and Start Ups.
Some examples of recent events include:
A Day of Innovative Thinking, Collaboration and New Ideas
In December 2018, we organised an event in the UCC Beaufort Building, Ringaskiddy which brought together Academics/ Researchers, Industry Partners and Start Ups to explore opportunities
The event was facilitated by Marc Sedam, Managing Director of UNH Innovation at the University of New Hampshire
Over sixty people enjoyed an engaging and stimulating day which identified opportunities for Innovation, Collaboration and New Thinking
Short video here.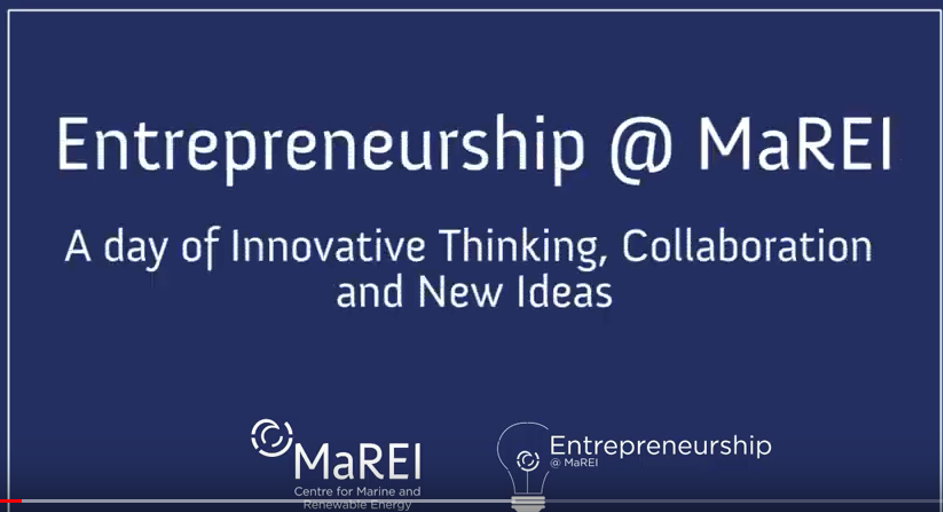 Our Navy - Our Solution
In February 2019, Entrepreneurship @ MaREI was commissioned to design an event to support Innovation in the Irish Naval Service
Attended by 50 people from across all ranks in the Navy, MaREI UCC, the Halpin Centre, National Maritime College (NMCI), Nimbus Centre CIT and CIT; the event was opened by Flag Officer Commanding of the Naval Service(FOCNS) Commodore Mick Malone and was run along Design Thinking principles.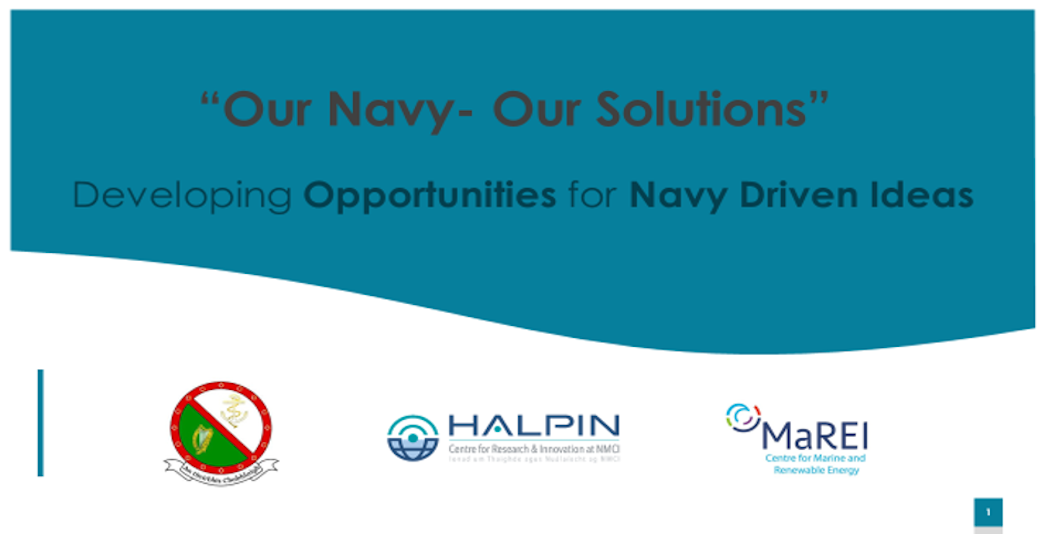 Collaboration Opportunities for a Thriving Maritime Economy
In May 2019, an event took place in UCC Centre for Executive Education to bring stakeholders together to discuss opportunities in the Marine
Over 100 people registered for this very successful event which included three parallel track discussion topics;
An International Shipping Services Centre for Cork & Ireland
Start Up Forum with emphasis on the Space – Maritime Opportunities and Technology Opportunities in the Marine. Presentations from Enterprise Ireland, InterTrade Ireland, ESA Space Solutions Ireland, Head of the Blackrock Castle Observatory & other support agencies and projects. Presentations from Irish Technology Start Ups with interests in the Marine – Verifish, TechWorks Marine, EireComposites, NetFeasa, ARQ Asset Solutions and Exceedence.
The future of the Irish Marine Industry Network
Senior contributors from IMDO, IDA, IBEC, UCC, CIT, TCD, Cork Chamber, Cyber Ireland, Energy Cork, Cork City Council, South West Enterprise Plan to 2020 Chair & Industry Partners.
Great conversations started at our "Collaboration Opportunities for a Thriving Maritime Economy" event in @CUBSucc @ucc last month #corkmar19 Lots of #innovative Maritime #startups on show. If you have a Start up or idea contact me. #oowsummit19 @Entirl @EI_HPSU @MaREIcentre pic.twitter.com/FOkc7dnZZD

— Liam Fitzgerald (@LiamFitzg1) June 6, 2019
Entrepreneurship Opportunities for PhD's and Post Docs
Entrepreneurship Opportunities for PhD's and Post Docs was the first event of 2020 and focused on the local, national and International supports available to third level post graduate students and researchers. The event was attended by over 100 people and addressed by colleagues from UCC Research HR, UCC Innovation, Enterprise Ireland and MaREI. The keynote was delivered by Dr Wende Oke, CEO of TeachKloud who recently completed her PhD and also raised €750,000 for her business.
Fantastic morning @CUBSucc for our Entrepreneurship Event @LiamFitzg1 @UCC @Entirl @ucctechtransfer #opps4docs pic.twitter.com/oCpxrcyzzm

— MaREI (@MaREIcentre) January 17, 2020
World Intellectual Property Day 2020 – Innovate for a Green Future Webinar
World Intellectual Property Day is observed annually on 26 April. The event was established by the World Intellectual Property Organization (WIPO) in 2000 to "raise awareness of how patents, copyright, trademarks and designs impact on daily life" and "to celebrate creativity, and the contribution made by creators and innovators to the development of societies across the globe".
The theme this year was particularly relevant to the work of MaREI. We organised to discuss this theme, in the context of COVID 19 and the immediate potential for genuine progress on the Climate Crisis.
We were joined in conversation by Marc Sedam, Vice Provost for New Ventures in the University of New Hampshire, Rich Ferrie, Director of UCC Innovation, University College Cork and Ray Alcorn, Founder and CEO of Exceedence – a Spin out from UCC based on research from the MaREI Centre.
A recording of this webinar is available here.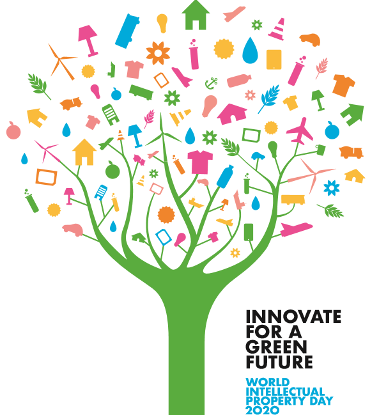 Commercialise Your Research, Your Way Webinar
Universities and research institutions continually generate high quality research through PhD candidates, Post-Doctoral researchers and their academic supervisors. What if those doing research see an opportunity to commercialise their work outside of their institution? How do you start to understand the process, what supports are available and what examples are there of people who have done this successfully?
To answer these questions, in June 2020 we brought together a group of commercialisation experts and practitioners who offered guidance and support to an online audience of 300 representing Universities, Institutes of Technology and Research Performing Organisations from all over Ireland and beyond.
Our contributors were;
Rich Ferrie, Director of UCC Innovation, University College Cork
Claire Walsh, Senior Commercialisation Specialist Enterprise Ireland – The Commercialisation Fund
Kevin Burke, Senior Commercialisation Specialist Enterprise Ireland – The Business Partners Programme
Dr Fiona Edwards Murphy, CEO and Co-Founder of ApisProtect
A recording of this webinar is available here.