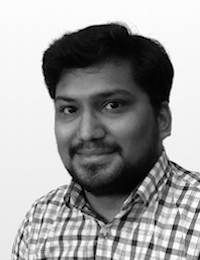 Dinesh Babu Duraibabu
Title: Post Doctoral Researcher
Role: Researcher
Location: University of Limerick
Email: DineshBabu.Duraibabu@ul.ie

OVERVIEW
Dinesh is a Post Doctoral Researcher in the Centre for Robotics and Intelligent Systems (CRIS) at the University of Limerick.
CURRENT ACTIVITIES
His research involves design, development of the depth and temperature sensor and its instrumentation suitable for ROV /ship-based measurements.
BACKGROUND
Dinesh received his B.E. in Electronics and Communication Engineering from Anna University, India and MEng in VLSI Systems from the University of Limerick respectively. He obtained his PhD from the University of Limerick in "Combined Optical Pressure and Temperature probe for underwater and other biomedical applications".
FURTHER INFORMATION
Further information can be found on Dinesh's UL Research Profile.
Research Areas