Making Ireland a global leader in Energy, Climate, and Marine Research & Innovation
MaREI is the SFI Research Centre for Energy, Climate and Marine research and innovation co-ordinated by the Environmental Research Institute (ERI) at University College Cork. The Centre comprises over 220 researchers focusing on defined global challenges such as the Energy Transition, Climate Action and the Blue Economy.
Key Metrics
Multi-disciplinary researchers across our institutional partners.
Industry partners including Start-Ups, SMEs, and Large Enterprises.
Institutional partners combining Ireland's talent in energy, climate, and marine.
Collaborating
countries across industry, academia, and government.
Our Expertise
MaREI are advancing engaged research and participatory methodologies by supporting stakeholder engagement.
The MaREI PhD cohort is a vibrant and innovative research community, leading the way in Energy, Climate & Marine Research.

On Saturday 14 October, members of Ireland's first Children and Young People's Assembly on Biodiversity Loss were joined by Malcolm Noonan T.D., Minister of State for Heritage and Electoral Reform at a reunion gathering in Airfield Estate, Dublin.
View
Latest News and Events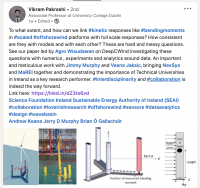 Events
October 31, 2023 9:00 am