Climate Impacts and Adaptation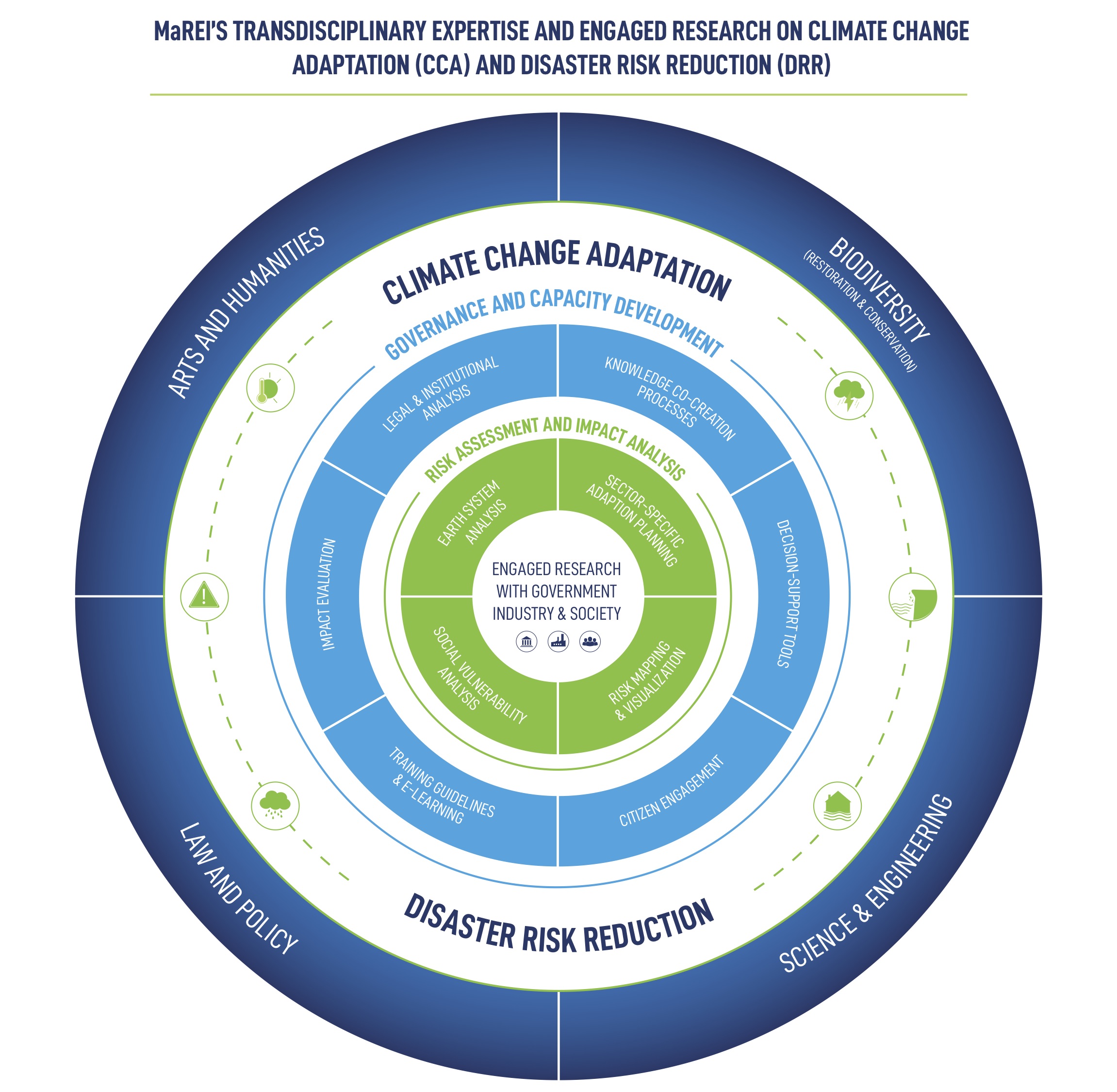 Researchers at MaREI are at the forefront of collaborative and innovative approaches linked to climate change adaptation (CCA) and disaster risk reduction (DRR) – and explore novel science at the intersection behind these two aspects of (socio-ecological) resilience, as well as through inter- and multi-disciplinary engaged research that enables positive climate action and more sustainable futures.
Our research is driven by, and contributes to, the implementation of international, European and national policies, such as for example, the Paris Agreement on Climate Change (2015), the Sendai Framework for Disaster Risk Reduction (2015 – 2030), United Nations Sustainable Development Goals (Agenda 2030), the European Union's Strategy on Adaptation to Climate Change (2021), and Ireland's National Energy and Climate Plan (2021-2030).
The composition and expertise of our research team means we are well positioned to provide impactful research contributions in the areas of sectoral-based adaptation planning; participatory engagement and co-creation approaches; climate policy, risk governance and institutional analysis, bespoke applications of Open Data (in-situ, modelled, and remotely sensed/Earth Observation); mapping and visualising risk and impacts; climate information and learning platform design; citizen engagement, science communication and education. Our engaged research supports decision-makers to effectively manage more frequent and extreme hazards (flooding, drought, storm surges, heatwaves) and multi-risk events, through for example, forecasting and early warning systems, nature-based solutions, water/ transport infrastructure operation, and bespoke education, training and outreach programmes.
Current projects where MaREI researchers are demonstrating their expertise include: Directed co-creating an integrated DRR/ CCA risk governance framework (Risk-Tandem) that embeds knowledge co-production processes; Reach-Out engaging local authorities and citizens to assess social vulnerability, and co-develop new climate services/tools; Climate Ireland developing sector-specific guidance on climate indicators, training local authorities, and operating the platform to support science-informed decision making; Translate developing standardised climate projections and customised climate risk products; ECHOES integrating climate datasets into biodiversity and species distribution models to help land users understand climate impacts; AA-Agora and Danube4All supporting stakeholder engagement and designing GIS tools to co-develop nature-based solutions to enhance climate resilience and ecosystem restoration in riverine and coastal areas.
Core Research Areas
The Climate Impacts and Adaptation research group at MaREI lead and participate in numerous projects with the following core aims:
– Data analysis to underpin climate adaptation and decision-making;
– Developing accessible and actionable climate, risk and adaptation information;
– Raising awareness and understanding around climate change, impacts and adaptation within society;
– Enhancing governance and decision-making capacity for climate adaptation and disaster risk management;
– Facilitating decision-making policy and practice for CCA and DRR at local, regional, national and international levels.
Current Projects
Key Resources