Structural Research Laboratory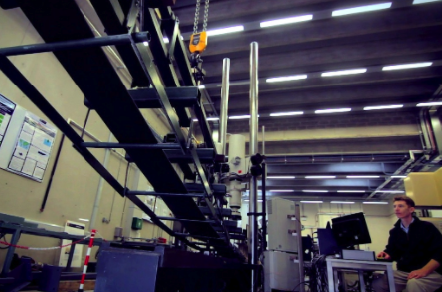 Contact

Title

Funded Investigator

Tel

+353 (0)91 492 609

Email

Web
Description
Staff in the College of Engineering & Informatics at NUI Galway have many years experience in design and conducting full-scale testing of structural components and systems to static , dynamic and cyclic loadings. This is complemented with a strong competency in numerical modelling of these systems. NUI Galway has a 375 m2 state-of-the-art high-bay Structures Research Laboratory, the largest of its kind in the Republic of Ireland.
Full-scale structural testing of composite, reinforced concrete and metallic ocean energy structures, including structural testing of tidal stream blades under fatigue and static loading – in accordance with IEC and ISO standards, assisting blade manufacturers to achieve industry certification. The structural test facility may also be used to provide motive power to test power take off systems for wave energy devices. A large reconfigurable test frame (10m x 6m 6m) along with multiple servo hydraulic actuators up to 750 kN) allow a very flexible test approach. The advanced actuator control system allows for a wide variety of load or displacement sequences across multiple actuators, which is suitable for static and fatigue testing. Data acquisition of up to 136 independent high speed channels can be carried out simultaneously; displacement, force, acceleration, strain and other types of sensor are available to configure the test.
Projects
Further information of the different projects carried out at the Structures Laboratory can be found in these research topics list:
Equipment
The Structures Laboratory is equipped with:
Facilities for full-scale tests to evaluate the static and dynamic performance of structural systems.
Testing spaces that allow for a large number of configurations for testing small to large structural and mechanical elements and materials.
10m x 6m strong floor with anchor points at 500mm to 1000mm centres each having a capacity of 500kN.
Large reaction wall.
Servo-hydraulic testing machines with capacities ranging from 10 kN to 500 kN.
Servo-hydraulic testing machine with environmental control chamber.
3.5m-high instrumented drop-weight impact tower.
Static and fatigue testing of composite and metal specimens, including uniaxial and biaxial machines.
Conditioning tanks with water temperatures up to 65° C and an environmental chamber for use during tensile testing.
Data acquisition systems and sensors for measurement of load, deformation, strain, acceleration, moisture content, temperature and relative humidity.
Mechanical timber grading machine.
Portable vibration system up to 2000Hz
50mK sensitivity Infrared Camera
A stereo camera Digital Image Correlation device to monitor surface strain and displacement field (up to 1m2)
A 3D laser scanner to obtain accurate surface profiles and build 3D models.
Data Acquisition
The Structures Laboratory has a state of the art Data Acquisition System with up to 136 channels including (but not limited) strain, load, displacement, acceleration, voltage, intensity measurements together with HD video recording. The hardware is easily expandable to include other sensors. Moreover, our researcher have large experience programming acquisition routines to adapt to specific requirements. The combination of both a very advanced acquisition system and our researchers' expertise offer a wide flexibility when it comes to testing. In this sense, the Structures Laboratory is capable to acquire data in very different testing scenarios from low sampling rates (typically static tests) to very high sampling rates (typically dynamic tests) and also during intensive tests campaigns (fatigue tests).
‌
The laboratory has three other acquisition system chassis which can be used together with the PXI chassis or independently. These chassis can read strain, voltage, displacement and intensity measurements and are a great solution for those small to medium size tests.
Besides classical Data Acquisition Systems, the laboratory offers different standalone technologies which could be also used in combination with other instrumentation. Specifically, a Digital Image Correlation device, a 3D Laser Scanner , a Scanning Vibrometer and an Infrared Camera.
Instrumentation
The Structures Laboratory has a wide variety of sensors which increases the flexibility of the faciliy during any test campaing. The table below shows a current inventory of the main instrumentation.
Measured Magnitude

Sensor Type

Model

Range

Quantity

Acceleration

Piezoelectric Accelerometer

1-20000 Hz

1

0-9600 Hz

1

0-8100 Hz

1

0-1250 Hz

1

1-20000 Hz

1

1-8000 Hz

4

3055D2

1-10000 Hz

1

3100D24

0.6-1000 Hz

1

Displacement

Linear Variable Differential Transformer (DC)

+-75 mm

1

+-50 mm

4

Linear Variable Differential Transformer (AC)

+-2.5 mm

1

+- 5 mm

3

+- 7.5 mm

1

+-12.5 mm

8

+-25 mm

3

+-25 mm

2

Draw Wire Potentiometer

500 mm

5

1000 mm

2

Force

Strain Gauge Load Cell

50 kN

2

50 kLb

4

F317UFR0K0

100 kN
1
250 kN
1
TSF2C

50 kN/500 Nm

1

25 kN/ 250 Nm
1
700S
5 kN
1
Impulse Hammer
5805A
5 kLb
1

Strain

Electric Resistance Strain Gauge

Vibrating Wires

TES/5.5/T
3000 µStrain
200
Modelling & Analysis Tools
Explanation for modelling tools: ABAQUS, ANSYS, MATLAB, ANSYS CFX, CFD… (coming soon)