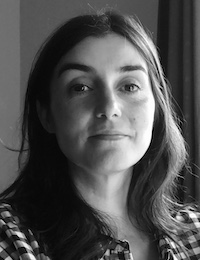 Alexandra Revez
Post Doctoral Researcher
Researchers
UCC
Energy Transition, Climate Action
Energy Policy & Modelling
OVERVIEW
Alexandra is a Senior Post Doctoral Researcher in MaREI and is located in the Environmental Research Institute in UCC. She also works with the Cleaner Production Promotion Unit in UCC. Alexandra is a human geographer with over 10 years of experience working on multidisciplinary research projects in the areas of sustainable transitions, engaged climate action interventions, community development and flood risk management.
CURRENT ACTIVITIES
Alexandra is involved in a number of projects. Including an ongoing review commissioned by the Office of the Planning Regulator looking at Climate Action and the Local Authority Development Plan (led by Prof. Brian Ó Gallachóir). Alexandra also works with the C-Change Creative Climate Action Evaluation project (led by Dr Marguerite Nyhan), and she works with Dr Niall Dunphy in the Cleaner Production Unit in two other projects. The H2020 ENCLUDE Energy Citizens for Inclusive Decarbonisation project, and the Energy, and the Gender Users TCP, which is a programme led by the International Energy Agency and supported in Ireland through funding from the Sustainable Energy Authority of Ireland.
BACKGROUND
Alexandra brings a broad range of experiences and expertise in transdisciplinary collaborations in research, at national and international levels, accrued over 10 years. Her work builds on a robust set of experiences, commitment and skills, that includes promoting SSH research in cutting edge areas of teaching and research and linking this knowledge and level of interaction across a range of arenas and areas of expertise. Her ongoing work with the JPI Climate Action Group "Enabling Societal Transformations in the Face of Climate Change" aims to mobilise key social science and humanities research perspectives to promote just transitions in the face of climate change. Alexandra also has accrued experience teaching at third level, including development and delivery of Postgraduate modules in the Geography Department in NUIG and supervision of undergraduate and postgraduate dissertation projects (2010-2015). Co-development and delivery of a three year blended Doctoral School Programme through the 'ANDROID Disaster Resilience Network' (2012-2015) and various guest lectures for the MA in Sociology of Sustainability and Global Challenges in the Module 'SC6631 Sociology of Sustainable Development' led by Dr Gerard Mullally in UCC (2020-2021).