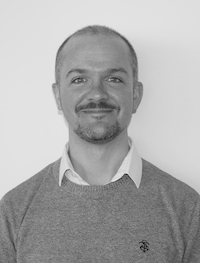 Rory Scarrott
Senior Post Doctoral Reseacher
Researchers
UCC
Climate Action, Blue Economy
Observation & Operations
OVERVIEW
Rory is currently working on a range of European Commission and European Space Agency-funded initiatives which seek to connect maritime and coastal stakeholders to tools and services arising from Europe's Space and spatial data infrastructure investments. These include strategic capacity building and planning endeavours for the Atlantic (ESA Blue Economy) and Black Sea (H2020 DOORS) regions, a project focused on European research infrastructures (Danubius-IP) to promote the whole land-to-sea aspect of river systems, and one seeking to restore one of Europe's largest land-to-sea river systems (Horizon-Europe Danube4All). In addition, he is active in GEO Blue Planet, working with global maritime stakeholders and connecting them to space opportunities, and sits on the group's Steering Committee.
These current commitments build upon his extensive research portfolio covering a wide range of satellite data- and GIS-application areas. These include:
In 2022, Rory completed his Ph.D. research, exploiting the spatio-temporal patterns recorded in hypertemporal Earth Observation archives of our ocean surface, to map the heterogeneity characteristics of the ocean's surface. The research was undertaken as part of the H2020-funded Co-ReSyF Initiative, building an online platform to enable non-EO experts and new coastal researchers to explore, and gave insights into the potential of accessing the wealth of information hidden in Earth Observation data archives.
Rory is a graduate of University College Cork, with a B.Sc. in Applied Ecology, a Joint MSc. in Geo-information and Earth Observation for Environmental Modelling and Management (studying in the Universities of Southampton, Lund, Warsaw, Boston, and in ITC (University of Twente), and a Ph.D.(Sc) in Geography from UCC. His work aligns with the Maritime focus of MaREI's Earth Observation and Applied GIS grouping who he regularly coordinates his efforts with.
FURTHER INFORMATION
Further information on Rory's activities in UCC can be found on his UCC Research Profile.