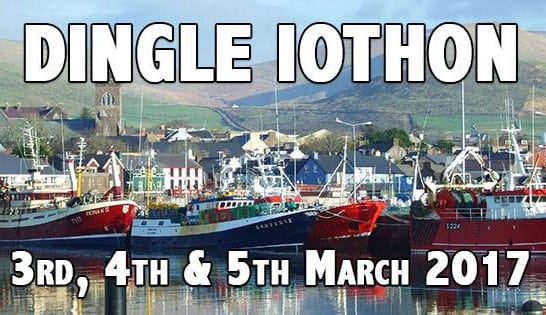 MMRRC researchers: Joseph Coleman, David Adley, and Stefano Pierantozzi; and OFSRC's researcher Avijit Mathur, participated in the Dingle IOThon, that took place at the Dingle Skellig Hotel, from 3rd to 5th March 2017.
The Dingle IOThon was an event focused on harnessing a spirit of playful cleverness while exploring the challenges and opportunities in which the Internet of Things (IOT) played an important part. The main objective of the event was to produce ideas, solutions and start-up company opportunities. That was possible due to a number of people with diverse backgrounds: business people, engineers, technologists, academics, trades' people, crafts' people, public servants, entrepreneurs, students, and a broad spectrum of artists.
All the attendees participated in a variety of group activities and exercises, so that everyone's voice could be heard, rather than listening to a large number of presentations. The collective input from the following themes: smart agriculture, retail, maritime, education & learning, and many more; was harvested and we are looking forward to putting all the ideas, new areas of research and new business opportunities to test in the newly established Dingle Creativity and Innovation Hub.