Galway-based drone delivery project's ambition is sky high
Galway-based companies Manna and ÉireComposites will work with MaREI @NUI Galway on a project, which aims to reduce delivery costs associated with drones.
A collaboration between NUI Galway and two companies, Manna and ÉireComposites will see them work together on a new drone delivery project.
'Mi-drone' aims to meet increased consumer demand for fast, reliable, last-mile delivery of medicines and food products using drones.
Testing and manufacturing company ÉireComposites will develop an aerospace grade carbon fibre airframe for drone delivery company Manna.
The companies will be awarded €2.44m from the Department of Enterprise, Trade and Employment's disruptive technologies fund.
The mi-drone project will begin immediately with full-scale operational testing to begin at the start of 2023. The goal is to reduce delivery costs associated with drones and to reduce delivery time to three minutes. The drone fleet is operated by Manna directly from the client's premises and is accessible via API to food tech providers and online food platforms alike in a channel-agnostic manner.
Read the article in full here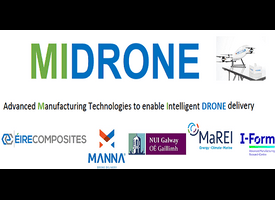 Feature Project
The overarching aim of the MIDRONE project is to support the disruption of the last-mile delivery business enabling faster and cheaper delivery times for consumers whilst lowering emissions, congestion and road traffic accidents.
Find out More