Maintaining a Healthy Harbour – Schools initiative
CALLING ALL 5TH CLASS TEACHERS – WIN A FREE BOAT TRIP AROUND CORK HARBOUR FOR YOUR CLASS, PLUS A CHANCE TO GO ON BOARD A CRUISE LINER!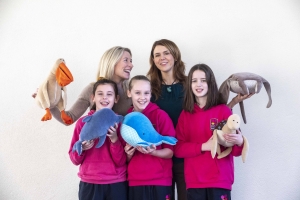 For the last 13 years the Port of Cork has delivered a schools initiative to 5th class primary schools across Cork City and County, with a particular focus on the harbour area. For the first time this year, the Port of Cork has teamed up with MaREI, the UCC research centre for marine and renewable energy based in Ringaskiddy, to deliver an educational initiative around marine litter.
Themed 'Maintaining a Healthy Harbour' the initiative aims to make school children aware of marine litter and the detrimental effects it can have on our oceans, harbour and shorelines. With the help of MaREI, classes are encouraged to collect and use marine litter and recycled items to create a 3D art project that will make people stop and think. Researchers estimate that over 10 million tonnes of litter ends up in the world's oceans each year and 1 million seabirds and 100,000 marine mammals (seals, whales, dolphins) die every year because of marine litter through entanglement or ingestion. There is a growing public awareness of the issue, and with almost half of all marine litter being made up of just 10 types of single-use plastic items, we can take steps to tackle the problem.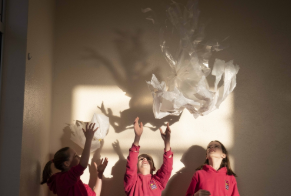 Port of Cork Chief Executive Mr Brendan Keating said: 'Our schools Initiative has gone from strength to strength and this year are we delighted to partner with MaREI. They have great expertise in this area and their guidance in shaping the theme has been invaluable.'
He continued: 'The issue of marine litter is apparent in all harbours and it is so important that school children recognise the impacts marine litter can have on a harbour both in and out of the water. As well as being educational, our initiative is fun and children have a great opportunity to be creative. I would strongly encourage primary schools in Cork to take part in this initiative.'
MaREI's Communications and Public Engagement Manager, Aoife Deane, commented: 'We are delighted to be collaborating with Port of Cork on their long established outreach initiative highlighting the value of our harbour. The 'Healthy Harbour' theme encourages students to think about the sources and impact of marine litter, and our reliance on single-use plastics. And the exhibition of their artwork is an opportunity to highlight these issues to a wider audience.'
Each year the Port of Cork has over 30 schools from both Cork City and county participating in the Schools Initiative and they hope that this year will be no different.
All 5th classes who take part in the Port of Cork Schools Initiative will be treated to a boat trip around Cork harbour, compliments of the Port of Cork and each class will also receive a certificate of participation. The overall 'Best Project' will receive a tour on board one of the many luxurious cruise liners visiting Cork during the summer of 2019.
All submitted projects will go on public display in the Cobh Maritime Development building before the winner is announced in May 2019. Closing date for entries is Friday 12th April 2019.
If you would like more information on the Port of Cork Schools Initiative or would like to register your school, please contact Sara Mackeown, Port of Cork, email ei.krocfotrop@nwoekcams or call 021 4625375.