MaREI Students Recover Mini Boat launched by school in the United States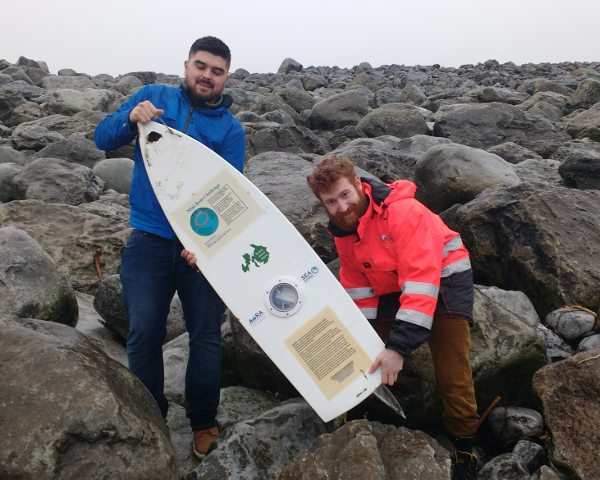 3 PhD researchers from MMRRC, a UL brach of MaREI, recovered a mini boat Black Rock from the rocky shores of Doolin, Co. Clare. The recovery took place in the afternoon of the 11th of November 2017, after Swan's Island School contacted one of our researchers.
Black Rock made her way to Ireland after being deployed into the Gulf Stream on the 21st of May 2017, under the NOAA project know as Educational Passages. Sixth, seventh and eighth-grade students from Swan's Island Elementary School helped to prepare the mini boat for a long journey and were able to track her movements, as it got pushed across the Atlantic Ocean by wind and current. During a total of 172 days at sea, Black Rock has successfully battled the rough Atlantic Ocean and Storm Ophelia, with peak winds of 185 km/h.
Black Rock is now situated in the Rooftop Garden, just outside of the MMRRC lab at the University of Limerick. Her current position allows GPS tracking ping to escape and share the location with watchers all over the world. Check it out on the live map! Black Rock will make her appearance on the Science Week events later on in the week, as we are searching for a local school to help us repair the mini boat before we send her on the return journey in early 2018.
Needless to say the students at the Swan's Island Elementary School were delighted to hear of the safe recovery of the Black Rock and look forward to following its next endeavor.
You can find out more about the Black Rock launch and the Educational Passages programme.