Marine Energy Alliance project has successfully awarded services to 23 small and medium-sized enterprises (SMEs) through its Second Call for Applications
Marine Energy Alliance welcomes 23 new SMEs
Marine Energy Alliance has reached another important milestone by awarding services to 23 small and medium-sized enterprises (SMEs) through its Second Call for Applications.
The Marine Energy Alliance aims to progress the technical and commercial maturity level of early-stage (TRL 3 – 4) marine energy technology companies with the overall goal of reducing the risk of device failure in subsequent demonstration phases.
The awarded companies are:
Floating Energy Systems Ltd, Dublin Offshore Consultants Ltd., HydroWing Ltd, Wenverter Ltd, Tidal Flyer, Seaturns, Farwind, Solarinblue, Oceans of Energy B.V., Dolfines, Resolute Marine Ltd, Sea Wave Energy ltd, Infinities Global Limited, LHYFE LABS, Solarduck, Novige AB, Development v Kim Nielsen, Solarge B.V., Ingine Wave energy Systems Ltd, Stiesdal Offshore Technologies A/S, EO Link, WITT, Waveco AS.
The 23 selected marine energy technology companies will receive a suite of tailored expert services that will enable them to realise their ambitions and, more broadly, contribute to the coherent growth of the marine energy industry in general.
Through participation in MEA, companies will gain access to the project partners' world-leading expertise in marine energy development.
Awarded companies will have the chance to work closely together with a transnational team of marine energy experts on both the technical advancement of their technology, as well as the development of their commercial strategy and business plans.
Each service offer is intended to put the company's technology and business firmly on the road towards successful commercialisation.
The First Successful Call
The first call also saw 22 companies selected for MEA support in May last year.
Several of the awarded companies, Teamwork Technology, Ocean Grazer, Technology from Ideas, DHV Turbines, Water2Energy, Heliorec, Jostpa, Development v Kim Nielsen were able to showcase their innovations during Offshore Energy 2019.
About MEA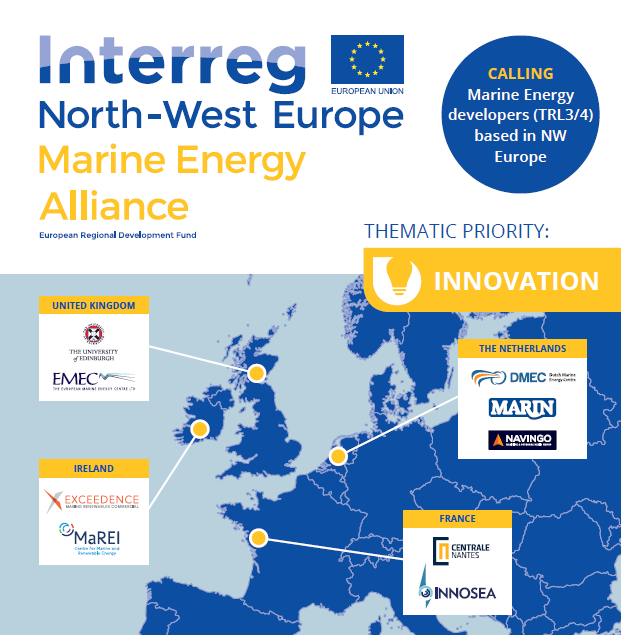 MEA is a four-year European Territorial Cooperation project running from May 2018 to May 2022.
The project has a total budget of €6 million and is supported by Interreg North West Europe, who provides €3.6 million of ERDF funding.
Together, the project partners coming from the Netherlands, UK, France and Ireland will develop and pilot an integrated service portfolio ready for roll-out after the project lifetime.
The MEA consortium includes the Dutch Marine Energy Centre (DMEC), European Marine Energy Centre (EMEC), Centre for Marine and Renewable Energy (MaREI), Ecole Centrale de Nantes (ECN), Exceedence, INNOSEA, Maritime Research Institute Netherlands (MARIN), the University of Edinburgh, and communications partner Navingo.
Find out more about the Marine Energy Alliance project here