On 1st July 2021, Ireland's first maritime spatial plan, the National Marine Planning Framework (NMPF), was published and launched by An Taoiseach and Ministers from across Government. The Framework, which will apply to a maritime area of approximately 495,000km², sets out how Ireland will use, protect and enjoy its seas in the years up to 2040. The NMPF includes chapters framed around the pillars of sustainability (environment, social and economic considerations) as well as chapters on sectoral interests from aquaculture to waste water management. Each chapter includes objectives and policies that will direct activities in Ireland's maritime area. Plan development was led by a team in the Department of Housing, Local Government and Heritage with inputs from a National Stakeholder Advisory Group comprised of representatives from marine sectors, industry groups and higher education. Anne Marie O'Hagan represented MaREI, UCC from the higher education sector.
Development of the NMPF and legislation for a marine planning system for Ireland were both commitments under the current Programme for Government. The NMPF and Maritime Area Planning (MAP) Bill, published alongside the NMPF, will be central to the extensive marine management reform programme underway in Ireland. In addition to underpinning the NMPF, the MAP Bill creates further opportunities for MSP in Ireland with the creation of a mechanism to establish Designated Marine Area Plans (DMAPs). DMAPs will build on the NMPF with maritime plans for particular spatial areas or activities being created, such as the development of offshore renewable energy informed by MaREI projects such as Eirwind, which developed a Blueprint for Offshore Wind in Ireland 2020-2050. The NMPF and consenting legislation are key developments in Ireland's national legislative and regulatory frameworks and critical to facilitate the delivery of a thriving sustainable maritime economy based on healthy, clean and productive marine ecosystems. To strengthen and inform Ireland's marine spatial planning in the future, the Department of Housing, Local Government and Heritage (DHLGH) is taking part in the SIMAtlantic project coordinated by MaREI with partners in the UK, France, Spain and Portugal. The project's Atlantic region case studies and work packages, including in relation to Land-Sea Interactions and Transboundary matters as well as development of an Atlantic Vision for MSP in the European Atlantic marine region, will help further understanding of where MSP can further improve sustainable, well managed and integrated use of Ireland's seas and beyond. A final SIMAtlantic project event will be held online on 15th September and anyone can register to attend at https://www.simatlantic.eu/events/ [the registration link will go live in the coming days]
Public consultation on Extending Ireland's Network of Marine Protected Areas (MPAs)
In Autumn 2019, the Department of Housing, Planning and Local Government convened an Expert Advisory Group to provide independent expert advice and recommendations on the processes required and the challenges to be addressed in expanding Ireland's Marine Protected Area network. Chaired by Prof. Tasman Crowe from UCD's Earth Institute, the Advisory Group had three sub-groups on life and ocean sciences; economic, social and cultural perspectives; and governance and legislation with contributors to each group coming from academia, State agencies and NGOs. MaREI's Dr. Anne Marie O'Hagan chaired the governance and legislation sub-group and was responsible for the sections in the report relating to current protection of Ireland's marine environment, gaps in legislation, governance and management arrangements and legislative recommendations. The group worked intensively since then in order to complete its final report which was submitted to the Minister for Housing, Local Government and Heritage, Darragh O'Brien TD, and the Minister of State for Heritage and Electoral Reform, Malcolm Noonan TD in October 2020. The public consultation process on the Advisory Group report began on Wednesday 17 February 2021 and will remain open until Friday 30 July 2021.
Informed by the report and the submissions made during the public consultation process, the Department intends to begin developing legislation on the identification, designation and management of MPAs later in 2021. It is anticipated that MaREI projects such as Observe II, which commenced in Summer 2021, will provide critical scientific data and information on marine megafauna in Irish offshore waters. The purpose of the Observe II surveys is to estimate and describe animal density, abundance, and distribution which in turn can be used by policy and decision makers when deciding on areas to designate for conservation purposes in line with national, EU and international legal obligations.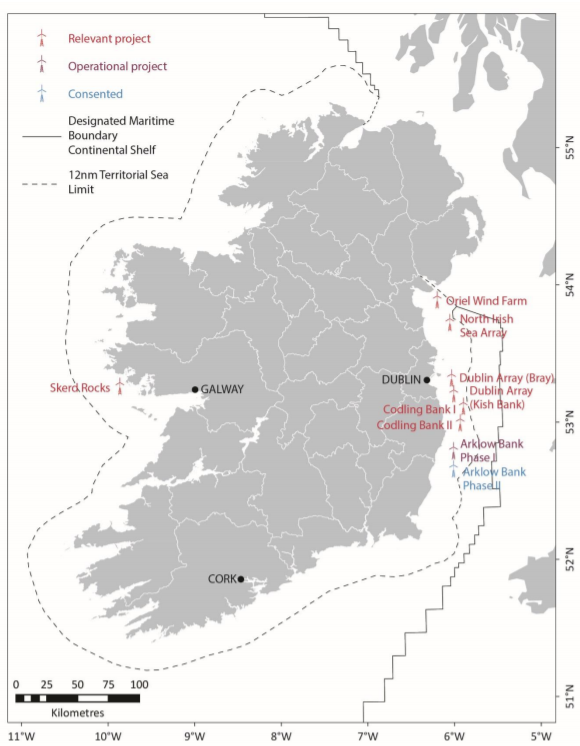 Other areas of interest for BFOW and FLOW in the Irish Sea and Celtic Sea at an early exploratory stage, and the location of the AFLOWT project off the coast of County Mayo