Masters in Applied Coastal and Marine Management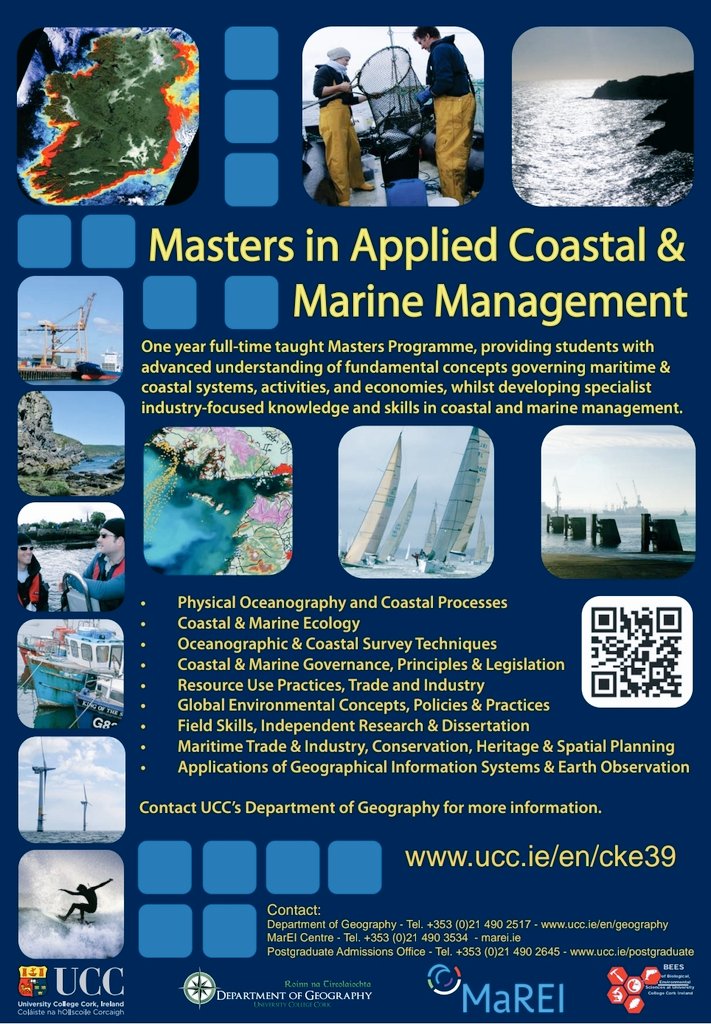 TITLE – Applied Coastal and Marine Management
CODE – MSCCMM
COLLEGE – Arts, Celtic Studies and Social Sciences
DURATION – 1 Year Full-time
TEACHING MODE – Full-time
QUALIFICATIONS – MSc
ENTRY REQUIREMENTS – You must have a Second Class Honours Grade II in a primary honours degree (NFQ, Level 8) – 180 ECTS credits or equivalent See Requirements for full details.
CLOSING DATE – Open for EU applications, check rounds closing dates under How to Apply.
NON-EU CLOSING DATE – 15 June
START DATE – 12 September 2022
The programme focuses on science (including the social sciences) of Coastal and Marine management and policy-making today. Designed and presented in close collaboration with the state-of-the-art Beaufort Institute and the University's Coastal and Marine Research Centre, it is designed to give students professional competency to make sound, scientifically-informed, strategic and operational decisions regarding the sustainable governance, use and protection of coastal and marine environments. It also provides training in applied practical skills, with an emphasis on geospatial techniques relevant to coastal and marine data capture, analysis, integration and visualisation. Students will also receive training in important transferrable skills including principles and practice of scientific research, effective communication and presentation techniques, and sound project management
The degree offers a combination of theory, practice and technical skills relevant to the needs of environmentally sustainable coastal and marine governance.
More information is available here.