New Planning Guidelines Published for Climate Adaptation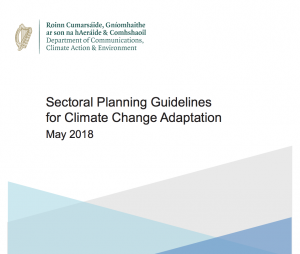 Publication of Sectoral Planning Guidelines for Climate Change Adaptation
The Minister for Communications, Climate Action and Environment, Denis Naughten TD took another key step forward in implementing Ireland's national adaptation policy with the formal publication of "Sectoral Planning Guidelines for Climate Change Adaptation". These Sectoral Guidelines were developed to support Government bodies that are required to prepare sectoral adaptation plans under the recently published National Adaptation Framework.
The Sectoral Guidelines were developed by the Climate Ireland team at MaREI Centre for Marine and Renewable Energy at UCC and this work was funded under the Environmental Protection Agency's Climate Research Programme. The work was based on international best practice and in close consultation with key sectors such as the Department of Transport, Tourism and Sport (DTTAS) and the Department of Agriculture, Food and the Marine (DAFM).
Minister Denis Naughten stated: "These guidelines will be a support for the Government Departments required to prepare sectoral adaptation plans over the next 18 months. I want to acknowledge the work of UCC/MaREI and colleagues in the Agency for playing a key role in ensuring that these important guidelines could be brought forward for publication, ensuring a key step is taken along the road to achieving climate resilience in Ireland."
The sectoral planning guidelines are available here.