NUIG hosts MaREI Symposium on Marine and Renewable Energy
NUIG hosts MaREI Symposium on Marine and Renewable Energy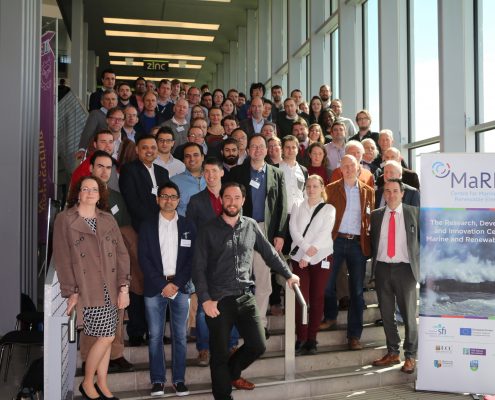 Experts from across Ireland gathered at NUI Galway in May for a symposium on 'Research, Development and Innovation in Marine and Renewable Energy in Ireland'. The symposium was hosted by MaREI, Ireland's Centre for Marine and Renewable Energy.
The demand for energy is growing relentlessly with the pressures of population growth and improved living standards. With a sea to land ratio of over 10:1, Ireland is ideally placed to address this challenge through our marine and renewable energy resources.
The main scientific, technical and socio-economic challenges across the marine and energy spaces were discussed at the event. It provides an opportunity for researchers to disseminate their research, identify further opportunities for collaboration and discuss the future direction of marine and renewable energy in Ireland.
Professor Jerry Murphy, interim director of MaREI, said MaREI's strategy is aligned to national priorities and international roadmaps in marine and renewable energy and Ireland's transition to a low carbon energy future.
"MaREI research achieves high impact by ensuring relevance and accessibility to academia, industry and policy makers. One of MaREI's great strengths is its multidisciplinary approach to research and its engagement with stakeholders. By working collaboratively across all MaREI's six institutions and with its 46 industry partners, it is possible to assemble the skill sets needed for impactful research," he said.
"The investment in world-class research facilities in Ireland for ocean energy is hugely important to bringing technology to market and helping Ireland to develop an export market for Ocean Energy Technologies," said Dr Jamie Goggins, chairperson of the symposium and senior lecturer at NUI Galway.
"The recent State investment in the full scale structural testing facility for tidal turbine blades here at NUI Galway along with the one-quarter scale ocean energy test site and Ocean Observatory in Galway Bay position Ireland at the forefront of testing and development of ocean energy devices," he added.
MaREI's industry-led research programme provides innovative solutions that reduce the time to market, and reduce costs to a competitive level.
The Centre has built upon the excellent track record of well-established marine and energy-based research groups across each of its academic partners, covering a wide range of cross-cutting topics across these spaces, including device design and modelling, energy conversion and storage, novel materials and structural testing, operations and decision support, energy policy and modelling, and environmental monitoring.
MaREI is coordinated by the Environmental Research Institute (ERI) at University College Cork and has 130 researchers working across six academic institutions collaborating with over 45 industry partners.