The Marine Energy Alliance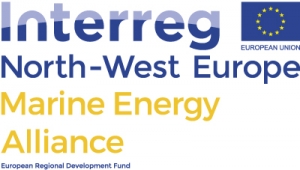 Title

The Marine Energy Alliance

Start Year

2018

End Year

2022

Funding Body

Interreg NWE

Lead Partner:

Dutch Marine Energy Centre, The Netherlands.

Project Partners

The European Marine Energy Centre Limited, MaREI, Ecole Centrale de Nantes, Exceedence Limited, INNOSEA SAS, Stichting Maritiem Research Instituut Nederland, Navingo BV and University of Edinburgh

Principal Investigator

Project Manager
Introduction
The Marine Energy Alliance (MEA) unites regional expertise and capabilities of leading organisations with a track-record in ME development. The main objective is to progress the combined technical and commercial maturity level of 40 SMEs developing ME Concepts (TRL 3-4), reducing the risk in the subsequent capital-intensive demonstration phase by 20%. This is achieved by delivering a tailored suite of integrated technical and commercial services, which is innovative and new to the sector.
To ensure long-lasting impact, an after-care module is put in place in which after-care plans of the ME Concepts are carefully monitored. Concept Booster Hackathons will be organised connecting maritime and offshore companies to ME Concepts to lay the groundwork for future collaborations.
A ME Investment Portfolio enabling investors to diversify risk by investing in multiple ME Concepts simultaneously will be developed. These activities support 120 companies in bringing new products to the market and leverage €8 million of additional funding.
To sustain MEA, lessons-learned in the service delivery to individual ME Concepts are used to develop a Technical & Commercial Service Offer, which will be jointly implemented after the project lifetime. This Service Offer aims to support another 40 ME Concepts in the years after project finalisation contributing to the creation of 300 new jobs and 500 maintained jobs in the NEW region.
Main roles of MaREI;
Lead WP T1
A service delivery partner
To be part of the Track Team to benchmark selected ME Concepts
Contribute to Management.
MEA implements the Support Tracks in a 5-step approach
MEA implements the Support Tracks in a 5-step approach (WP-T1 and WP-T2):
Select 40 promising ME Concepts: ME Concepts established in the NWE region can apply via two open Calls for Proposals and are selected in a competitive manner.
Benchmark 40 selected ME Concepts: Selected ME Concepts are run through the Marine Energy Assessment Framework that benchmarks the TRL, TPL and CRL of each technology. This approach highlights key competitive advantages and eliminates factors that hamper performance and financial efficiency.
Award 40 Voucher Contracts for support: After benchmarking, the suite of technical- and commercial services contributing most to the development of the ME Concept is defined. A Voucher Contract is concluded to formalise the agreements and scope of support services.
Implement 40 tailored Support Tracks: the suite of services defined for each Support Track is jointly implemented by the MEA partners delivering services in that specific Support Track. The Track Team coordinates the implementation of the individual Support Tracks. In each Support Track, Intermediate sessions will be organised to evaluate lessons-learned.
Evaluate impact: the ME Concept will undergo a re-benchmarking to evaluate the impact of the delivered services on its maturity level, and to create tailored after-care plans. The value of WP-T1 and WP-T2 amounts to €4.1 million. Innovative and new in this approach is the delivery of integrated services, i.e. services to progress ME concepts in both technology as well as commercial maturity level.
Work Packages
WPT1 Award 40 Voucher Contracts for support to ME Concepts.
The objective of this WP is to prepare the Calls for Support in order to select high potential ME Concepts, benchmark their maturity level and award Voucher Contracts to formalise a tailored suite of technical and commercial services. The delivery of the suite of services is implemented in WP-T2.
MaREI coordinates this WP and develops materials for the Call for Support (activity 1). All partners jointly develop selection criteria (e.g. technical level and quality of the concept, quality of business case, quality of management). Publication of the Calls for Support is realised in WP-C. An Evaluation & Selection Board (ESB), chaired by MaREI, is established with one representative of the 8 partners involved in service delivery (activity 2). Applications are evaluated by the ESB in a peer review process with the use of a jointly developed evaluation methodology. Final selection results are agreed upon in a virtual meeting. Selected ME Concepts will be benchmarked (activity 3) to establish a baseline of their technical & commercial status. This activity is coordinated by MaREI, EMEC and DMEC (collectively known as the Track Team). Based on this, the Track Team develops – in close collaboration with all MEA partners – a tailored suite of support services which should benefit the ME Concept most. As the delivery of service will be a collaborative effort between the MEA partners and the ME concept, an in-kind commitment in timely effort will be asked from the developer (see state aid section). For each ME Concept, one representative from the Track Team is appointed (called a Track Coach) to ensure one point of contact enabling smooth collaboration between the MEA partners and the developer. The suite of support services, costs, timing and commitment of the ME Concept is formalised in a Voucher. Contract (activity 4) prepared by the Track Coach and signed by the ME Concept and the MEA partners delivering the services.
Deliverables for WPT1
Evaluation procedure to select most promising ME concepts
Call for Support documents for Call 1 and Call 2
ESB Composition
List of awarded submissions from Call 1 and Call 2
Benchmarking reports
Refined TRL/TPL/CRL assessment framework
Signed Voucher Contracts
WPT2 Accelerate 40 ME Concepts in tailored Support Tracks
Lead by EMEC, the objective of this WP is to implement the 40 Support Tracks in an efficient and effective manner, ensuring value for money and maximising synergies across the different support tracks. Each Support Track offers a set of services tailored to the needs of the ME Concept developer, and each MEA partner will use their expertise and track-record to deliver services.
Deliverables for WPT2
Work plans
Complemented work plans with progress updates
Complemented work plans with re-benchmark assessment and after-care plan
Two Experience & Learning workshops
WPC Communication
Lead by Navingo, the objective of this WP is to maximise the impact, visibility and outreach of the MEA project in the NWE region. To this end, a set of integrated communication and dissemination activities is implemented. These activities tie in with other WPs and are therefore key to ensure project success. Navingo facilitates all partners by developing materials for targeted communication about the project activities, Call for Support, and dissemination of project results.
Deliverables for WPC
Communication and Dissemination Strategy and Workplan
Visual identity
Digital presence
Repository of publications used for the MEA awareness campaign
Repository of publications
Event calendar
Three editions of the Marine Energy
Pavilion at the Offshore Energy Exhibition & Conference
End-of-project Conference
WPLT Longterm
Lead by DMEC, the objective of this WP is to sustain the Marine Energy Alliance after the project lifetime. To this end, a set of activities is implemented to strengthen the future technical- and commercial development of the ME concepts, aid them in attracting private investments, and developing a joint Service Offer available for ME concepts throughout the NWE region. DMEC coordinates the activities in this WP. In close collaboration with Navingo three Concept Booster Hackathons will be organised (activity 1) to boost the further development of the most promising ME Concepts. Within interactive sessions, developers, marine and offshore companies, investors and other interested organisations will jointly strengthen the ME concepts and identify new business opportunities. In activity 2, DMEC will lead the development of an ME Investment Portfolio blueprint in close alignment with regional development agencies and investor organisations. The main aim is to highlight the potential of ME Concepts, combine available financial mechanisms to mobilise public and private funding, and attract investors by spreading the investment risks across participating concepts. In activity 3, the ME Concepts will be guided by the Track Coaches in implementing their after-care plans resulting from the progress made within the Support Tracks. In activity 4, lessons-learned in the joint delivery of services to individual ME concepts are used to develop a Technical- and Commercial Service Offer. DMEC and EMEC will ensure alignment with other initiatives to optimise synergies. In collaboration with all partners, a business model will be developed, further defining the strategy to be financially self-sustainable in the long run, enabling continued implementation of the integrated Service Offer by the MEA partners.
Deliverables for WPLT
Concept Booster Outcomes
Blueprint of the ME Investment Portfolio
Aftercare plans with progress updates
MEA Technical- and Commercial Service Offer
Marine Energy Alliance business plan