Selkie – 'Meet the Expert' event series
September 2, 2021 10:00 am
The Selkie Project is organising a series of events focused on providing business support for companies looking to diversify in to the marine energy sector. These events will give your company the opportunity to learn more about key themes from experts in the sector to help in your endeavours to enter and work in this innovative and growing industry. It will also give you the opportunity to network and meet with other companies.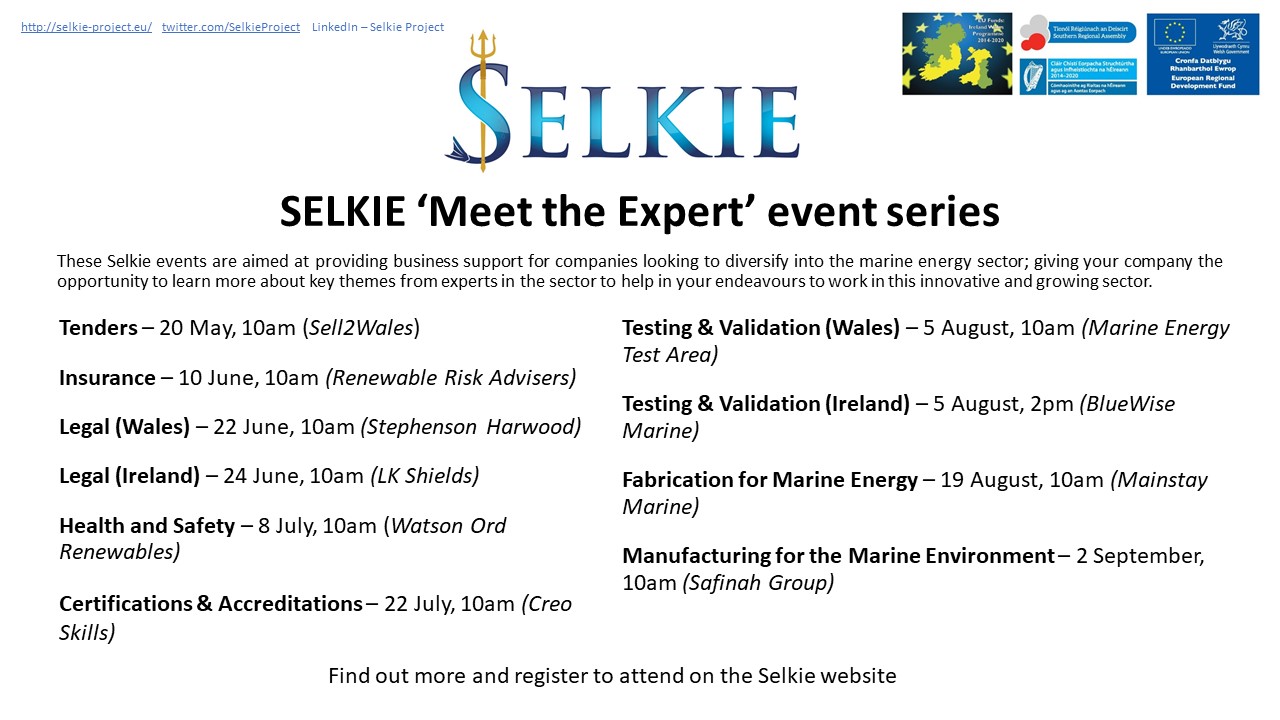 Tenders – 20 May 2021, 10am
Experts: Sell2Wales
Managed by the Welsh Government, the Sell2Wales.gov.wales website provides a free and secure environment for advertising contract and tender opportunities. They aim to help public sector buyers to advertise and manage tender opportunities and businesses to promote their services and find contract opportunities. These include tenders for Welsh Government funded Marine Energy projects. This 'Meet the Expert' event will help your business understand how to bid for tenders in Wales, how to register and navigate the site and creating a profile for your business.
Insurance – 10 June 2021, 10am
Experts: Renewable Risk Advisers
Renewable Risk Advisers (RRA) is a specialist risk management consultancy and insurance broker with an unparalleled depth of experience of risk mitigation in the renewable energy and energy efficiency sectors. Session Info: Marine energy insurance looks expensive, with limited cover and very high deductibles. Why? The presentation will run through a number of real-life examples of accidents and failures in recent projects, and how to minimise the risks from the project and technology design stage onwards, including getting the right support through the project rollout.
Legal (Wales) – 22 June 2021, 10am
Experts: Stephenson Harwood
Further information to follow
Legal (Ireland) – 24 June 2021, 10am
Experts: LK Shields Solicitors
Irish law firm LK Shields advises clients across a multitude of sectors on their infrastructure, construction, energy and commercial legal requirements including the legal complexities of offshore project delivery and risk management. This session will focus on 'Irish Offshore Renewable Projects: Legal Considerations in a Developing Market'. Including: Nature and form of typical contracts used on offshore projects • Cross-jurisdictional issues, applicable laws, permitting and foreshore licences • Irish Marine Planning and Development Management Bill • The importance of harmonising technical schedules with the body of the contract • Bespoke clauses required for managing risks • Recent case law updates in offshore and subsea projects.
Health and Safety – 8 July 2021, 10am
Experts: Watson Ord Renewables
Watson Ord Renewables are a specialist health & safety consultancy for the renewable energy sector. After gaining over 20 years' experience in the wind industry, Ian Ord of Watson Ord Renewables has an in-depth understanding of the industry needs and is able to provide invaluable safety support to the growing offshore renewables industries. In partnership with Setters under the banner Renewables@Setters the two Companies provide a balanced approach to safety improvement and training with a key ethos of Safety = Systems + People. This session will cover key topics in health & safety requirements for offshore renewables developments and include case studies of Ian's work in the marine energy sector.
Certifications & Accreditations – 22 July 2021, 10am
Experts: Creo Skills
Creo Skills is a vocational education consultancy, with international experience, which offers training, accreditation services and qualifications for employers and other training organisations. Creo have been working to create new accreditations in the renewable energy sector for the last 10 years. In this session Creo will explain how qualifications work and how occupational standards, qualification regulations and accredited learning works in Wales and Ireland and how accreditations can be recognised and transferable. This could help employers consider how new roles and the knowledge, skills and behaviours that are required can be accredited so that standards required in the marine energy sector can be achieved and maintained.
Testing & Validation (Wales) – 5 August 2021, 10am
Experts: Marine Energy Test Area (META)
The Marine Energy Test Area (META) is a newly operational marine energy test centre in Pembrokeshire, Wales. We aim to reduce the time, cost and risks faced by those looking to test marine energy devices and equipment in order to accelerate growth in the sector. Through testing and validation at META, innovative marine energy devices and components, support infrastructure, and scientific instruments can progress to commercialisation. In this session META will explain how we aim to contribute to the growing marine energy industry, describe the multiple options for testing at META, and highlight how we can support those looking to build and test prototypes including technology developers, academia and supply chain companies.
Testing & Validation (Ireland) – 5 August 2021, 2pm
Experts: BlueWise Marine/SmartBay Ireland
SmartBay is Ireland's national marine and renewable energy test and demonstration facility which supports the testing and validation of new marine energy technologies through deployments and monitoring in a real marine-world environment. The site is an ideal opportunity for device developers looking to bridge the gap between test tanks and the open-sea for their technology validation. SmartBay is supported by BlueWise Marine who will be leading this session on testing and validation, detailing the opportunities and challenges presented in preparing for open-sea testing and the support and facilities available at SmartBay test site.
Fabrication for Marine Energy – 19 August 2021, 10am
Experts: Mainstay Marine
As a Wales Marine Energy device fabricator, Mainstay has substantial technical understanding of fabricating and assembling prototype devices having completed four builds with the fifth due to start imminently. This had included the use of marine engineering expertise, intimate understanding of marine processes, optimum location for marine based projects and extensive experience in this emerging and fast growing sector. This session will cover key success and challenges of fabrication and engineering for the marine energy sector, experience of diversification and case studies of work that Mainstay Marine Solutions has carried out for leading marine renewable developers.
Manufacturing for the Marine Environment – 2 September 2021, 10am
Experts: Safinah Group
Safinah Group are experts in optimising coatings to protect marine assets. They offer independent consulting and technical services to the whole spectrum of coating activities covering the entire lifetime of an asset from product specification, selection and application to maintenance, repair and failure investigation. In this session Safinah will talk about their experience in creating functional specifications to optimise performance, reduce maintenance, reduce costs and prolong the lifetime of assets in harsh environments.