Serious rise in Irish greenhouse gas emissions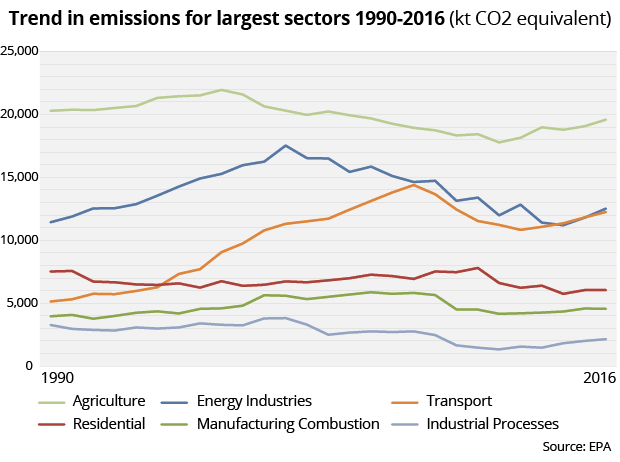 The State could face European Union fines of more than €450 million in 2020 for missing legally binding targets on reducing greenhouse gas emissions, a climate change expert has said.
The warning comes as new figures from the Environmental Protection Agency (EPA) show greenhouse gas emissions increased by 3.5 per cent last year to an estimated 61.19 million tonnes of CO2 equivalent.
The rise was attributed to increased activity in the dairy and energy industries and the transport sector.
It is the second year in a row that Irish greenhouse gas emissions have increased, with the EPA noting that "Ireland has not managed to decouple emissions from economic growth".
The State has committed to reducing carbon emissions by 20 per cent by 2020 and increasing the amount of energy taken from renewable sources. Progress was made on these commitments while economic activity decreased during the recession years, but the State has since fallen back to 2009 emissions levels.
Ireland is one of less than a handful of EU member states where emissions are increasing, and the 2020 targets will be missed.
Relatively unique
Dr Paul Deane, of University College Cork's Environmental Research Institute, said Ireland was relatively unique in European terms in failing to meet both emissions and renewable energy targets.
He estimated that based on current emissions, Ireland could face EU fines of some €455 million in 2020 for failing to meet its reduction targets.
However, he said this was about 25 per cent lower than a previous projection of €610 million. The lower number reflects the falling cost of "carbon credits", which are typically purchased in lieu of fines, he explained. These have become cheaper because most EU states are now expected to meet or exceed their climate targets. This will effectively allow "Ireland and other laggard countries" buy their way out of the fines for less, he said.
Dr Eimear Cotter, director of the EPA's Office of Environmental Sustainability, said a transformation of the State energy, agriculture and transport systems would be needed if Ireland was to meet its long-term goals to reduce emissions.
The main emissions trends are:
Agriculture: Emissions from farming increased by 2.7 per cent in 2016. The most significant drivers are higher dairy cow numbers (up 6.2 per cent), which reflects national plans to expand milk production. Dairy cow numbers have increased by 22 per cent in the past four years, while greenhouse gas emissions increased by 8 per cent over that time.
Transport: Emissions have increased by 3.7 per cent in 2016 and 13 per cent in the past four years. This is driven by economic and employment growth and shows no sign of abatement in the short term.
Energy industry: Emissions increased by 6.1 per cent in 2016. This is underpinned by an increase in demand for electricity and more electricity generation from gas. In 2016, decreases were observed in coal and peat use and also renewable energy sources (ie wind) due to weather conditions.
Stephen Treacy, senior manager at the EPA's Office of Environmental Sustainability, said the sectoral figures confirm GHG emissions, which contribute to global warming, will keep step with economic growth unless appropriate interventions are designed and implemented.
He said the Government's National Mitigation Plan outlined what was needed to move Ireland to a low-carbon economy, and that this needed to be backed up by investment and action.
Big offender
Dr Deane said the big offender in the renewable energy sector was home heating, and that a heavy reliance on fossil fuels such as oil, gas and peat for heating buildings makes it an outlier internationally.
Dr Cara Augustenborg of Friends of the Earth Ireland said the group was appalled by the EPA report. "Our emissions are rising at around 3.5 per cent a year when the Government's own target means they should be coming down by 5 per cent a year," she said.
The Irish Farmers' Association said it was "now clearer than ever that the bad climate deal" agreed by former minister for the environment John Gormley "will result in Ireland having to pay millions of euro of fines for breaching its renewable-energy and climate obligations".
The Government must introduce "a climate activation programme" across sectors including agriculture to avoid massive fines and to help reverse the rising emissions trend, IFA environment chairman Thomas Cooney said.
The Irish Times online: Mon, Nov 27, 2017