St Columbas Girls National School Win 'Best Overall Project' in the Port of Cork Schools Initiative 2019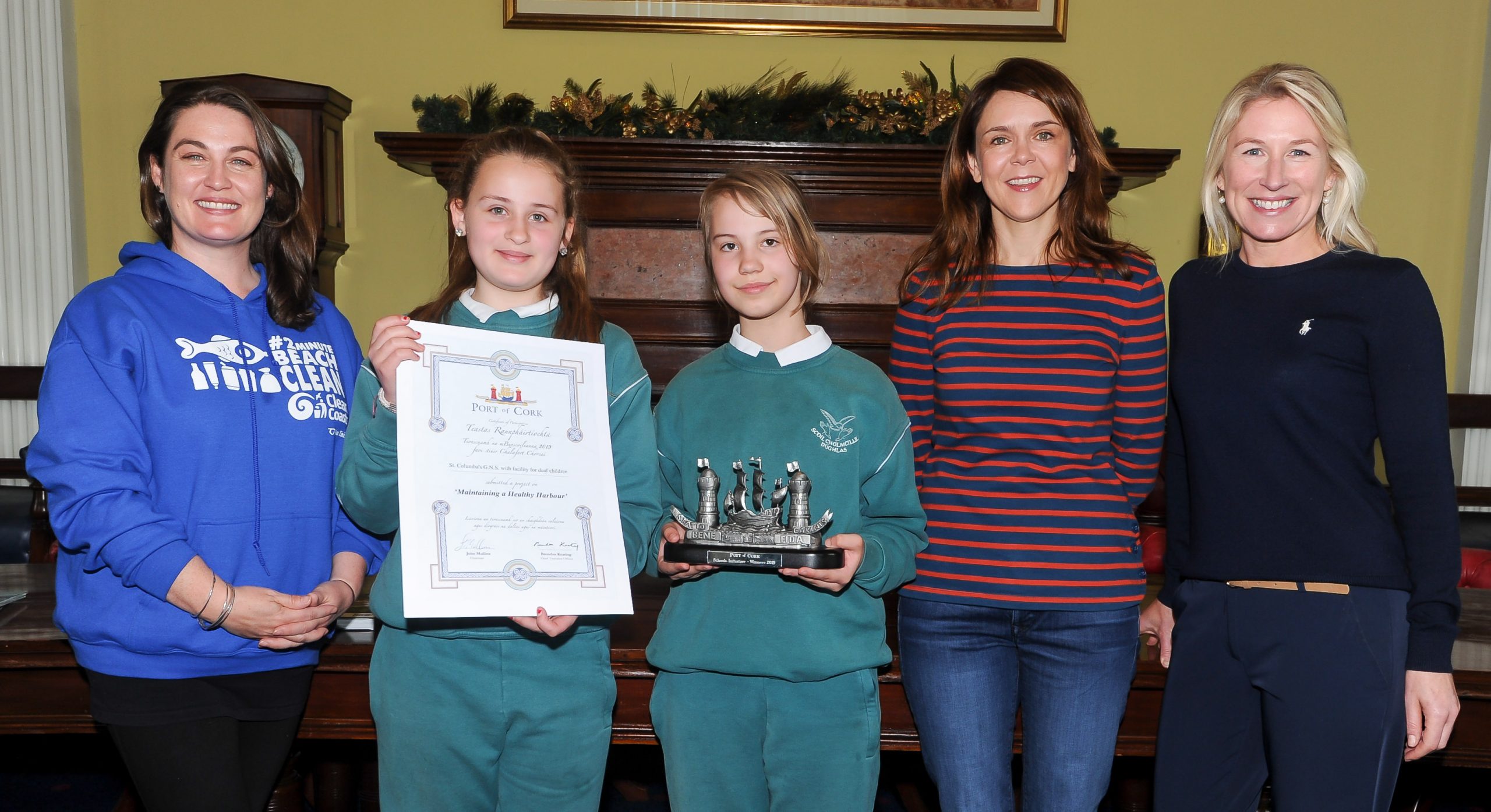 Port of Cork Chairman, Mr. John Mullins congratulated St Columbas Girls National School for being awarded 'Best Overall Project' in the Port of Cork Schools Initiative 2019. Scoil Barra Naofa, Monkstown were given special recognition for their outstanding level of research and content used in their project.
The Port of Cork have been running their primary schools initiative for 13 years now and 2019 was the first year that Port of Cork teamed up with MaREI, the UCC research Centre for marine and renewable energy based in Ringaskiddy, to deliver this educational initiative around marine litter.
St Columbas Girls National School's 'Plastic Monster'
Themed 'Maintaining a Healthy Harbour' the initiative educated school children on marine litter and the detrimental effects it can have on our oceans, harbour and shorelines. Over twenty schools took part and with the help of MaREI, classes were encouraged to collect and use marine litter and recycled items to create a 3D art project that makes people stop and think.
John Mullins said: 'All the schools that participated in this year's initiative can feel proud of their efforts as the projects submitted were incredibly visual and would certainly make people stop and think about the effects of marine litter.'
He told the children they are our future and said: 'It is the younger generation, like yourselves that will make the difference and you are an inspiration for us all.'
The Port of Cork were joined by Aoife Deane from MaREI and Susan Vickers from Clean Coasts who both judged the projects.
Researchers estimate that over 10 million tonnes of litter ends up in the world's oceans each year and 1 million seabirds and 100,000 marine mammals (seals, whales, dolphins) die every year because of marine litter through entanglement or ingestion. There is a growing public awareness of the issue, and with almost half of all marine litter being made up of just 10 types of single-use plastic items, we can take steps to tackle the problem.
Port of Cork Chairman John Mullins reminded all participating classes that as well as receiving a certificate of participation, every class will be treated to a high speed, fun filled boat trip around Cork Harbour, compliments of the Port of Cork. As an extra special prize, best overall winners St Columbas Girls National School will go on board a cruise liner in May for a tour of the ship.
All school projects are currently on display at the Cobh Maritime Building, located on the platform at Cobh Railway Station until the end of May.
As part of Cork Harbour Festival and Seafest the projects will be on display to the public in Custom House, Cork City from 1st – 9th June 2019