Stop, Collaborate and Listen for better Ocean Science – Part 1
In July, MaREI researcher Abigail Cronin set sail from Dublin port on the RV Celtic Explorer as part of a scientific crew of nine. The team consisted of three Marine Institute (MI) personnel, two Training Through Research Survey scheme (TTRS scheme) participants, one BEAMS participant, three scientists from the University of New Hampshire (UNH), and the full Celtic Explorer crew. The sixteen day cruise aimed to map a portion of the seabed within Irish waters, approximately 80 nautical miles south of Cork, as part of the INFOMAR project.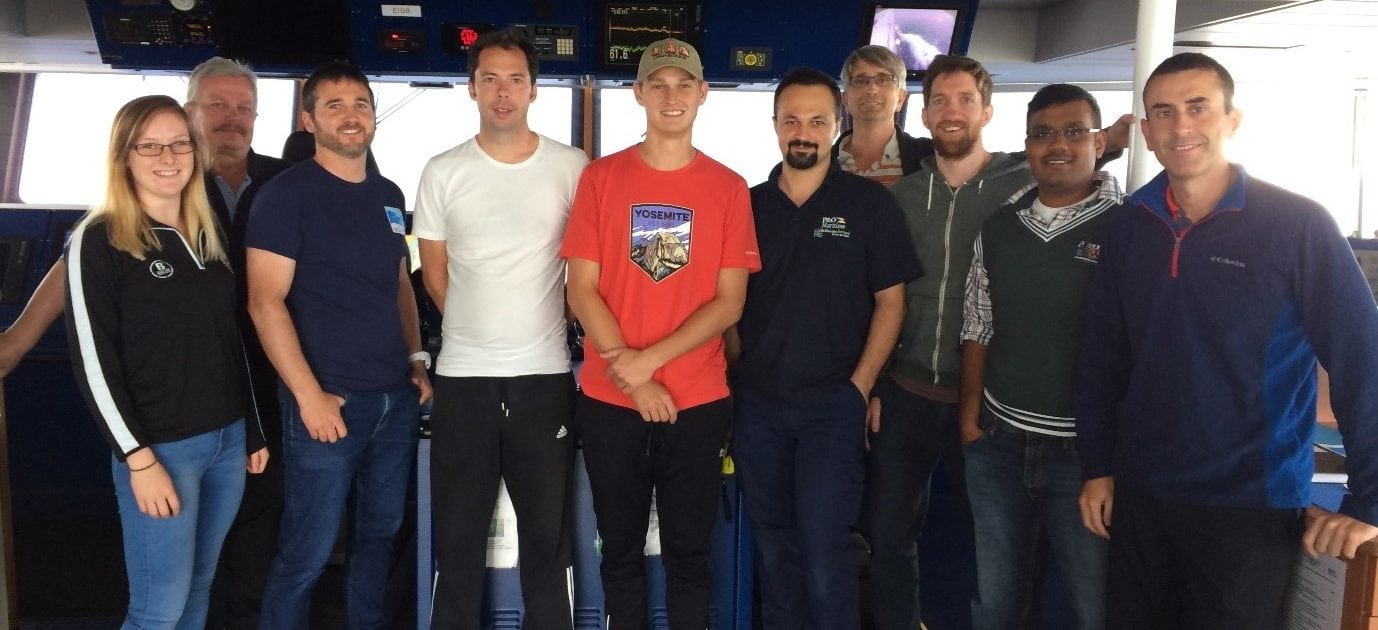 While on the cruise, Abi wrote some Marine Institute blogs describing why she was on the cruise and what it consisted of.
Learning on The Job
So, think about it, there you are standing on Dublin port looking up at Ireland's largest research vessel, the Celtic Explorer. You shuffle up the gangway with your bag slung over your shoulder after a friendly Donegal accent points you in the direction of the dry lab. As you walk into the room, colourful animations and flashing buttons jump out of the dozen or so monitors lining the walls. You hear the buzz of excited marine scientists from around the globe double checking their devices are in working order, as the smell of Tony and Gavin's freshly made apple pie wafts up the stairs. You are one of two people given the opportunity to learn the skills of seabed mapping from the national experts. But how?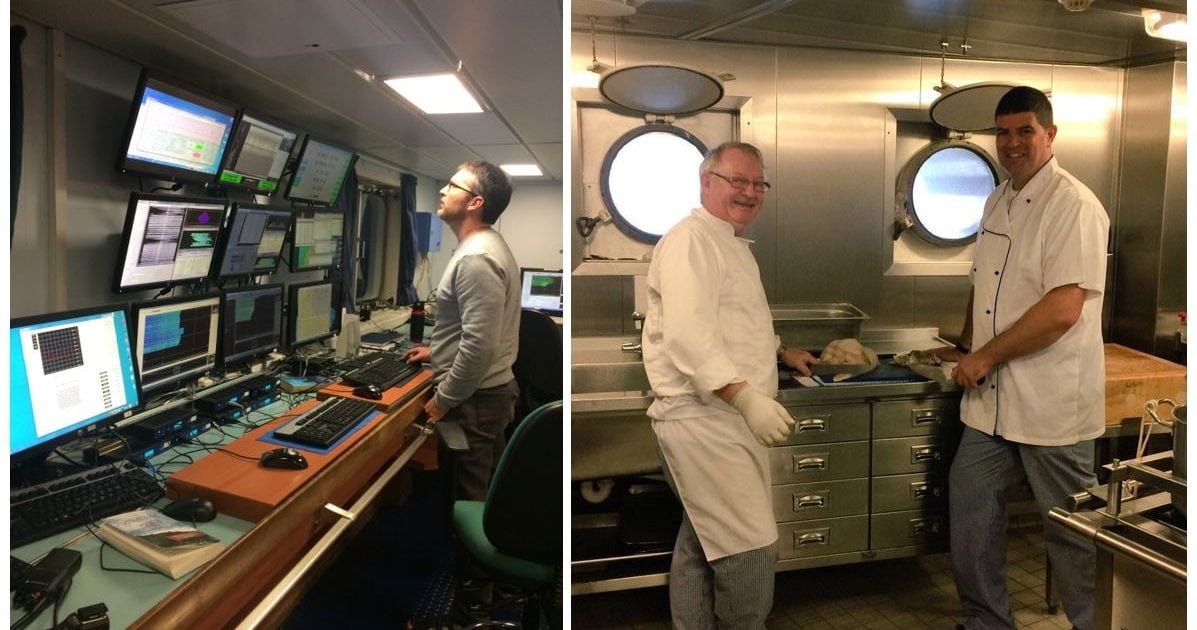 Two applicants, John Skehan and Abi Cronin, were chosen to take part on the INFOMAR survey from July 21st to August 6th 2017 as part of the Training Through Research Surveys (TTRS) scheme. This initiative, collaboratively organised by the Strategic Marine Alliance for Research and Training (SMART) and the Marine Institute (MI), acts as a national capacity building exercise to raise the level of marine science in Ireland, while giving early career researchers the opportunity to network with and learn from experienced marine scientists. Participants gain valuable marine data collection and observation experience on dedicated research surveys with leading Irish and European marine scientists. This programme is designed to provide mentored training for emerging marine scientists on surveys taking place off the western seaboard of Ireland and ranging as far as Newfoundland.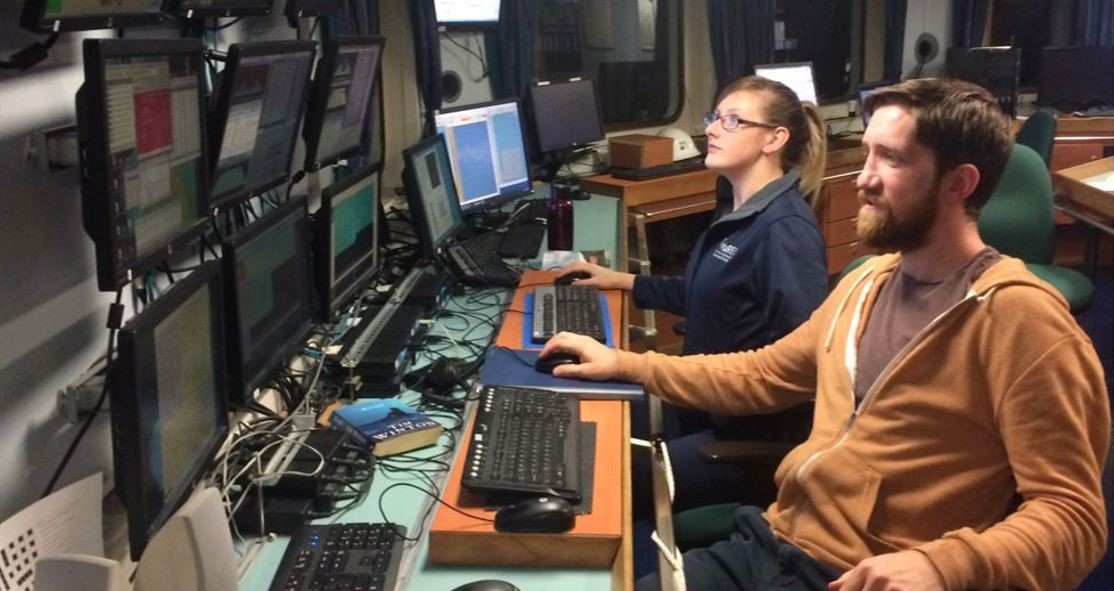 John and Abi come from very different backgrounds with John's initial degree being in IT. He recently completed an MSc in Geographical Information Systems & Remote Sensing at Maynooth University, and is currently working in the Surveying and Remote Sensing unit at Ordnance Survey Ireland (OSI). Abi has an MSc in Coastal and Marine Management from University College Cork, and works in the Earth Observation Group of the Centre for Marine and Renewable Energy Ireland (MaREI). Both participants have a strong interest in mapping the seabed, however before this cruise they had very little experience actually collecting the data. This voyage allows them to throw themselves in the deep end and learn on the job.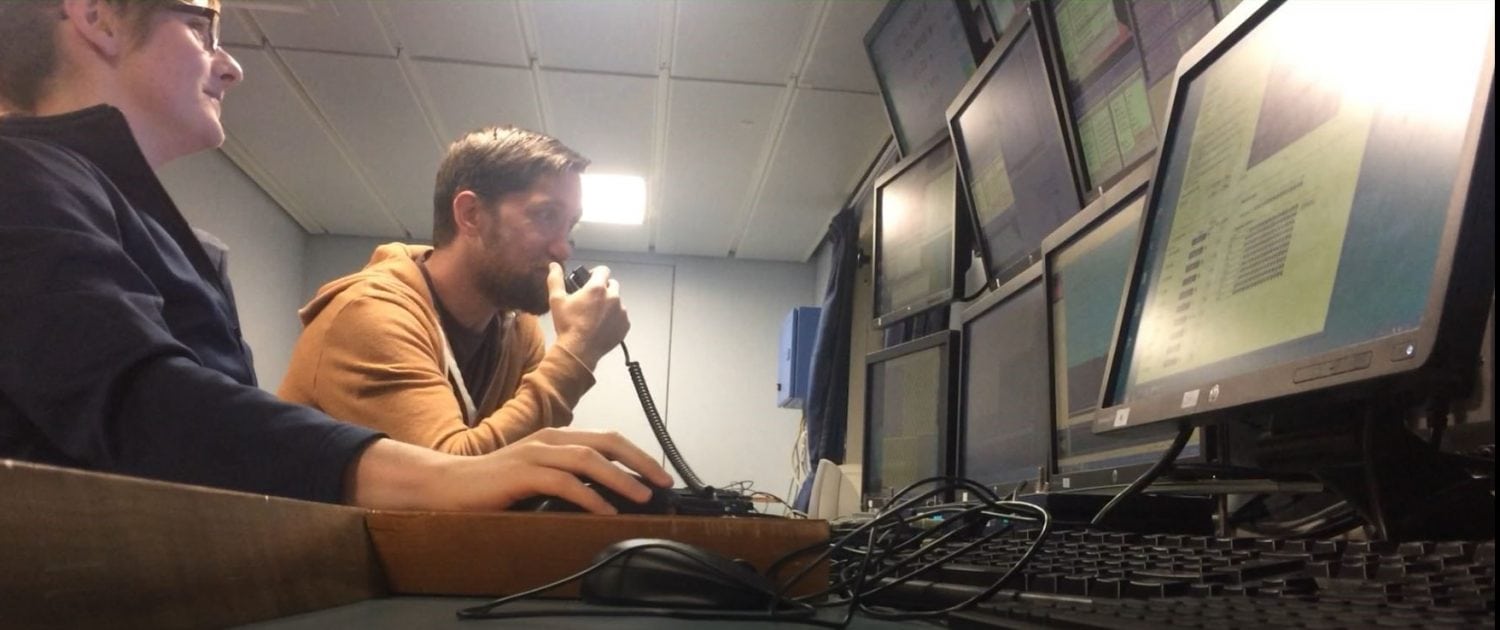 Onboard, Abi and John have undertaken quite an array of tasks, the most obvious being coordination of the three multibeam echosoudners: EM1002, EM302, and EM2040. While in charge of these devices, the scientists must know how to create new transect lines; look out for any anomalies in the data; activate lines for the ship's autopilot; contact the bridge to inform the skipper of any line turns or change of plan; input Moving Vessel Profiler cast (MVP) data; as well as ensure the multibeam, backscatter and water column data is being stored appropriately.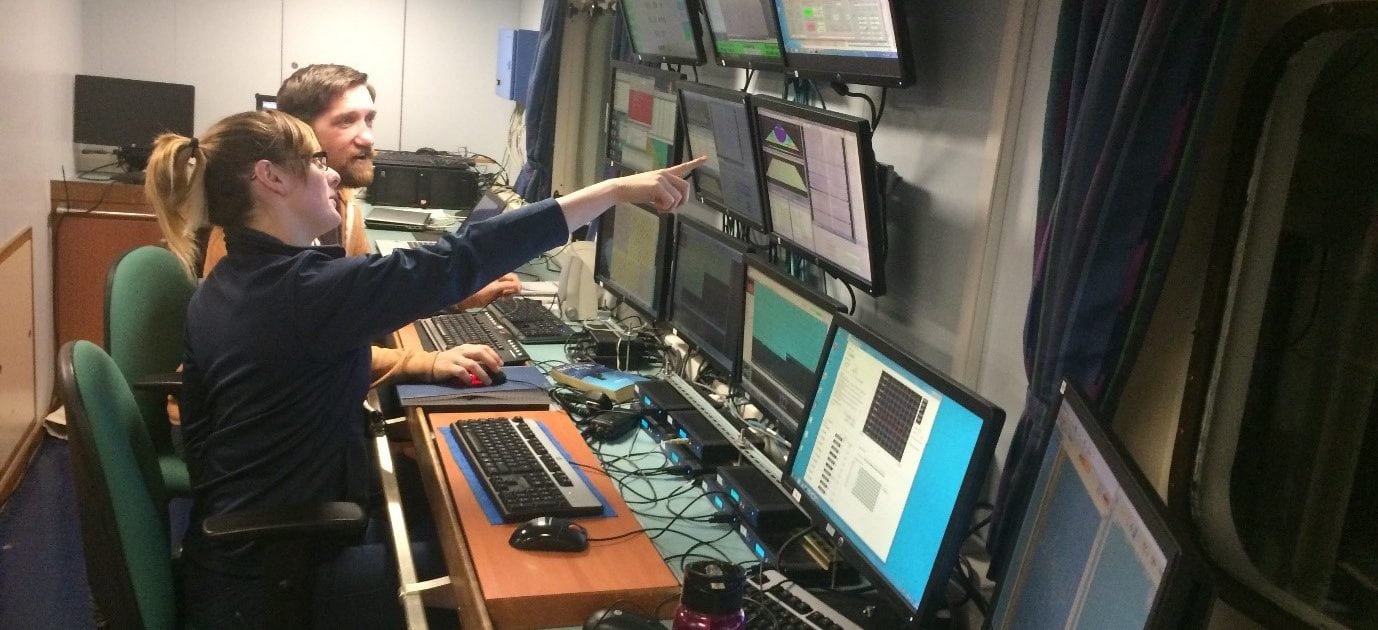 The scientists also took charge of communications and logistics for CTD (Conductivity Temperature Depth sensor) casts and sediment grab stations, ensuring all data was collected safely and efficiently. To keep the data organised, we log each MVP, multibeam line, grab and CTD both in digital and paper format. This includes keeping a logbook up to date, and working with different navigation and metadata software: QINSY and Multilogger. For more information on INFOMAR's toolbox you can read the most recent blog here.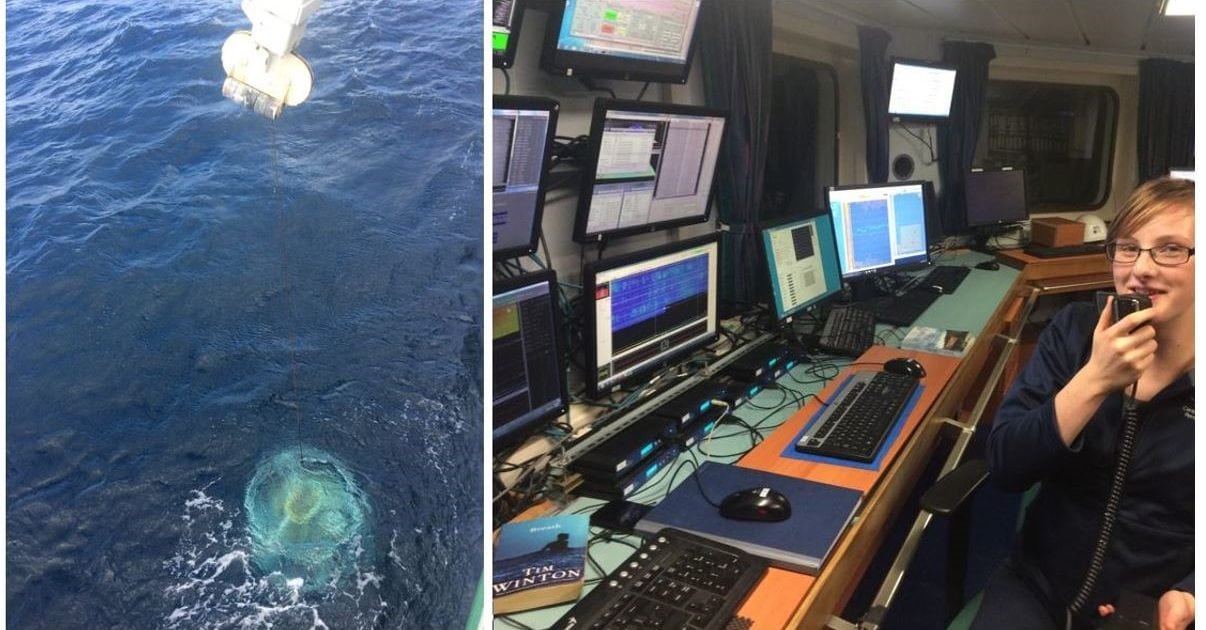 The TTRS scheme increases the national marine science research capacity through coordinated use of national infrastructure and facilities. This opportunity has allowed John and Abi to develop their skills, add to their existing seagoing experience, and network with established professionals in seabed mapping and oceanography.
A message from the author:
I would like to take this opportunity to say a big thank you to SMART Sea School for making this all possible through the TTRS scheme. This was a fantastic chance to work with the INFOMAR team Oisin, Kevin & Slava, as well as the scientists from the University of New Hampshire and College of Charleston. It's been a pleasure learning from people who are enthusiastic about their research. Last, but most certainly not least, a massive thank you to the crew for making this such an enjoyable experience. Always open to questions and happy to share your stories, you took us in and made us feel welcome. All in all, an enjoyable learning experience. I hope to work with you all again in the future. In the meantime, I'll be putting the knowledge we've gained to good use in MaREI.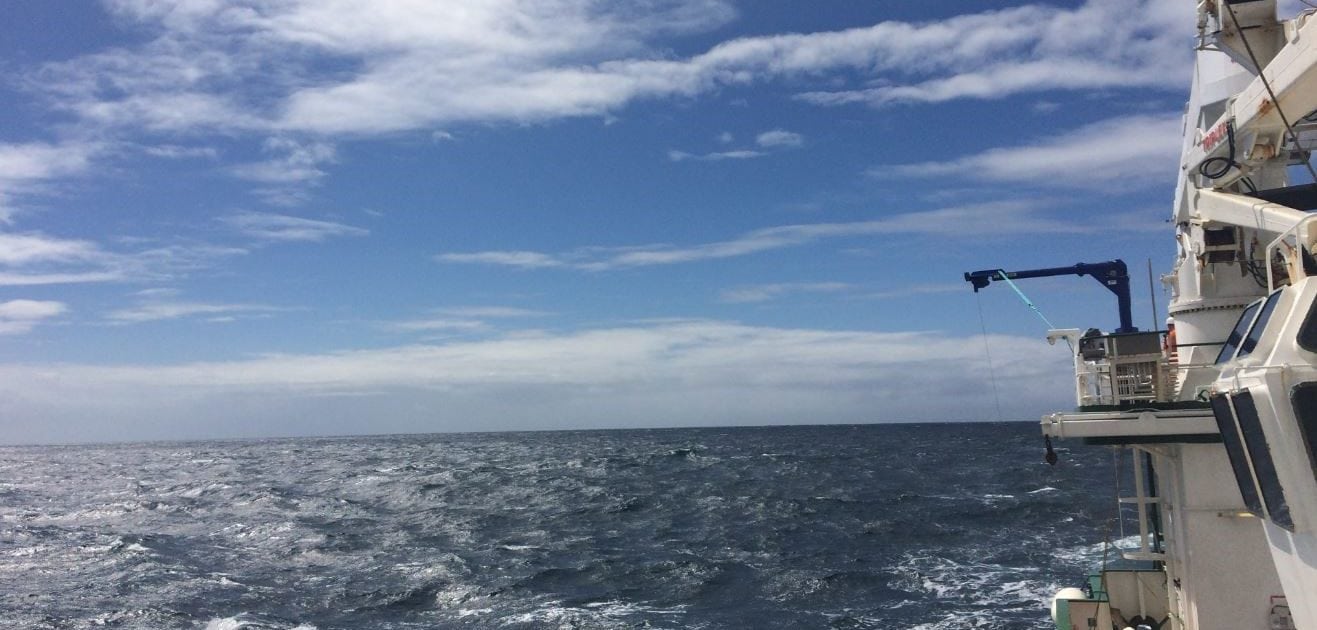 Anything else you want to know? You can catch me on twitter at: @Abi_Cronin