The Deep Institutional Innovation for Sustainability and Human Development @ MaREI presents Mary McAleese "These Days Will Change Our Days"
July 6, 2020 2:00 pm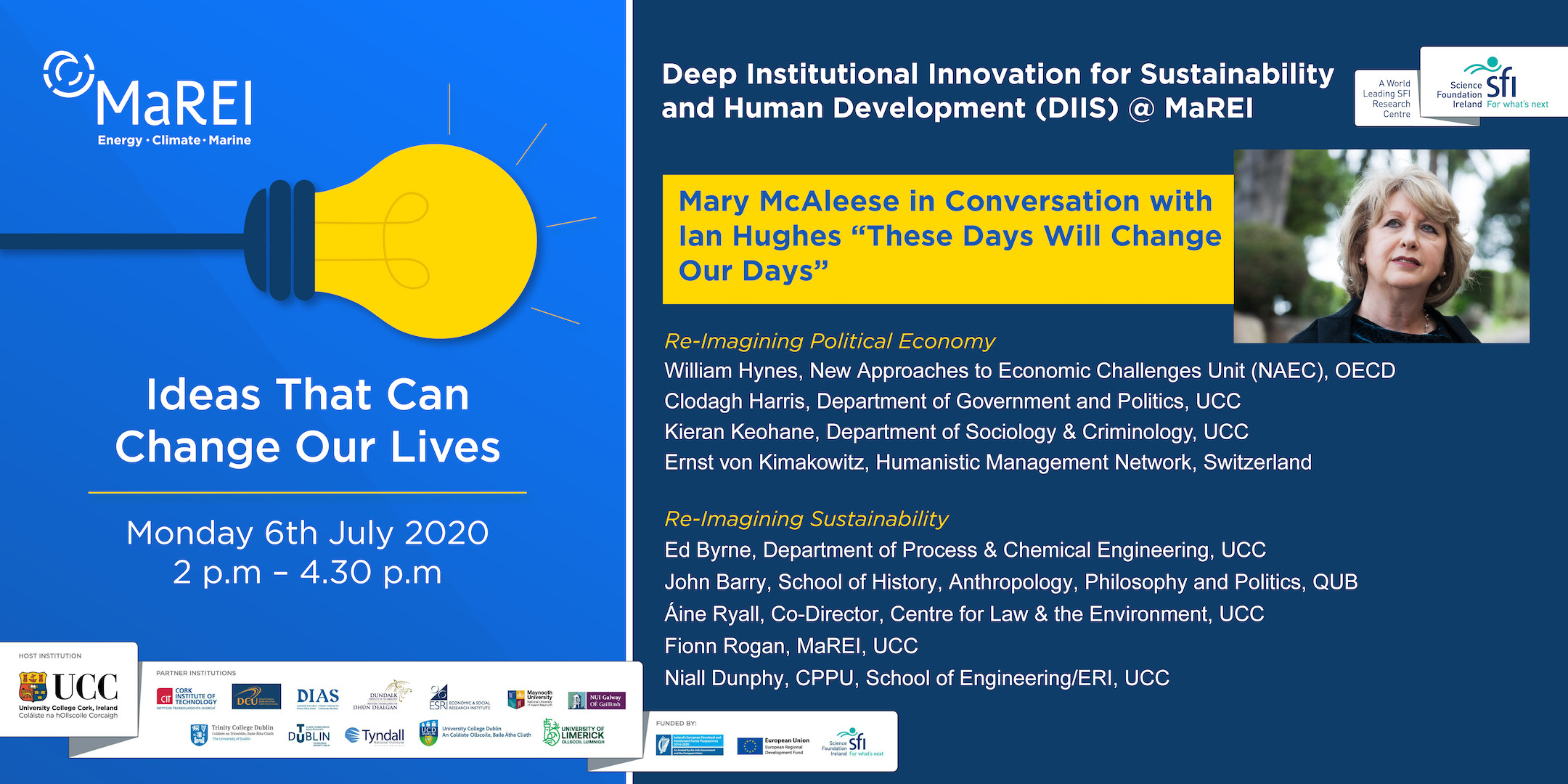 We are delighted to host former President of Ireland, Mary McAleese, along with a panel of experts drawn from politics, technology, humanities, management and government policy, to explore how the Covid-19 pandemic is fundamentally reconfiguring our societies.
This moment is one of profound change. Climate change, environmental degradation and a biodiversity crisis, marked increases in inequality, economic crises, the rise of populism, and rising geo-political tensions have been providing clear evidence that current social institutions, including economics, democracy, religion, technology, gender and higher education, are not optimal, either for human flourishing or for addressing the urgent global challenges we face. The Covid-19 pandemic has brought this dangerous reality into even starker relief.
The Deep Institutional Innovation for Sustainability and Human Development (DIIS) project at MaREI, University College Cork, Ireland aims to lay the foundations for a critique and reimagining of the major social institutions in society, and the development of principles, visions and imaginaries for guiding their urgently needed transformations.
Join us to listen, discuss and share your views on the ideas that can change the way we live. Global perspectives welcome!
This webinar will begin with a wide ranging conversation between former President Mary McAleese with Ian Hughes DIIS on how "These Days Will Change Our Days".
Session 1: These Days Will Change Our Days
This will then be followed by 2 panel discussions:
Re-Imagining Political Economy
William Hynes, New Approaches to Economic Challenges Unit (NAEC), OECD
Clodagh Harris, Department of Government and Politics, UCC
Kieran Keohane, Department of Sociology & Criminology, UCC
Ernst von Kimakowitz, Humanistic Management Network , Switzerland
Re-Imagining Sustainability
John Barry, School of History, Anthropology, Philosophy and Politics, QUB
Ed Byrne, Department of Process & Chemical Engineering, UCC
Áine Ryall, Co-Director, Centre for Law & the Environment, UCC
Fionn Rogan, MaREI, UCC
Niall Dunphy, CPPU, School of Engineering/ERI, UCC
This webinar will be a very interactive event with many opportunities for the audience to engage with and pose questions to all of the speakers.
This event will also be facilitated by Prof. Brian Ó Gallachóir, Director of MaREI.
Sign up for the event here.