On the 1st of November 2021 representatives of Corca Dhuibhne/ Dingle Peninsula, 2030 set off on a journey north to Glasgow for COP26. With the support of the ESB Networks Dingle Project, they set off hoping to learn more about the benefits and challenges of travelling over 700 km in an electric vehicle. Alongside this, the trip acted as an opportunity to learn more about other bottom-up sustainability initiatives which could inspire further work and build networks moving forward. At COP26, the group participated in a side event, highlighting the role of collaborative sustainability initiatives in meeting the challenges posed by climate change. It also was an opportunity for the group to meet with Irish Government officials to share learnings from Dingle Peninsula 2030, and inform the Taoiseach of local bottom-up action in light of the global multi-lateral deliberations.
Read their journey below: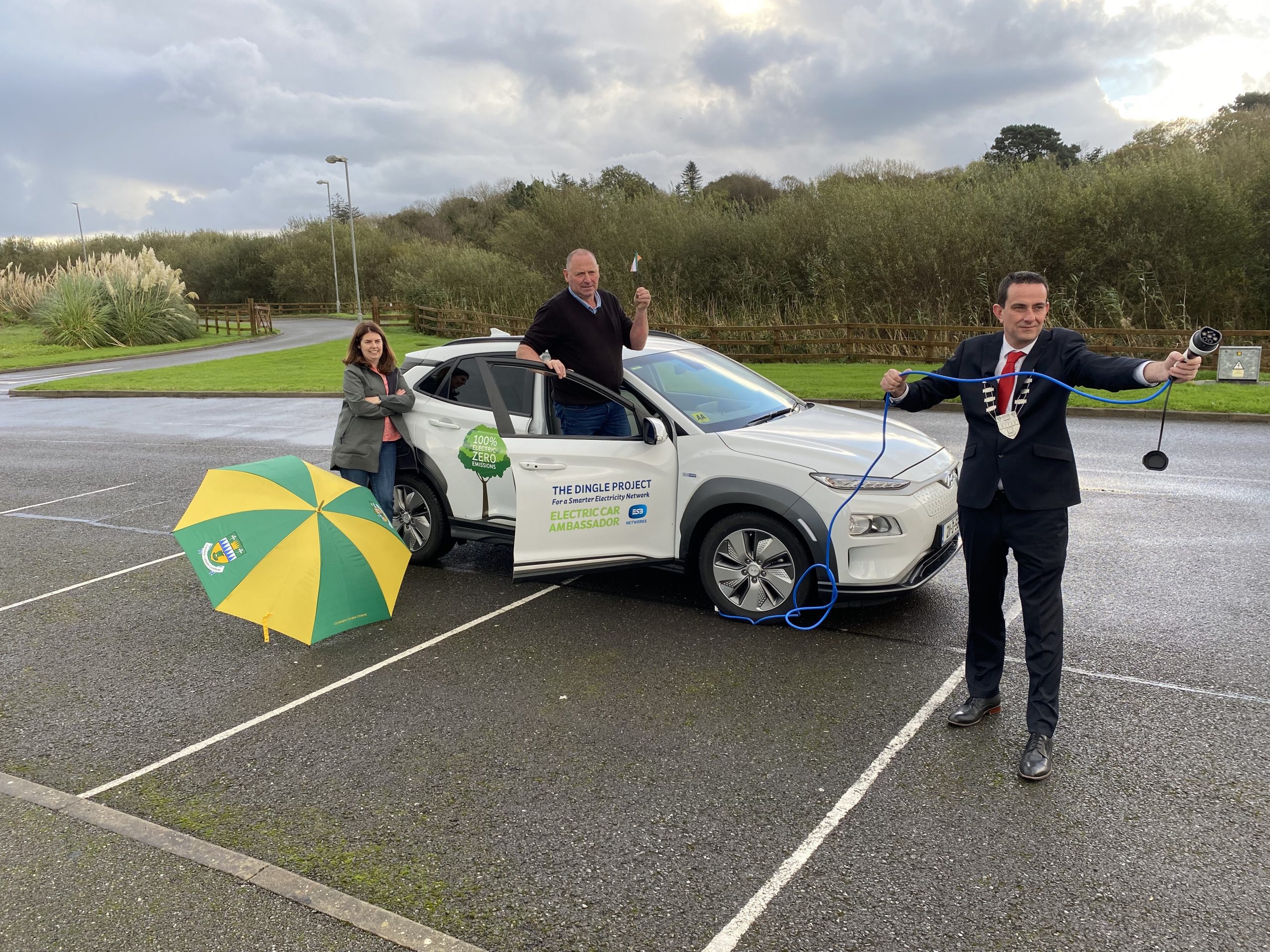 We hit the road at 08:52 am this morning to COP with a full charge. Thanks to Mayor Jimmy Moloney for sending us on our way this morning. The plan is to charge for two hours at Tullamore train station while we meet Green Offaly at Charleville Castle. It's a 22kW charger so hopefully, we will leave Tullamore charged to at least 300km. It is a 225km trip then to Belfast port so the plan is to stop at a 50kW charger on the approach to Belfast and try to charge to at least 300km again.
We received a fabulous welcome from Green Offaly at Charleville Castle in Tullamore. Delighted to meet representatives of the various sectors that are involved in 'green' projects within Offaly and guest speaker, Duncan Stewart of Eco Eye. Thanks for our locally sourced, seasonal (and carbon accounted) lunch from The Good Life. This 'lunch and learn' meeting centred around learning about the innovative projects that are underway in our respective rural counties.
We chatted with Sinead Dooley, Head of Public Engagement at Eirgrid about how well Offaly is positioned to generate renewable energy bring so central from both geographically grid-infrastructure perspectives.
And transition year students from Sacred Heart Secondary School told us about their work to drive sustainability within the school and to ensure the junior years are primed to take up the baton when it's their turn.
Offaly is on the frontline of Climate Change due to the sudden cessation of the peat industry, our 21% land bank and our huge agricultural heritage.
A key question for all global communities at this time and one the Dingle Hub and Green Offaly are working hard to implement solutions to is 'how do you transition a County/Community into a low carbon society while increasing the quality of living, creating employment opportunities and regenerating our Communities… in a timeframe of 20 years?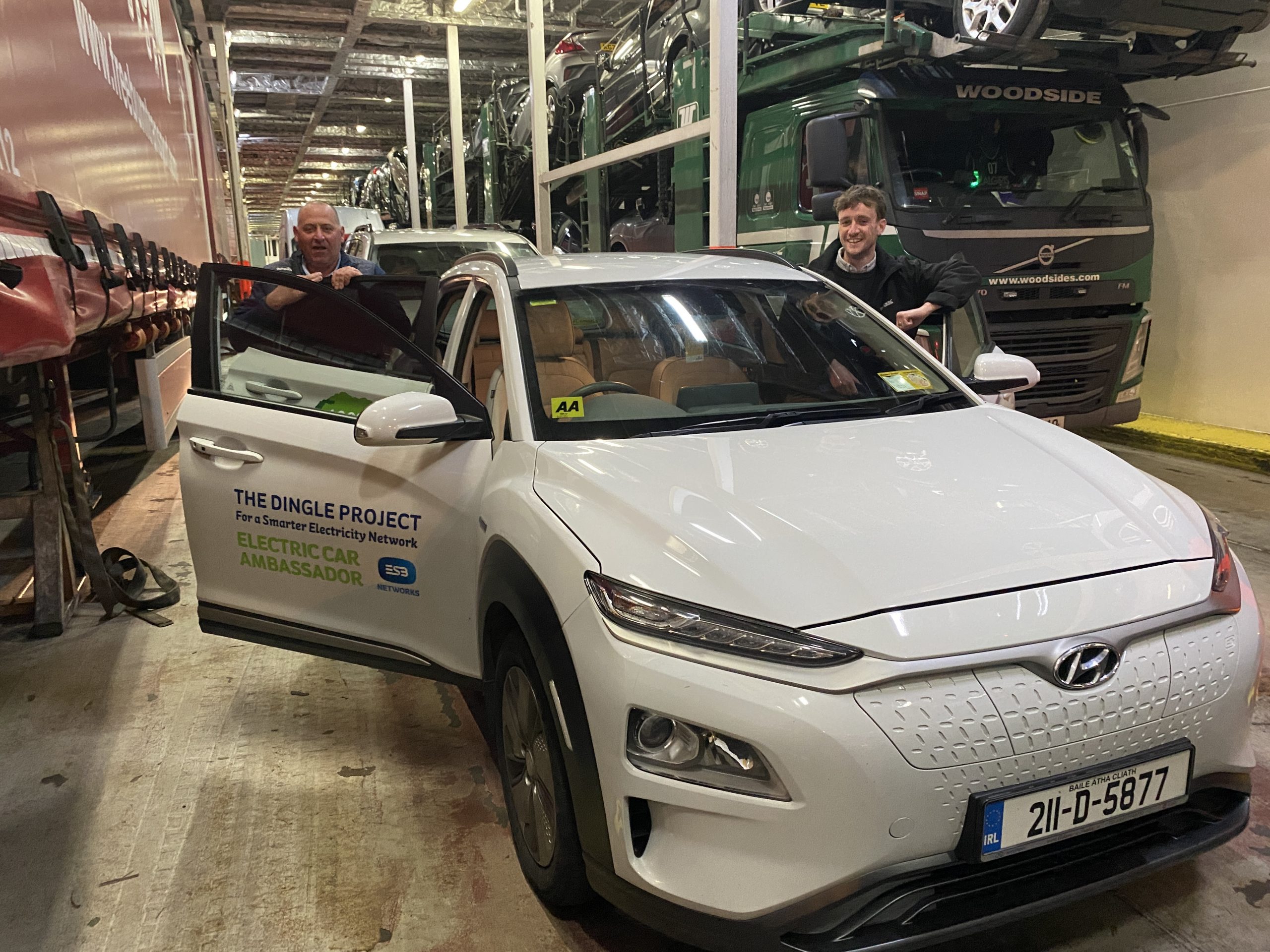 We arrived at a charging station in Banbridge with 81km left and we were only approx 50km to the ferry. There is another vehicle charging ahead of us so we had a bit of a wait. Not convenient but that's the reality. At 17:13 we were plugged in and the charger said 58mins to get to 80% but we needed to leave by 17:50 at the latest. At 17:47 the car was charged to 58%. This saw us safely on the ferry but we need to plan to charge between Cairnryan and Glasgow. This stop seems to be just one of 2 fast charging options on the approach to Belfast. Finally, at 19:30 we arrived on the ferry – huge relief!
The following morning we met with Alastair Browne from Climate Action Srathaven and left feeling very inspired by all of the sustainable travel initiatives he has up and running. Great learning for ways we can proceed! Charged up for an hour while there and got another 50km.
At 12.30 pm we had an insightful meeting with Kevin Moore and Denny Walker to learn about the process of developing the vision for their community Bothwell Futures.
Our app told us there were 2 available and functioning 22kW chargers at Uddington train station. The station master said no issue leaving the car there for several hours while we attended the conference, that would get us enough to get all the way back to Belfast but they weren't working. So we had to sort a charger when we got back from the conference.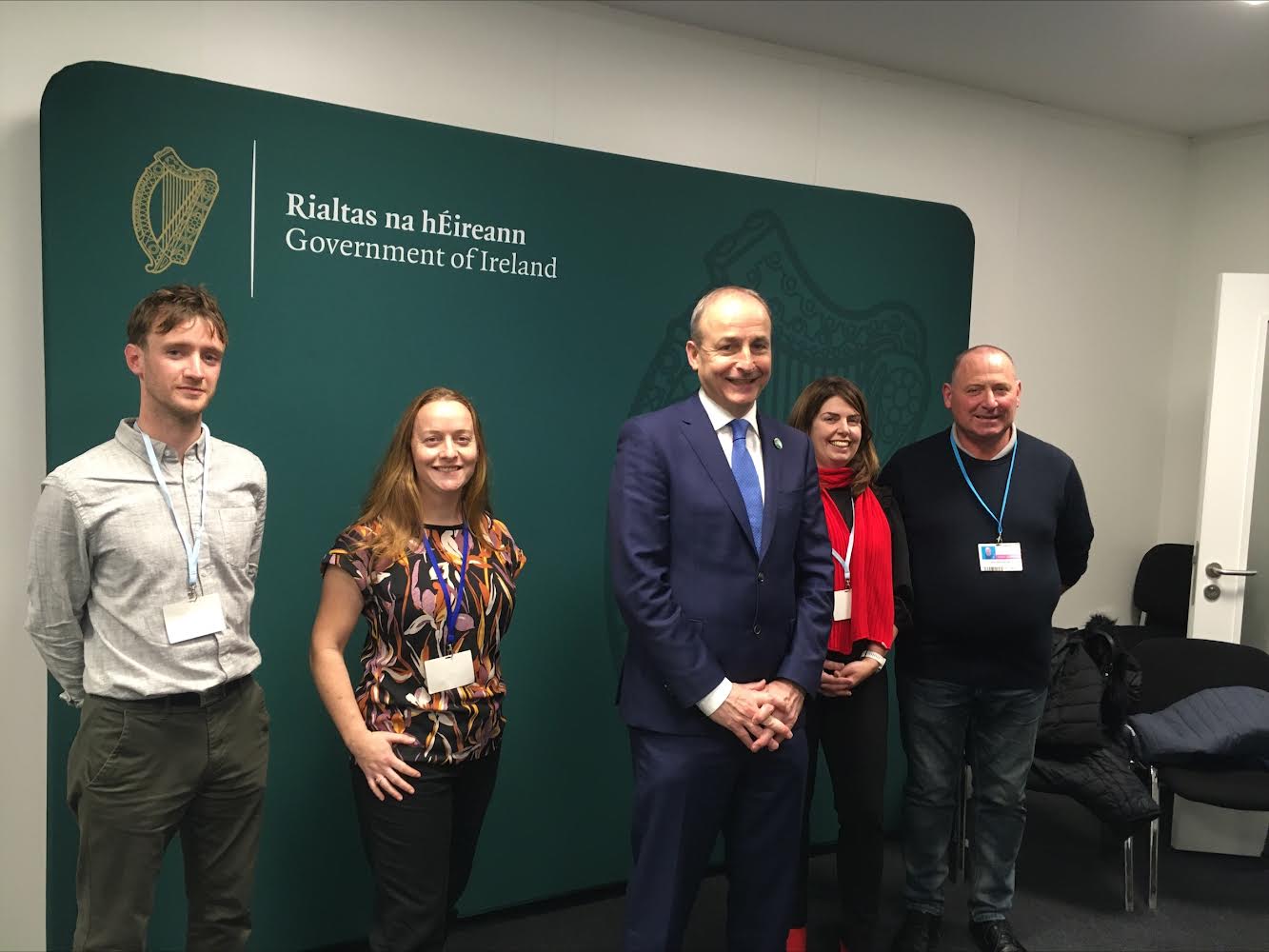 As we were preparing to participate in our side event we were invited to meet with An Taoiseach, Micheál Martin. We had an excellent discussion on the multiple benefits of anaerobic digestion – especially if biogas can be used in local transport markets – farm machinery, boats, buses, etc. We also discussed the advantages of Sustainable Energy Communities highlighting the example of the West Kerry Dairy Farmers SEC and how this is possible in other sectors such as hospitality and marine. We're looking forward to finding ways to turn these ideas into reality sooner rather than later!
Then Evan and Deirdre participated on panels at our side event to share the many ways the community in Corca Dhuibhne has been working with policymakers, agencies and corporate bodies. And we managed to catch up with MaREI Director Prof Brian Ó Gallachóir, who is a Principal Investigator on the Dingle Peninsula 2030 project.
At 7:30 we got the train back to collect the car which had 130km remaining. We drove back to the accommodation and planned to trickle charge for the night which gave us plenty of juice to get to several different fast charging options before we get to the ferry. The trickle charge really has been the saviour on this trip!
After we got off the ferry at 15:50 we stopped at Castlebellingham on the M1 to top up. 15min wait for a charger and 30mins charging brought us to 276km. We stopped again at Portlaoise (J17) and Newcastle West and arrived home at 23:00 that night.
There is a little issue bar allowing some extra charging time but it's still too dependent on luck for everything to go right! 

Verdict: I love the EV for 95% of my driving needs. For day to day driving, I'll never go back to petrol or diesel but until the infrastructure gets ironed out over the next few years - I'll be taking the bus/train for extended journeys!!