UCC hosts International Energy Workshop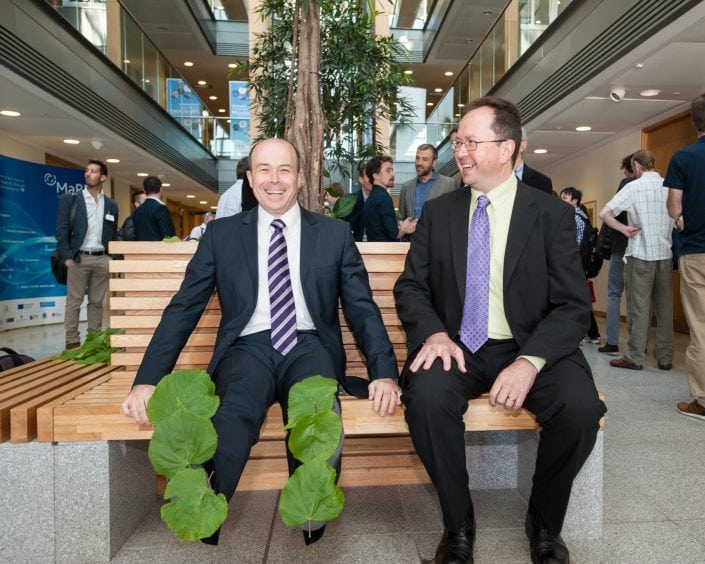 Ireland's first major carbon-neutral conference, the International Energy Workshop, The was hosted by the Environmental Research Institute and MaREI at UCC in June. The event brought together some of the brightest minds in energy and climate science to discuss the future energy needs of the planet. Leading by example, the conference is entirely carbon-neutral with any energy and emissions being recorded and offset to ensure a minimal carbon footprint.
Addressing the 35th International Energy Workshop the Minister for Communications, Climate Change & Natural Resources Denis Naughten TD said,
"The International Energy Workshop focuses on a wide array of topics, including energy supply and price forecasts, energy savings and efficiency, renewable and innovative energy technologies, environmental and climate policy and the intersection between energy analysis, economics, and the natural sciences. It is this interaction of varied disciplines that will provide us as policy makers with the novel pathways that will help to decarbonise our economy and globally by 2050. I am delighted to be at this event and welcome the international delegates to Ireland."
The 35th International Energy Workshop marks one of the first significant technical meetings of energy and climate scientists since the signing of the Paris climate agreement (COP21) in December 2015. Participants from over 30 countries are in Cork for the 3-day event, and extensive efforts were made to offset emissions created by the flights and other conference activities. The potential emissions created by the event activities were translated into figures, and were rigorously offset through the planting of trees (both in Ireland and in Brazil), careful waste management and the use of reusable plastic and card. A vegetarian menu for the event to minimize carbon emissions was also created and technology, in particular an event app was used so that the conference is entirely paperless.
Event host Professor Brian Ó Gallachóir, Principal Investigator at the MaREI Centre for Marine and Renewable Energy and Environmental Research Institute at University College Cork said "This is a great event for Cork and highlights the international profile of research in UCC. Over the past number of years, the event has been held in Washington, Capetown, Beijing, Paris and last year's event was held in Abu Dhabi to coincide with the opening of a massive solar city. We are keen to ensure that Ireland leads by example with this carbon-neutral event here in Cork".
Like many other countries, Ireland faces significant challenges in meeting future energy needs, while also addressing climate change and transitioning to a low carbon economy. Worldwide energy needs are still largely being met by fossil fuels posing challenges and yet enormous opportunities for the energy efficiency and renewables sectors.
The Environmental Research Institute is one of Irelands leading energy and climate research centres and work by Prof Ó Gallachóir and his multi-disciplinary team has been recognised at national and international level. At the Conference of Parties (COP21) event in Paris, the Irish group presented results of a global modelling exercise, which looked at the concept of fairness and equity in paying for climate change and their work is used both at EU and governmental level to inform climate and energy policy.