UCC's Environmental Research Institute engages with climate change NGOs on future energy modelling scenarios
SFI, MaREI engages with climate change NGOs on future energy modelling scenarios
SFI, MaREI engages with climate change NGOs on future energy modelling scenarios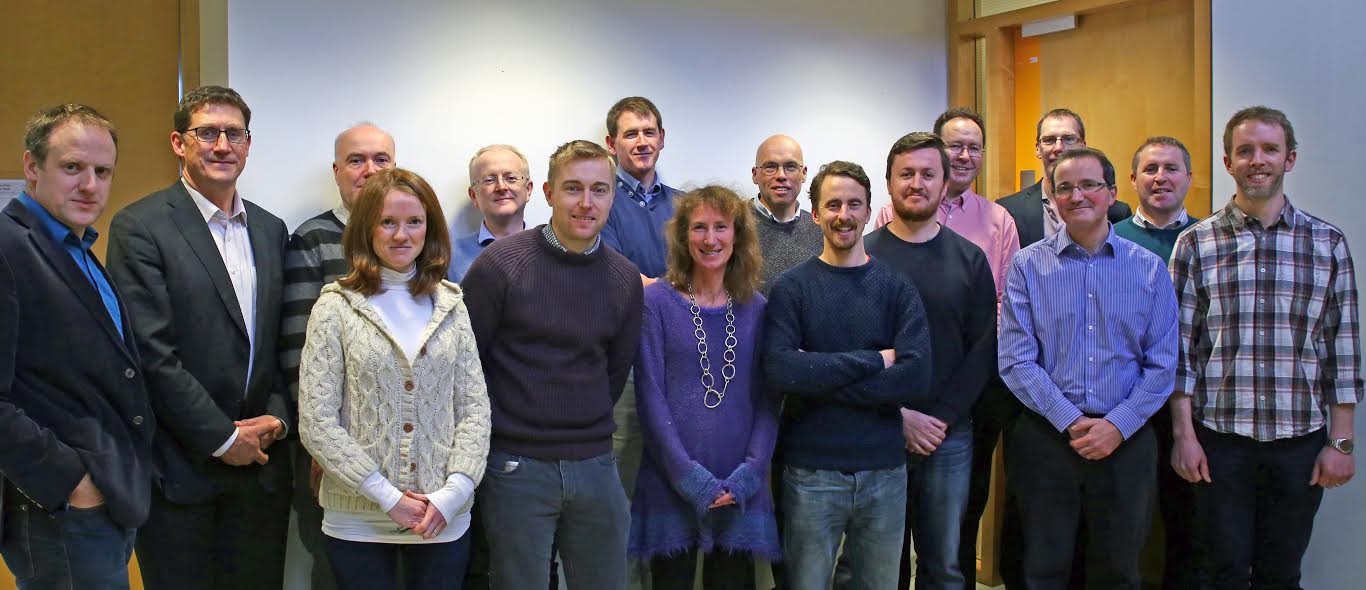 A number of non-governmental organisations visited UCC's Environmental Research Institute recently for a stakeholder engagement event on climate change with the SFI MaREI Centre's Energy Policy and Modelling Group. The focus of the event was to discuss the changes required to how we meet our future energy needs in Ireland in the context of the need to significantly reduce our greenhouse gas (GHG) emissions in order to mitigate the threat of climate change. The stakeholders were drawn from Trócaire, the Green Party, Tipperary Energy Agency, An Taisce, Irish Environmental Network and St. Vincent de Paul with a range of interests including climate action, climate justice, community development and energy affordability.
Prof. Brian Ó Gallachóir, Director of MaREI-ERI Energy Policy and Modelling Group explained how the event came about "Our research involves using energy models to build future scenarios of Ireland's energy system that we use to explore Ireland's low carbon energy transition. Ireland has enacted climate legislation and has recently ratified the Paris Agreement on Climate Change. This poses significant challenges and opportunities for our energy system. We have engaged significantly in the past few years, in particular with the energy industry and with state agencies and policy makers from a range of Government Departments. While NGOs representatives have attended some of these events, we felt it was timely to have a dedicated stakeholder engagement with NGOs to seek their feedback, views and insights, in order to develop new inputs and new scenarios to further improve our research".
The discussion centered initially on Ireland's long term energy transition focusing on the period to 2050 and the radical changes required to enable the transition to a low carbon energy system. The main focus was on the merits and difficulties of different technology choices, the role of energy efficiency and renewable energy. Other topics that were discussed included the short term challenges Ireland faces in meeting the mandatory (through EU legislation) targets for renewable energy and for GHG emissions reduction in the period to 2020. Finally the event touched on Ireland's ambition under the proposed EU Climate and Energy Framework for 2030. In addition to the discussions, the stakeholders took the opportunity to visit the anaerobic digestor research labs of the MaREI Bioenergy and Biofuels Research Group in the ERI and MaREI's National Ocean Test Facility in the ERI Beaufort building.
Summarising the outcome of the event Prof. Ó Gallachóir, "we had a very interesting and useful exchange on a number of key issues relating to levels of ambition, how to decarbonise heat and transport, the role of bioenergy and the role of renewable electricity. We are planning a follow up event explore some of the issues further and we see this a great start that provided enthusiasm for further dialogue".