New Construction Technology Research and Innovation Centre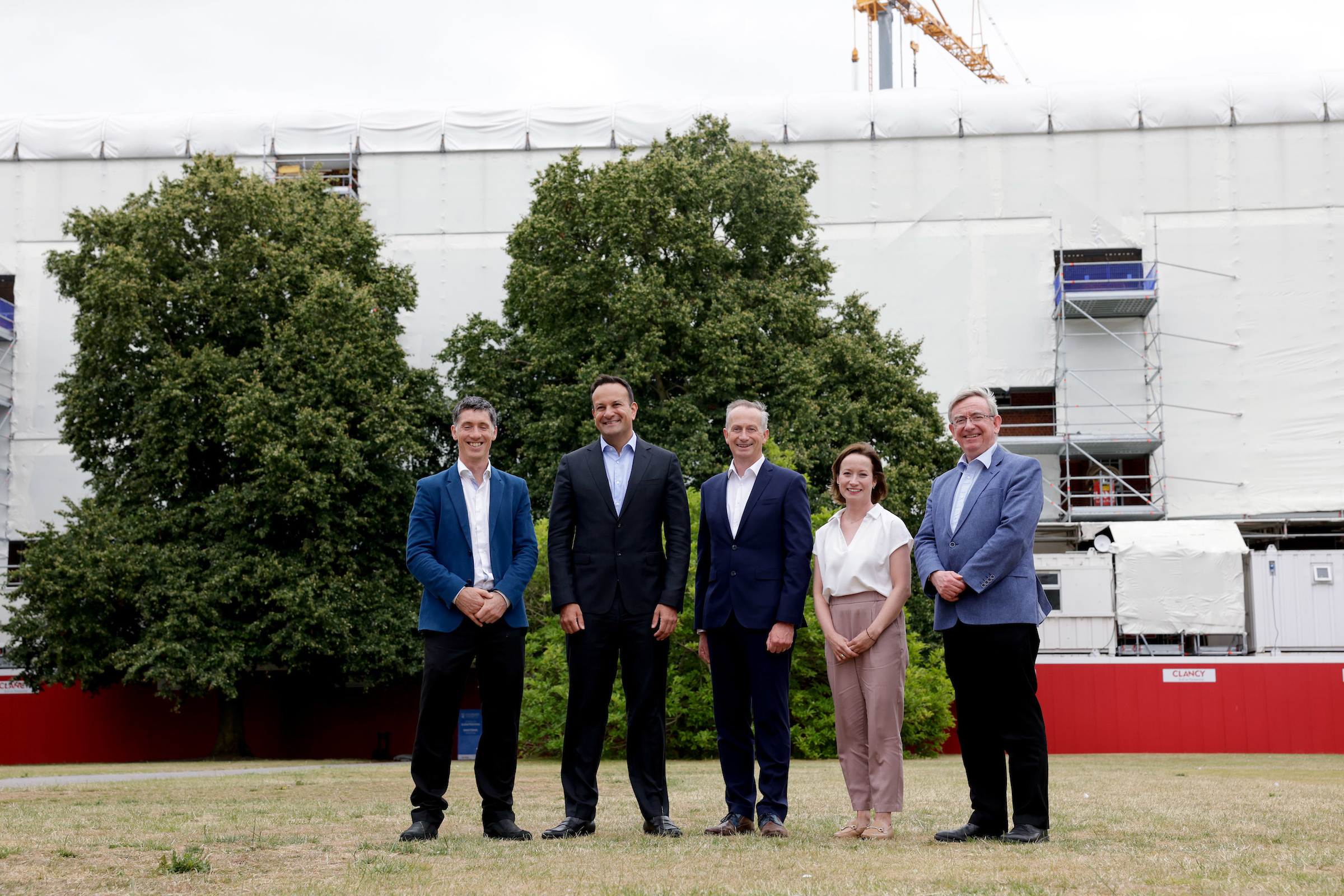 New Technology Centre will be hosted by NUI Galway & UCC to lead the Sustainability Pillar
The Tánaiste and Minister for Enterprise, Trade and Employment, Leo Varadkar, TD, announced funding of €5 million, over 5 years, for the establishment of a Construction Technology Centre to accelerate research and innovation within the construction and built environment sector.
The Construction Technology Centre will be hosted by NUI Galway and the consortium includes University College Cork, Trinity College Dublin and University College Dublin working with the Irish Green Building Council.
A team of researchers from across the Construction Technology Centre consortium, with expertise in the main areas of digital adoption, modern methods of construction and sustainability will be organised under five pillars to address the urgent areas of Productivity, Affordability and Cost; Quality and Safety; Sustainability; Skills and Training; and Collaboration.
Dr Marguerite Nyhan at UCC will lead the Sustainability Pillar of this new national centre, which brings together expertise in environmental sustainability, digital technologies, modern construction methods, environmental engineering and urban planning.
This new national research centre will ensure that Ireland is a global leader in sustainable and people-centred innovation for the planning and construction of our built environment going forward. UCC will lead the Sustainability Pillar of this centre which is befitting of our standing as a national and international leader in sustainability. Delivering on Ireland's Housing for All strategy in tandem with our Climate Action Plan is a complex problem that requires a complex solution. As such, this centre will bring together a talented consortium of researchers and stakeholders who will co-develop cutting-edge, technology-driven and sustainable solutions to these major societal challenges
Dr Marguerite Nyhan
Senior Lecturer & Lead of the Sustainability Pillar of the Centre
UCC's School of Engineering & Architecture, Environmental Research Institute and SFI MaREI Centre
Our consortium proposed a Centre that will deliver on its vision to make Ireland a global research and innovation leader for sustainable construction and built environment technology. The Centre will bring together the whole value chain to accelerate people-centric innovation in construction and the built environment that allows industry increase their capacity and competitiveness, while creating a sustainable society and economy
Prof Jamie Goggins and Dr Magdalena Hajdukiewicz,
Senior Lecturer & Research Fellow and Construction Technology Centre Leads
NUI Galway and SFI MaREI Centre
This new research centre will ensure that Ireland is at the cutting edge of construction innovation globally, increasing the productivity and sustainability of our domestic construction sector. UCC are delighted to be leading the sustainability pillar, and we look forward to collaborating with academic and industry partners to address key challenges in this important space.
Dr Paraic Ryan
Senior Lecturer
UCC's School of Engineering & Architecture, Environmental Research Institute and SFI MaREI Centre