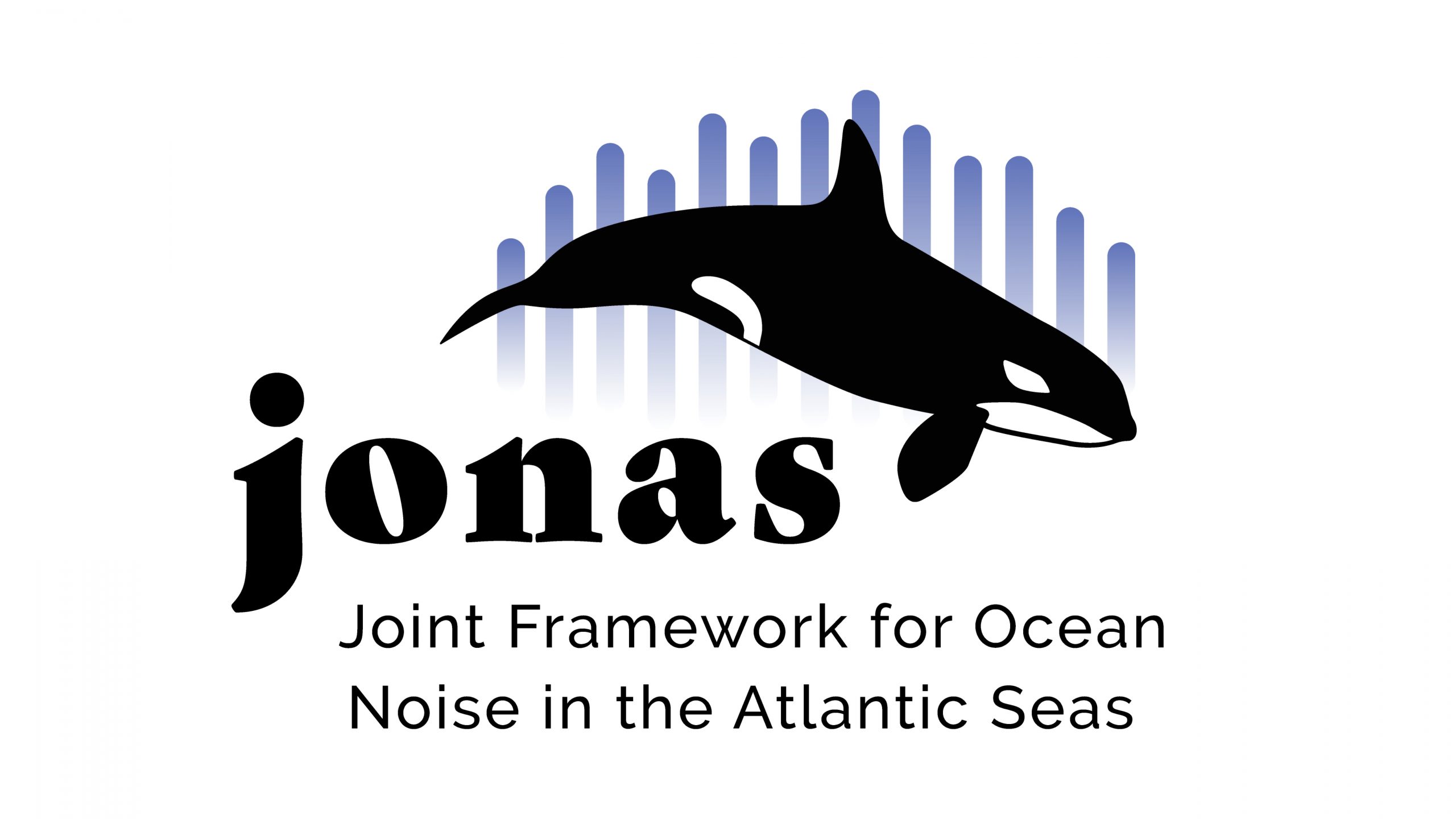 Title

JONAS: Joint Framework for Ocean Noise in the Atlantic Seas

Start Year

March 2019

End Year

September 2022

Funding Body

INTERREG Atlantic Area

Project Coordinator

Gerry Sutton, MaREI UCC

Project Partners

University College Cork, IE, Marine Scotland, UK, CEFAS, UK, SHOM, FR, Quiet-Oceans, FR, UPC, ES, PLOCAN, ES, University of Algarve, PT, Hidrografico, PT

Project Manager

Pauhla McGrane, MaREI UCC

Research Area

Website
Introduction
Increasing human pressure on the ocean and impacts on biodiversity are major concerns for policymakers, scientists, and citizens. Marine activities such as shipping, offshore surveys, and construction often cause continuous and impulsive noise that can adversely affect marine species.
JONAS is an INTERREG Atlantic Area-funded project that brings together partners from Ireland, the UK, France, Portugal, and Spain to address the transboundary issue of underwater noise. JONAS will bring better monitoring and risk management to the Northeast Atlantic region, supporting European nations in meeting MSFD requirements.
Aim
JONAS aims to address the risks of acoustic pressures on biodiversity, focusing on sensitive receptor species in the North Atlantic, by streamlining ocean noise monitoring and risk prediction.
Work Packages
WP1: Coordination Lead: MaREI, UCC
WP1 ensures effective implementation of the project including routine operations, executive planning, strategic oversight, governance, and control. It is led by coordinator Gerry Sutton of MaREI, University College Cork, and supported by Pauhla McGrane, the JONAS Project Manager. They are backed by a team of highly experienced EU administrative and finance personnel at UCC, with an excellent track record in the delivery of 100+ EU projects over a 20 year period.
WP2: Communication Lead: MaREI, UCC
The Work Package 2 team, led by Kathrin Kopke and Amy Dozier, communicates and disseminates project findings to a range of audiences through a number of outputs, including newsletters, fact sheets, events, and social media. WP2 in particular targets audiences such as public competent authorities relevant to European Directives (e.g. MSFD and MSP), private sector organisations and industry (e.g. shipping), academia in related fields of expertise, and the interested public.
WP3: Capitalisation Lead: PLOCAN
WP3 ensures that the project builds upon the state of the art and delivers products that can be sustained beyond the project lifetime. Capitalisation by WP3 will integrate the project's outputs described in WP4-8 into a sustained online Underwater Visualisation Platform that will be defined, designed, and developed according to the requirements expressed by stakeholders, including users from the academic and industrial sectors, policymakers, Copernicus CMEMS, and EMSO ERIC.
WP4: Marine Strategy Framework Directive (MSFD) Monitoring Support Lead: University of Algarve
This WP aims to develop the tools and methodologies for implementing an efficient MSFD noise monitoring strategy throughout the regions and member states of the Atlantic arch and their respective regional ocean areas. This is a support task that will involve the harmonisation of MSFD implementation across regions both at the data gathering technical level (equipment standardisation, calibration or measurement methodology) and at the data management level (data harmonisation, metadata, storage, retrieval, data availability, etc).
WP5: Noise Mapping of MSFD Pressure Indicator in the Atlantic Area Lead: SHOM
WP 5 provides relevant methodologies for computing noise maps to the evaluation of the Descriptor 11 Criterion 2 of the MSFD. Researchers will gather data required for modelling, including environmental parameters and an automatic identification system (AIS) for vessel traffic. Validated noise indicator maps with confidence assessments will be ground-truthed and then used for the evaluation of the MSFD D11C2.
WP6: Risk Mapping Lead: Quiet-Oceans
WP6 will design a suitable methodology valid throughout the Atlantic Area for large-scale noise risk assessment and mapping. The methodology will be applied to the Atlantic Area for a period of one year in order to serve all countries as a common reference for future implementation of the MSFD at national levels. The risk assessment methodology will be based on (1) the input from WP5 that will deliver large-scale noise maps, and (2) an inventory of biodiversity data on species/taxa distribution (A 6.1).
WP7: Threshold Setting Methodology Lead: CEFAS
WP7 aims to support Atlantic Area states in meeting the MSFD threshold values for anthropogenic noise by developing proposals for how such thresholds can be defined in a way that promotes regional coherence across the unique environment of the Northeast Atlantic. Through consultation with the transnational advisory committee, proposals for threshold-setting methodologies will be developed which are tailored to the needs and priorities of policymakers and environmental managers in the Atlantic area.
WP8: Cumulative Noise Management Case Studies Lead: UPC
This work package demonstrates the application of risk mapping and indicator methodologies developed under WP6 and WP7 in concrete management scenarios. These scenarios are designed to address specific human drivers of noise in the Atlantic Area in relation to species, habitats, and ecosystems of management importance. The outputs will exemplify how the risk mapping and indicator methodologies can support decision making in the management of specific noise pressures in the Atlantic Area, and illustrate the further analysis of MSFD acoustic monitoring data to indicate abundance and biodiversity of soniferous species.
Engagement and Outreach
Contact