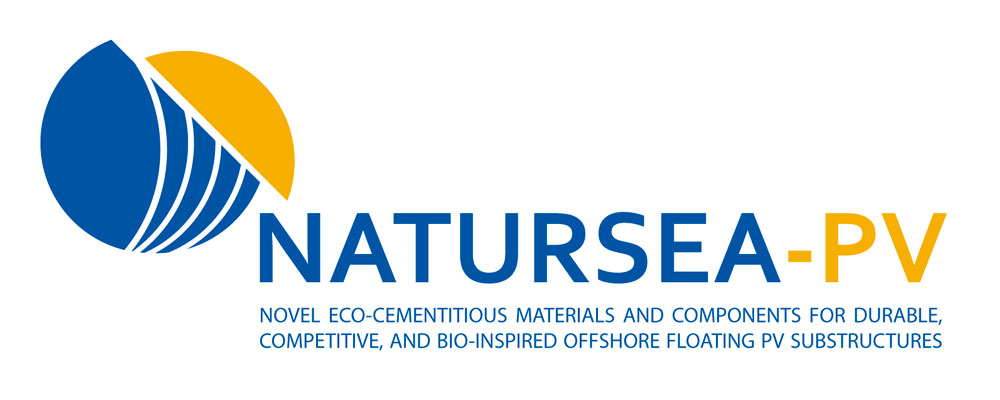 Title:

Novel Eco-Cementitious Materials and Components for Durable, Competitive and Bio-Inspired offshore Floating PV structures (NaturSEA-PV)

Start Date:

1 November 2022

End Date:

31 October 2026

Funding Body:

Horizon 2020/European Climate, Infrastructure and Environment Executive Agency

Coordinator

Tecnalia

Project Partners

Tecnalia, MARIN, Université de Bordeaux, Technische Universitat Darmstadt, UPV/EHU Polymat, CFM-CSIC, Preffor, Warrant Hub and RDC

Principal Investigators

Research Area

Coastal and Marine Systems and CPPU-ERI, School of Engineering

Website
Introduction
The strategic objective of NaturSea-PV is to improve the overall lifetime, reliability and maintainability of marine substructures for offshore floating photovoltaics (PV), to reduce degradation and failure rates, and thus investment risk and Levelized Cost of Electricity (LCOE). NaturSea-PV will develop a lily-inspired PV substructure solution to meet the specific needs for Offshore Floating PV. The sub-structures will be built using newly developed environmentally friendly low carbon ultra-high-performance concrete, and it will be coated with new biobased antifouling and anticorrosive coatings. The lily's concept of radial and tangential girders will take advantage of the flexibility and lightness of the new eco-concretes to withstand the harsh offshore met-ocean conditions. The project also looks at the potential environmental impacts of a large-scale deployment of this type and the social acceptance of this type of use of the sea and coastal areas.
Aim
UCC are responsible for leading Work Package 5 on Environmental, Social and Economic Considerations. This work package seeks to scope out the potential planning and regulatory, environmental, and social issues associated with large-scale roll-out of Floating PV installations. This will be informed by the findings coming from the more technical work packages on the design-related aspects. The work to be undertaken will form a first step in documenting the potential environmental effects and assist in informing planning policy development for future Floating PV policies at national and EU level. The findings from this work will be capitalised and socialised through the wider dissemination activities planned as part of the wider communication, dissemination and exploitation work package (6). LCOE resulting from the implementation of the proposed solution will also be determined as part of this work package.
Work Packages
WP1 – Requirements, concept and KPIs
WP2 – New circular materials
WP3 – Improved predictive computational tools
WP4 – Testing and Validation
WP5 – Environmental and social impact
WP6 – Dissemination, communication and exploitation
WP7 – Project management.