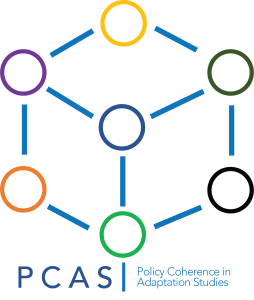 Title

PCAS – Policy Coherence in Adaptation Studies: Selecting and Using Indicators of Climate Resilience

Start Date

2019

End Date

2020

Funding body

Environmental Protection Agency

Research Area

Climate Change Adaptation, Resilience, Governance, Monitoring and Evaluation

Research partner/host

MaREI, the SFI Research Centre for Energy, Climate and Marine, Environmental Research Institute, UCC, Ireland.

Project Coordinator

Jeremy Gault, MaREI, University College Cork, Ireland.

Scientific Coordinator

Dr. Stephen Flood, MaREI, University College Cork, Ireland
Introduction
The objective of this project is to identify, select, and apply a set of climate resilience indicators for Ireland based on current international practice and tested through stakeholder engagement.
Due to the demonstrated complexity of climate resilience, there is a myriad of indicators that have been developed and employed at different scales. Global efforts to set the world on a climate-resilient pathway have focussed on the connectivity between climate change and development, as well as metrics for the identification of the countries, groups of people, and sectors most seriously threatened by climate change. This has resulted in over 232 indicators being developed for the UN 2030 Agenda for Sustainable Development Goals alone. Databases such as the World Bank's World Development Indicators or the FAOSTAT database of the Food and Agriculture Organization of the United Nations identify relevant national‐level indicators. Initiatives, such as the Rockefeller 100 Resilient Cities and its City Resilience Framework, offer alternatives at the sub‐national scale and there are numerous community-level indicator sets as well.
It is therefore imperative that any selected indicators not only adhere to the recognised SMART criteria but are tailored to Ireland‐specific circumstances and information needs, and enriched by nationally available data before being applied. Key consideration while identifying relevant climate resilience indicators for Ireland is cohesion between climate activities. Having multiple indicator sets, potentially conflicting, that add to the burden of government departments, national agencies, and local authorities will hinder efforts rather than supporting them. This highlights the importance of a process of targeted effective co‐design. Ensuring stakeholders have the opportunity to select indicators that best fit Ireland's observed and projected climatic risks and impacts, as well as its adaptation and development priorities, is a non‐negotiable step. There is increasing recognition of the necessity to integrate adaptation into society's response to climate change and this has led to an understanding of the need for making targeted, justified, effective, and cost-efficient policy decisions on adaptation at a national level. There is, however, an equally important need to ensure ownership and national buy‐in to any indicator set that is developed.
Work Packages
Work Package 1 – Co-ordination and Management.
This work package will provide coordination and budget management and ensure the delivery of outputs.
Work Package 2 – Review of Indicators of Climate Resilience.
Determine best practices for measuring climate resilience as defined in the National Adaptation Framework.
Work Package 3 – Climate Resilience Indicators for Ireland
Develop a practical system of critical indicators of climate resilience for Ireland, as evidenced from the different sectors and informed by the different approaches identified in WP2 and key Ireland Climate Policy documents (e.g. National Adaptation Framework (2018) and the Climate Action and Low Carbon Development Act 2015).
Work Package 4 – Groundtruthing Indicators
Work with stakeholders at the national level to critically review the role of climate resilience indicators and the applicability of the selected Ireland specific indicators.
Work Package 5 – Visualisation of climate resilience in Ireland
Develop a framework of communication to report the co‐designed suite of indicators
that will help visualise changes and trends in climate resilience in Ireland.
Work Package 6 – Communication and Dissemination
Insure impact through the uptake of outputs and by maximising project visibility.