The Distribution, Behaviour and Vulnerability of Far-Ranging Seabirds at Sea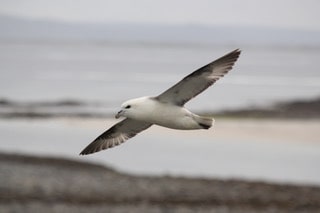 Title

The Distribution, Behaviour and Vulnerability of Far-Ranging Seabirds at Sea

Start Date

March 2019

End Date

March 2023

Funding Body

Irish Research Council and the Petroleum Infrastructure Program

Coordinator

Research Partners

MaREI & the School of Biological Environmental and Earth Sciences, UCC

Project Partners

SeaTrack, a project of the Norwegian Institute for Nature Research (NINA)

Principal Investigators

Dr Mark Jessopp and Prof John Quinn

Research Area

Website
Introduction
This project is based on the behaviour and distributions of pelagic seabirds, highly mobile marine top predators. We use modern telemetry technology to advance our understanding of how they use their marine environments, and how they respond to human disturbances and by-products.
Aim
This project aims to fill critical knowledge gaps in our understanding of how seabirds use the marine environment. This will help us to project how changes in their environment will affect their demographics, and also how changes in the marine environment can be detected through seabirds' responses. Our project also aims to inform policy to prevent or arrest declines in their populations.
Engagement and Outreach
Seabirds comprise some of Ireland's most charismatic animals; think of puffins posing on a cliffside, or gannets stooping into a dive from 30 meters above the surface of the water. Seabird science is quite attractive to the public, and the response has been positive at poster presentations and talks. A documentary segment is also being produced by the BBC based on some of our work during the summer of 2020.
Contact