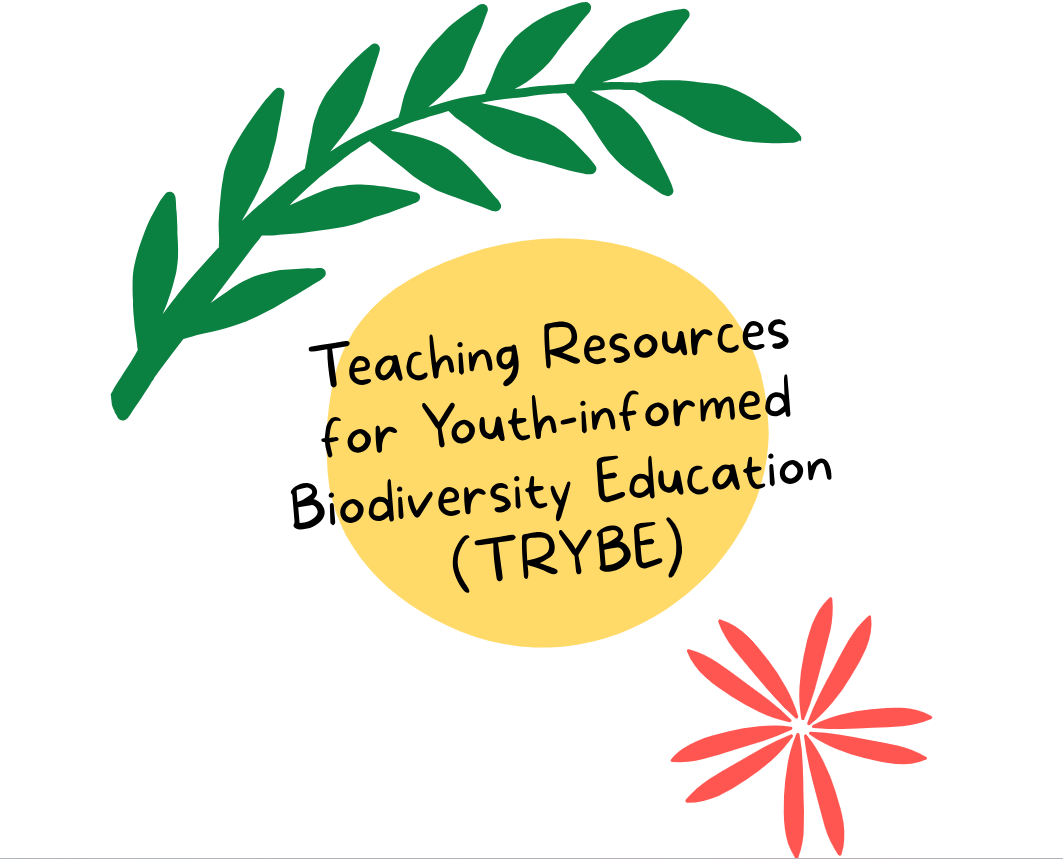 Title

Teaching Resources for Youth-Informed Biodiversity Education (TRYBE)

Start Date

January 2023

End Date 

December 2023

Funding Body   

SFI

Coordinator

MaREI

Research & Project Partners

Dublin City University – DCU

Project Manager 

Research Area

Climate Communication
Introduction
TRYBE is an initiative which seeks to engage and empower children and young people with knowledge to understand the value of biodiversity and to address the critical challenges of biodiversity loss.
Aim
To review and map biodiversity educational resources currently available and to analyse international best practice in the development of new resources
To work with children, young people and teachers to identify their needs and increase their curiosity and engagement in biodiversity topics
To co-create and pilot new resources by developing tailored outputs to meet these needs and to increase teacher confidence in this area of science
To disseminate and promote outputs amongst schools, teachers, children and young people nationally
Evaluating, assessing outcomes and impact, and the sharing of learnings
Work Packages
Project management: This work package aims to support efficient delivery and oversight of project outputs and outcomes through effective project coordination and communication, managing ethical procedures, tracking, and reporting.
Review current resources: TRYBE will undertake a review of the currently available resources to review, categorise and assess barriers to uptake. TRYBE will also review the various online portals through which resources are currently accessed to understand whether there is a way of improving these to enable easier access.
Co-design of resources: Working with a co-design team of researchers, educators, design professionals, and young people, TRYBE will engage, consult and draw out design concepts, to refine our understanding what is needed to deliver biodiversity educational resources aligned with the recommendations of the CYPABL. Ideas generated will be beta-tested with the co-design team to inform the next phase.
Co-creation of new resources: Following the co-design process, a smaller team will input into the co-creation of new resources. The input of teachers will ensure their ease of use, and the input of young people will ensure that the resources are of interest to them. The resources developed will deliver appropriate classroom-based activities, which will be trialled and refined as part of the co-creation process. Some of the resources will be translated into Irish to facilitate teachers in Irish-medium (Gaelscoileanna) schools.
Disseminate and promote: Outputs: The TRYBE team will engage with key Irish teachers' organisations, youth groups, nature networks, and other interested parties to support wider dissemination, and resources will be made available on online platforms.
Assess impact and outcomes: Once the outputs are disseminated, we will track usage and solicit feedback and testimonials. We will also track and monitor the co-design and co- creation process to document and share learnings which might inform future work.
Contact
Photo Gallery