Research Support Officer – CAPACITY
Would you like to work with a world-leading research group on a project directly contributing to the development of Ireland's future climate and energy policy? Applications are invited for the post of Programme Officer to join the MaREI Centre based in the Environmental Research Institute, University College Cork. The Programme Officer will provide dedicated support to the CAPACITY project and to the Energy Policy & Modelling Group.
The Energy Policy and Modelling Group (EPMG) has been engaged in energy policy and energy modelling research for over 20 years. The results of this research have been published in journal papers, conference proceedings and reports which have directly informed the development of national and European energy and climate mitigation policy. The Climate Action Pathways & Absorptive Capacity (CAPACITY) project is funded by the Department of Environment, Climate and Communications (DECC) for 5 years. The objectives of the project are to i) develop and maintain a suite of energy system models to contribute to the evidence base for Irish climate and energy policy and ii) to support absorptive capacity building across relevant government departments, agencies, and semi-state bodies.
Project Title: CAPACITY
Post Duration: 4 years
Salary: €41,000 p.a. (Personal Rate)
Applications must be submitted online via the University College Cork vacancy portal (
https://ore.ucc.ie/
). Queries relating to the online application process should be referred to
ei.ccu@tnemtiurcer
, quoting the job-title and project name.
Role Summary
Provision of high level administrative support in a complex research environment consisting of a research team with many energy and climate analytical approaches together with multiple stakeholders in government departments and agencies. This Programme Officer will provide a key support role to both the CAPACITY project and the Energy Policy and Modelling Group within MaREI. The Programme Officer will work under the direction of the CAPACITY project PIs, together with MaREI Centre operations team and MaREI Centre Manager. The Programme Officer will be responsible for supporting the co-ordination of the CAPACITY research programme, project reporting and engagement activities with relevant government departments, agencies, and semi-state bodies. The candidate will be required to build close working relationships with the research team and government stakeholders and to implement efficient and effective project management standards across the Energy Policy and Modelling Group. In addition, the Programme Officer will generate and communicate project progress reports to the MaREI centre management team. Travel nationally will be required.
Key Duties and Responsibilities
ADMINISTRATION
To support the Director or Head of the Research area to achieve the agreed strategic and administrative goals of the research area.
To provide an effective administrative framework to support the ongoing development of the research project/area.
To advise the Director/Head of the Research area of appropriate administrative structures and procedures to give effect to agreed and approved policies.
To be responsible for the development and implementation of positive and appropriate administrative work practices.
To implement agreed policy and procedures including administration, personnel, and resources for the overall development of the research project/area.
To manage the secretarial/administrative functions as required.
To allocate, delegate and supervise work of the administrative staff, as is appropriate, ensuring its effective operation.
Co-ordinate, manage and monitor progress of the CAPACITY research project and within the Energy Policy & Modelling Group in consultation with the PIs.
Work with the Energy Policy & Modelling Group to ensure all reporting requirements and deadlines are met related to the CAPACITY project and within the Energy Policy & Modelling Group.
Support communications between the CAPACITY project team and project Steering Group.
Work with the MaREI Senior Programme Manager and MaREI Centre Manager on all contracts related to the Energy Policy & Modelling Research Group.
Set-up and manage Energy Policy & Modelling Group administration records.
Take minutes of CAPACITY project meetings and Energy Policy & Modelling Group monthly meeting.
To manage website and internet presence of EPMG.
RESEARCH
Provide specific technical inputs to the research agenda such as writing and contributing to research proposals, research project reports and other documents.
Support literature reviews and preparation of manuscripts, grant proposals, and reports.
Support activities of the Energy Policy & Modelling group as required, such as assisting in workshops, producing written outputs, in conjunction with the PIs.
Support management and organization of research data, ensuring accuracy and confidentiality.
Support analysis and energy modelling research activities where appropriate.
POLICY ADVICE AND DISSEMINATION
To support absorptive capacity building activities with a range of government departments, agencies, and semi-states bodies.
To present research results internally and externally at conferences, meetings, including preparing presentations where appropriate.
To disseminate research results through web pages, media conferences etc.
To represent the research project/area at events, meetings and networking where appropriate.
FINANCE
To support financial reporting for the CAPACITY project.
To administer financial and budgetary functions, including purchasing and cost controls in consumables, equipment and part-time pay, in conjunction with the PIs and Centre Manager.
To facilitate the preparation of all timesheets with all researchers within the Energy Policy & Modelling group.
To support researchers in the preparation of project proposals.
Review and monitor the financial of all research grants and the overall research area.
To propose strategic or operational priorities and to advise on achieving the effective and valuefor-money allocation of budgets and resources.
To ensure proper use of resources, compliance and integrity of systems in accordance with University policies, procedures and standards and in agreement with the Director/Head of the Research area.
PROMOTION/DEVELOPMENT
To assist the PIs with logistical planning of human, physical and financial requirements for the CAPACITY research project.
To identify opportunities for external relationships and collaboration.
To contribute to the development of the strong external links to business and industry.
To contribute to the promotion and marketing of the Energy Policy and Modelling Area and MaREI
To produce, when required, appropriate promotional and marketing literature.
To liaise with the MaREI operations team on MaREI communications, business development, events and reporting requirements to ensure dissemination of information to and from the research group and subsequent implementation of actions.
PERSONNEL
To assist with the preparation of recruitment advertisements and job particulars for posts within the Energy Policy Modelling Area
To assist with managing the administrative workloads to support the Energy Policy & Modelling Research Area and MaREI
To liaise with HR as required regarding on research staff personal details and/or terms and conditions of employments for research staff contracts. The list of duties detailed above is not intended to be exclusive or restrictive and may be adjusted dependent on the area of research.
MaREI
MaREI is a key research centre within UCC's Environmental Research Institute (ERI) which is an internationally recognised Institute for environmental research dedicated to the understanding and protection of our natural environment and to developing innovative technologies, tools and services to facilitate a transformation to a zero carbon and resource efficient society. The MaREI Centre is an SFI funded research centre headquartered in the ERI and includes 12 other Universities and Third Level Institutes from across Ireland, has 103 industrial partners and has research funding of approximately €60m. It combines the expertise of a wide range of research groups and industry partners, with the shared mission of solving the main scientific, technical and socio-economic challenges across the climate, energy and marine spaces. MaREI is also funded by SEAI, EI, EPA, ERDF, EU, HEA, Marine Institute, DCCAE and IRC, as well as through contributions from our industry partners. Researchers in the MaREI Centre have over 30 years of experience in conducting fundamental and applied research supported by competitively won national and international funding, and commercial contracts with government agencies and industry. MaREI's strengths lie in the multi-disciplinary nature of its research teams, allowing it to combine insights across areas such as Offshore Renewable Energy, Materials & Structures, Observations & Operations, Coastal & Marine Systems, Biofuels in the Circular Economy, Energy Policy & Modelling and Energy Management.
Candidates should apply, in confidence, before 12 noon (Irish Local Time) on Friday, 16 June 2023.
No late applications will be accepted.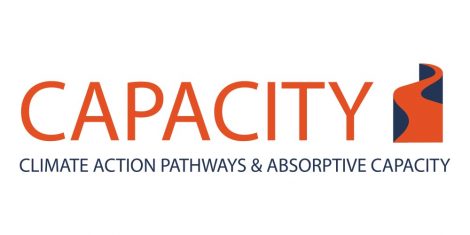 Feature Project
The CAPACITY project will further develop and update tools to facilitate insights and robust decision making about the appropriate long-term decarbonisation pathway for Ireland.
Find out More