Climate Action and Low Carbon Development (Amendment) Bill 2020
The Climate Action and Low Carbon Development (Amendment) Bill 2020 sets the "rules of the game" in place for Ireland to transition to a sustainable society, necessary for compliance with the 2015 Paris Agreement, and harnessing the many potential benefits of a sustainable energy transition. It will put Ireland among the handful of countries which have set such targets and pre-empts a likely requirement from the EU for the same.
Dr Hannah Daly, upon request from the Oireachtas Joint Committee on Climate Action, submitted comments concerning this Bill and presented a series of recommendations and observations based on expertise in sustainable energy systems in Ireland and at an international level.
Within this submission Dr Daly proposed that a separate mandatory target for biogenic methane be included and also suggested that intermediate targets are needed for consistency with Article 2 of the Paris Agreement.
A full copy of this report can be found here.
Emissions Reduction in Transport - Requested by Oireachtas Joint Committee on Climate Action
MAREI researchers provided comments on Emissions Reduction in Transport upon request by the Oireachtas Joint Committee on Climate Action.
This report responds to the Oireachtas Joint Committee on Climate Action request for a written submission from MaREI on reducing greenhouse gas (GHG) emissions in Transport. It summarises the emissions savings associated with measures identified in the Climate Action Plan2019 and quantifies the savings from additional measures that may be considered for inclusion in Climate Action Plan 2021.
A copy of the full report can be found here.
Dr Hannah Daly presented to the Oireachtas Joint Committee on Environment and Climate Action. Topic: Engagement regarding the reduction in carbon emissions of 51% by 2030. Dr Daly presentation begins at 18.50.
Report on reducing emissions in the transport sector by 51% by 2030, Joint Committee on Environment and Climate Action with contributions from MaREI researchers.
MaREI research on decarbonising transport in the media
The infographic below shows biofuel alternatives for the energy and transportation sector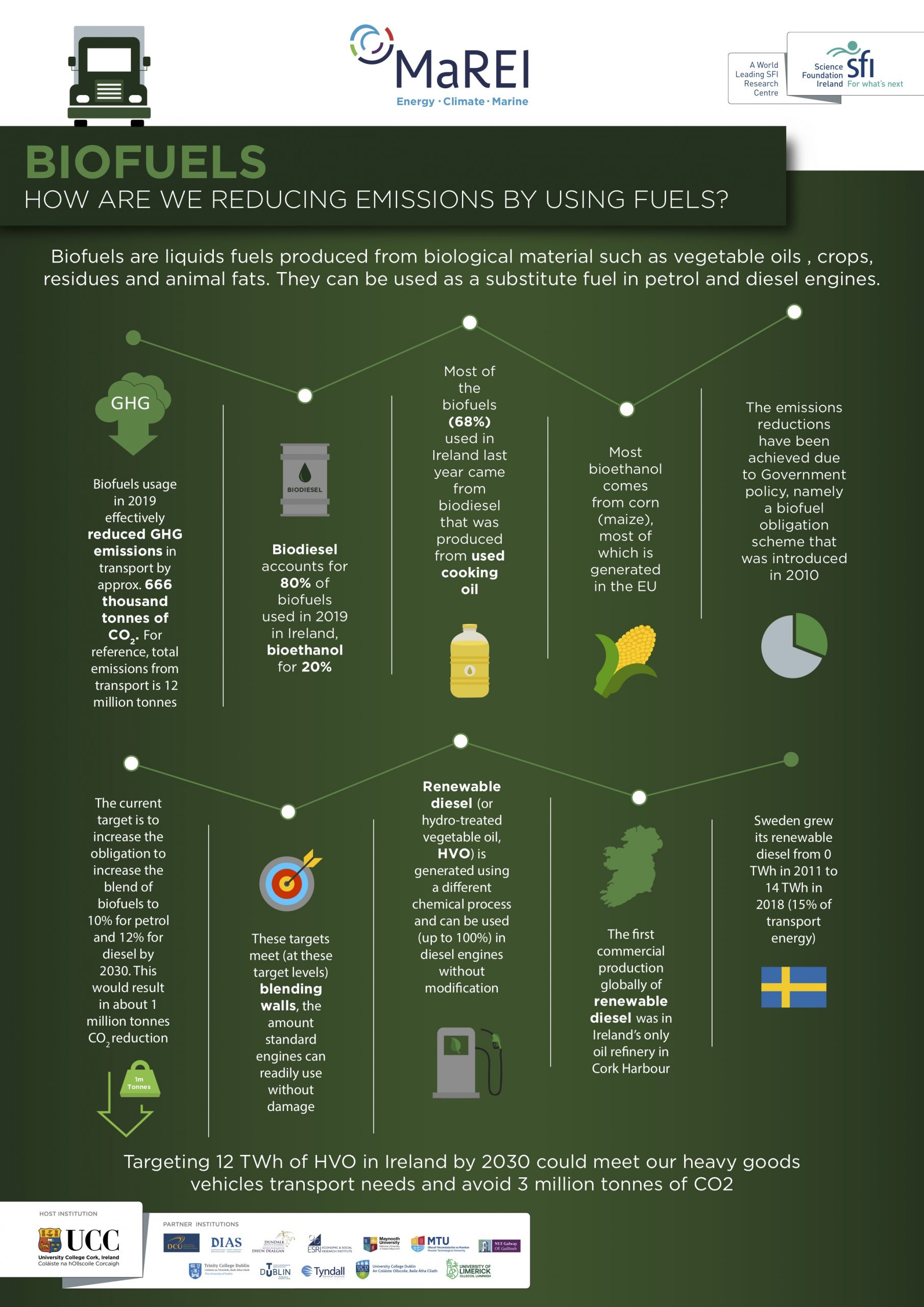 Decarbonising transport: : An analysis of low-carbon fuels for the maritime, aviation and haulage sectors
When we think about the grand challenge of decarbonising our energy system, the image that immediately comes to mind is that of a wind turbine or an array of solar panels producing clean electricity used to power our homes and businesses. However, electricity is just one part of the energy system. In fact, 42% of all the energy we use in Ireland is used for transport, which is more than double the amount used to produce electricity. With nearly all of Ireland's transport energy demand currently being met by liquid fossil fuels, how we get around is a big climate problem.
Robust public transport systems, investment in walking and cycling infrastructure and increased use of electric vehicles will all significantly reduce greenhouse gas emissions from transport in Ireland. However, as an island nation with a relatively dispersed population, Ireland will be dependent on shipping, aviation, and road haulage for many years to come and emissions from these modes of transport are much more difficult to eliminate. The low energy density of current battery technology presents challenges to the electrification of trucks, ships, and planes in the near to medium term. It is likely that energy-dense liquid or gaseous fuels will be required to decarbonise these sectors.
This paper reviews the shipping, aviation and haulage sectors, and a range of low-carbon fuels that can be used to decarbonise them. Energy carriers were assessed based on their energy density, specific energy, cost, lifecycle greenhouse gas emissions, and land-use. Novel case studies and calculations are presented, highlighting the mass and volume of alternative energy carriers needed to power each mode of transport. A broad perspective on the decarbonisation pathways for trucks, ships and planes are given.
The below infographic shows Fuels and powertrains with potential applications for heavy-duty transport.