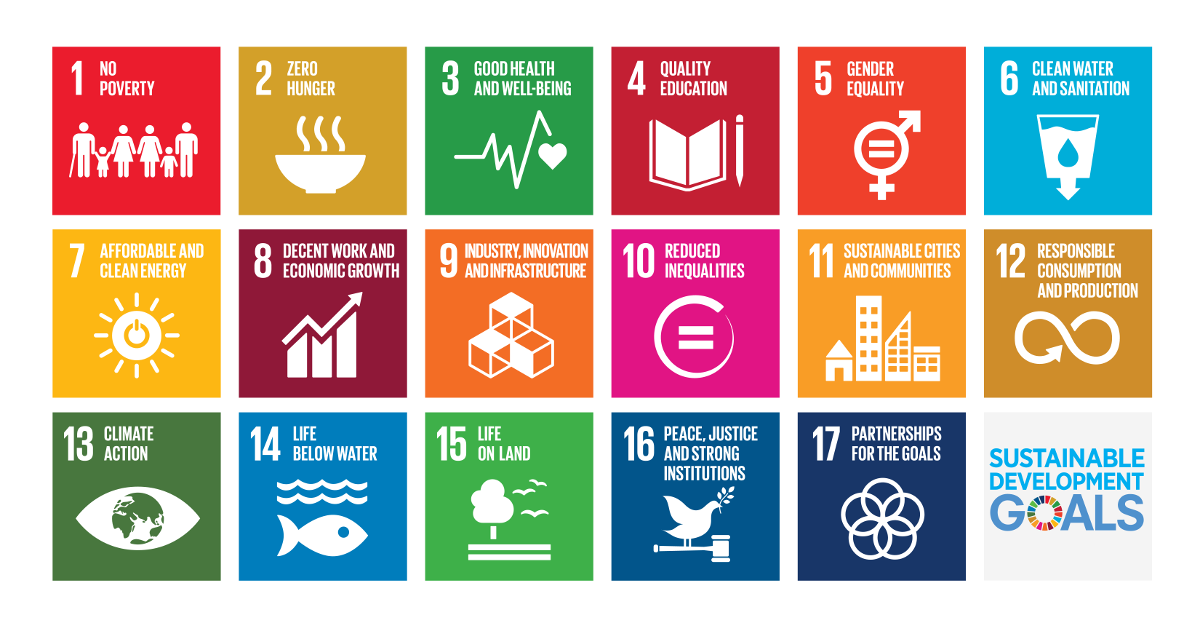 In celebration of Global Goals Week, we shared a variety of content throughout the week on our social media to highlight our research related to the UN Sustainable Development Goals.
The Sustainable Development Goals are a collection of 17 interlinked global goals designed to be a "blueprint to achieve a better and more sustainable future for all". The SDGs were set up in 2015 by the United Nations General Assembly and are intended to be achieved by the year 2030.
Actions To Reduce Your Fossil Fuel Use
Here are some simple tips on how you can reduce your energy consumption in Ireland, one of the most fossil fuel-dependent countries in Europe.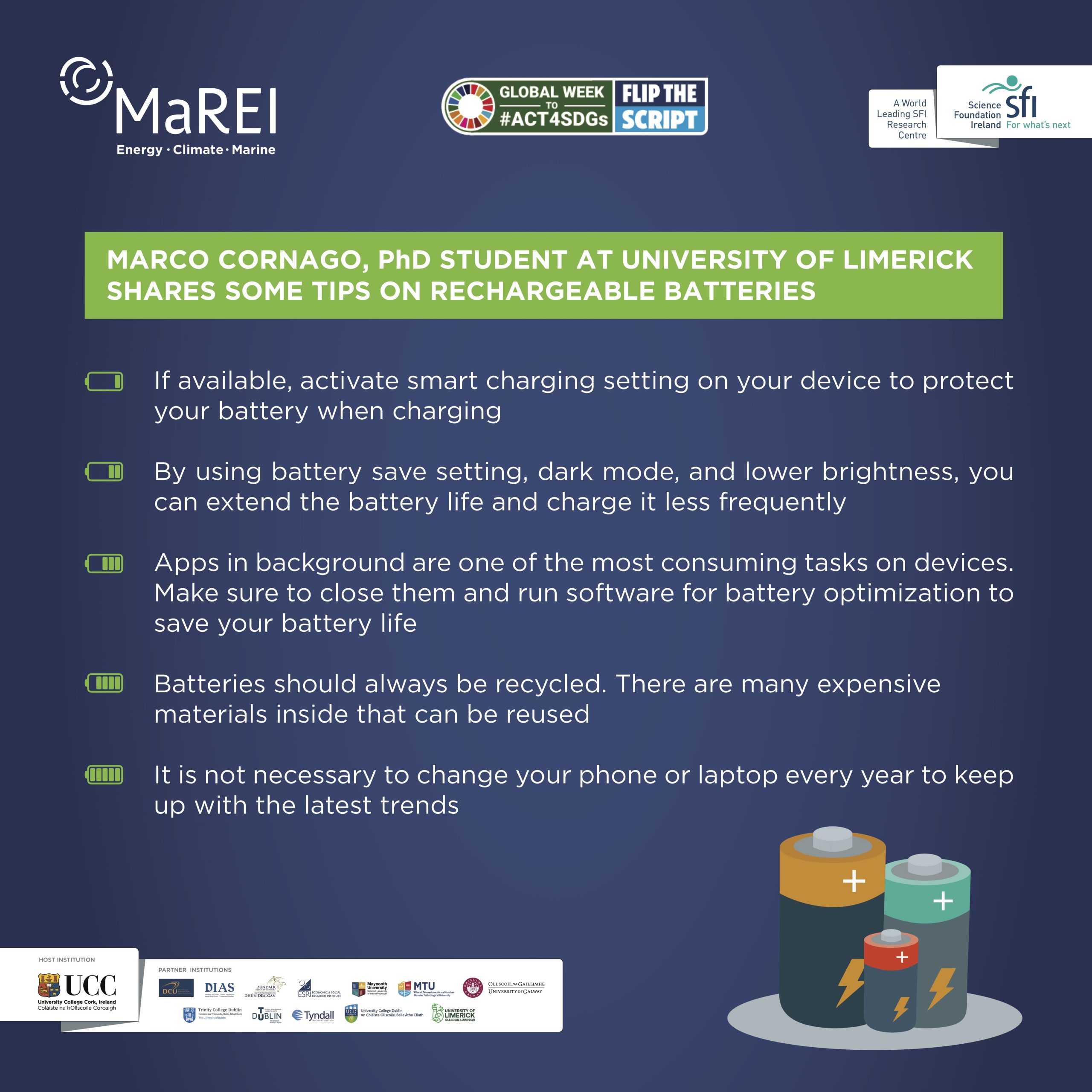 Tips on Rechargeable Batteries
Marco Cornago is a PhD student at MaREI and the Department of Chemical Sciences, based in the Bernal Institute at the University of Limerick and for Global Goals Week, he has shared some useful tips about rechargeable batteries.
Marco graduated from the University of Milan in 2017 BSc in Chemistry and in 2019 MSc in Organic Chemistry. His PhD research is focused on the study of high energy density, lower cost and better-performing rechargeable batteries for mobile and stationary storage applications particularly for electric vehicles (25-150 Kwh) and for renewable energy storage at generation and grid-level storage (MWh). Achieving advances in each of these technologies requires new materials solutions allowing for progress beyond the state of the art.
CoCoJel Survey
PhD researcher Maria McGuinness, from MaREI & School of Biological, Earth & Environmental Sciences at University College Cork, Ireland talks about her research on investigating the movement of a jellyfish, Muggiaea atlantica, around the southwest Irish coast.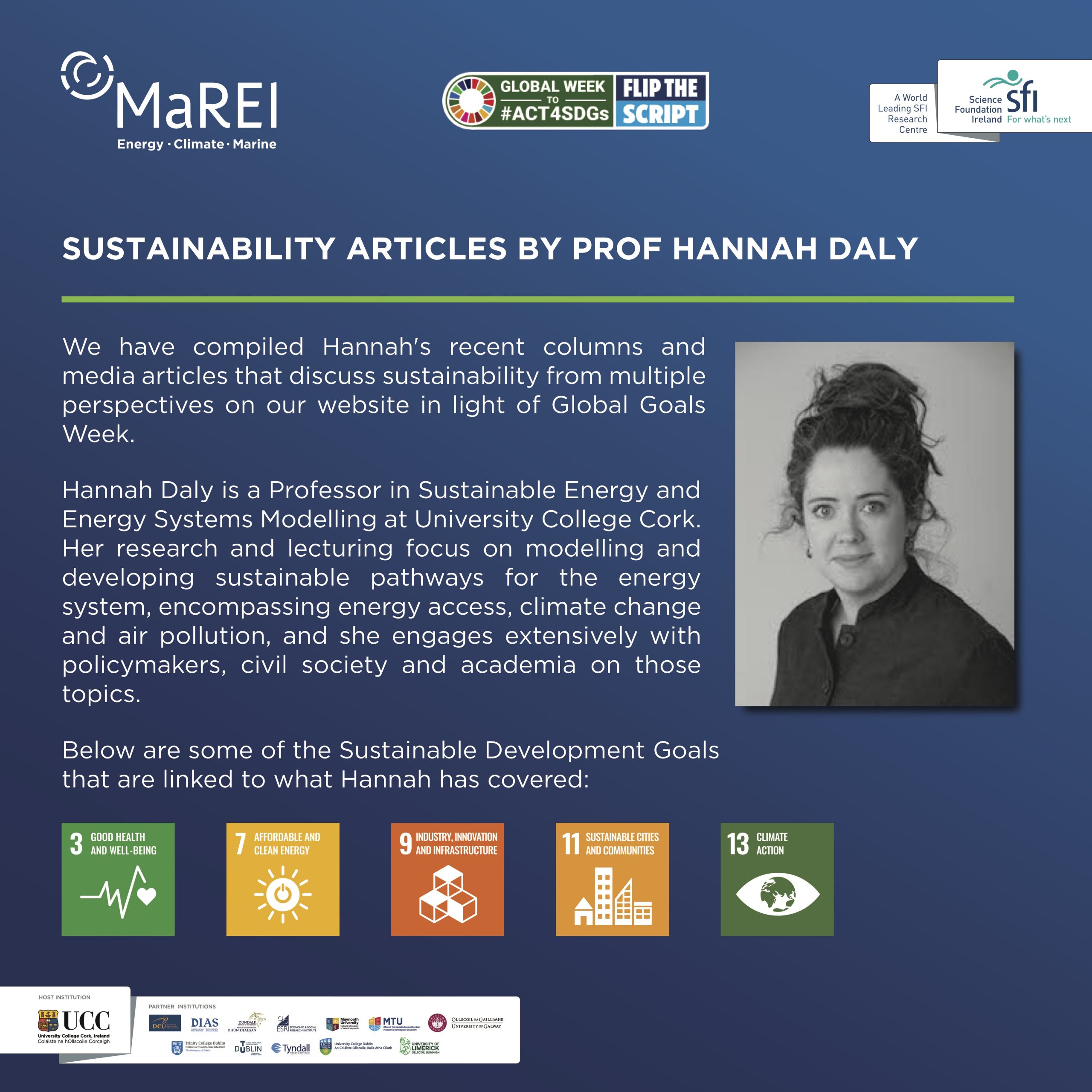 Sustainability articles by Prof Hannah Daly
Hannah Daly is a Professor in Sustainable Energy and Energy Systems Modelling at University College Cork. Her research and lecturing focus on modelling and developing sustainable pathways for the energy system, encompassing energy access, climate change and air pollution, and she engages extensively with policymakers, civil society and academia on those topics. As well as being a lead contributing author to several International Energy Agency World Energy Outlook reports, Hannah has co-authored over 20 peer-reviewed journal articles and several book chapters and other reports.
We collected Hannah's recent columns and media articles that cover sustainability from many perspectives in light of Global Goals Week. Read them here.
Dr Marguerite Nyhan discusses Sustainable Cities and the UN Sustainable Development Goals
Dr Nyhan, a Senior Lecturer in Future Sustainability & Enviornmental Engineering and Director of the Future Sustainability Research Group discusses her research on Sustainable Cities and their relation to the UN Sustainable Development Goals.