Local Authority Development Plans Could Make A Major Contribution to Action On Climate Change
Analysis of the climate credentials of local authority development plans shows more progress is needed to help reduce carbon emissions at local level.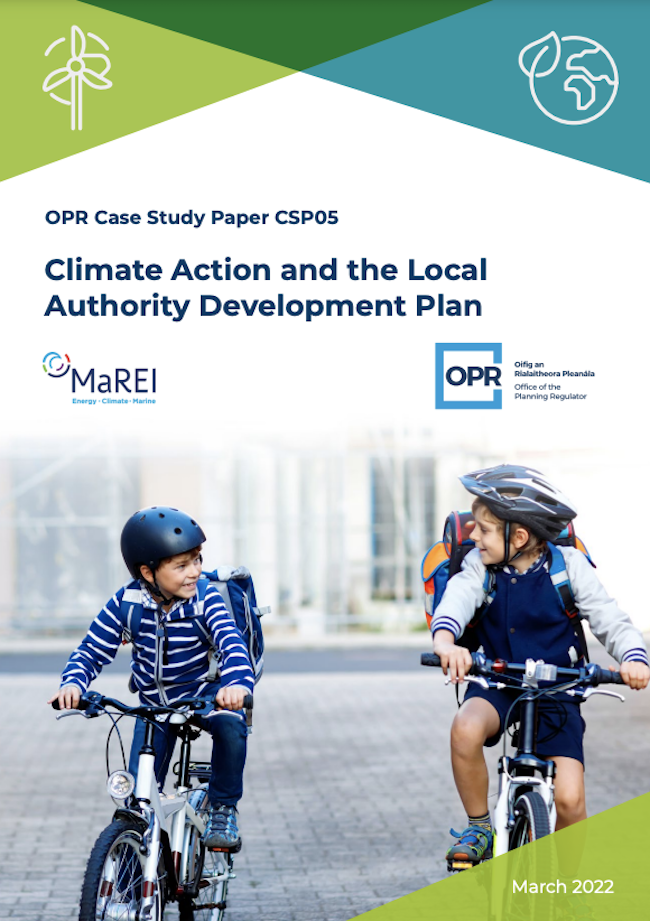 The report – 'Climate Action and the Local Authority Development Plan' – by the Office of the Planning Regulator (OPR) and MaREI, the Science Foundation Ireland (SFI) Research Centre for Energy, Climate and Marine coordinated by the Environmental Research Institute (ERI) at University College Cork outlines how local authority development plans have the potential to play a significant role, at local level, in supporting wider efforts to ensure Ireland meets its ambitious climate targets.
The report analysed the local authority development plans of the country's 31 city and county councils to consider how the plans have integrated measures to tackle climate change in their respective areas.
The report highlights examples of existing good practice that all local authorities can learn from and use to implement evidence-based and realistic climate mitigation measures into their development plans.
Testimonials
"Ireland has significantly increased our climate ambition in the past two years, but we now urgently need action to reduce emissions. Local authorities can, but do not currently, play a critical role in translating national climate ambition into local climate action. This report provides guidance for local authorities on this role, but they cannot achieve the transformative role alone. Local authorities need support, resources and cooperation. We also need to move beyond a parent-child relationship between national and local government towards a partnership approach."
Professor Brian Ó Gallachóir
Director
MaREI
Some of the key building blocks identified in the report for more climate action focused local development plans include:
Build More Robust Evidence Bases: Every local authority development plan should start with an understanding of existing greenhouse gas emissions in that local authority area linking back to the national targets.
Set Measurable Targets: Ireland's overall target to decarbonize, reducing greenhouse gas emissions by 51% by 2030 and net-zero emissions by 2050, needs to be quickly broken down across the local authority areas for clarity in the planning process in the roles local communities must play. For example, a target could be set to ensure that a certain proportion of new housing is located within a certain distance of a public transport node.
Identify Co-Benefits: Local authorities need to recognize and promote the co-benefits of climate action measures. These include the benefits associated with revitalizing and regenerating towns and villages, social and economic development (just transition and local jobs), biodiversity (rewilding and carbon sinks) and improved quality of life, health and wellbeing (greenways and blueways).
Deliver More Consistency in Policy Formulation: Significant inconsistencies have arisen both within some local authority development plans and between plans of neighbouring local authorities that work against co-ordinated climate action.
Adopt Clearer Policy Objectives: Evidence based and co-ordinated planning approaches across local authorities is vital to inform clear policy objectives that enable proper measurement of progress in implementation. What can't be measured, cannot be effectively monitored.
Promote More Collaboration and Partnership: Development plan preparation in some areas has tended to lead to local controversies in the past around topics like the location of windfarms.
Testimonials
"by grasping the opportunities and challenges local authorities face, we will move from currently mainly aspirational to the type of action-focused policy needed to achieve our ambitious climate mitigation targets". Furthermore, lead researcher, MaREI's Dr. Connor McGookin highlights that these insights "are not just important in terms of ensuring national climate targets are achieved but in terms of supporting the local democratic process to ensure a just transition is achieved at local level".
Dr. Alexandra Revez
Lead author of the report
MaREI