Post-Doctoral Researcher – CAPACITY
Would you like to work with a world-leading research group on a project directly contributing to the development of Ireland's future climate and energy policy? Applications are invited for the post of post-doctoral researcher in Energy Systems Modelling to join the MaREI Centre for Energy, Climate and Marine, based at the Energy Policy and Modelling Group (EPMG) in UCC. The researcher will develop and support the evidence base for Irish climate and energy policy, working directly with the Irish Department of Environment, Climate and Communications (DECC) through the Climate Action Pathways & Absorptive Capacity (CAPACITY) project.
Post Duration: 4 years
Salary: €41,207 – €47,477 p.a. (IUA PD1 Salary Scale)
Role
The Post-Doctoral Researcher will play an integral role in the CAPACITY project and in the Energy Policy and Modelling Group by helping to design, update and maintain the LEAP Ireland model. The LEAP Ireland model is an energy systems simulation model which simulates the impact of technology and policy-measures for the national energy system in 2030 and beyond. The model has been developed at UCC for over a decade and has been used both for academic research and to provide policy insights and analysis for government departments and agencies. The post-doctoral researcher will continue to update the model with new data (e.g. based on uptake rates & implementation trends), to develop the model to provide insights to policy goals (e.g. carbon budgets, sectoral emission ceilings), and to design new features to support absorptive capacity buildings (e.g. visualisations, model wizards, etc). The researcher will work closely with other modelling researchers in the CAPACITY team as well as other researchers and PhD students in the Energy Policy and Modelling Group to design, develop and produce energy system studies. The researcher will also regularly engage with civil servants and policymakers in DECC and other stakeholders to communicate results and solicit feedback on studies.
The ideal candidate should be a quantitative, analytical person with a PhD in engineering, science, or economics, and a proficiency and appetite for energy systems analysis and policy-relevant, multi-disciplinary research. Direct experience with energy models is required, and candidates experienced in energy systems simulation modelling frameworks such as LEAP, EnergyPLAN or similar are particularly preferred. The applicant must display a broad understanding of the energy system and its interactions. Expertise on demand-side sectors (e.g. transport, buildings, industry) would be an advantage. Knowledge of different modelling methodologies for the diffusion of innovations would be an advantage. Candidates must have knowledge of energy and climate policy. The candidate should be a skilled communicator with experience in policy analysis. Experience with visualization of energy modelling insights to varied audiences would be an advantage. Experience of writing for and engaging with different stakeholders is expected. Supervisory skills, leadership potential, stakeholder engagement experience and having raised and managed research funds will also be an advantage. The ideal candidate would have a track record of strong peer reviewed journal publications appropriate to their experience.
Fluent written and spoken English is an essential requirement.
Working location: The successful applicant will be based in UCC's Ellen Hutchin's Building in the Environmental Research Institute (ERI) (https://www.ucc.ie/en/eri/), which is an internationally-recognised institute for environmental research dedicated to the understanding and protection of our natural environment and to developing innovative technologies, tools and services to facilitate a transformation to a zero-carbon and resource-efficient society. Overlooking a protected natural reserve and the River Lee, the ERI is a welcoming, diverse and modern workplace.
MaREI
The MaREI Centre of Energy, Climate and Marine (www.marei.ie) is the Science Foundation Ireland (SFI) centre of excellence in Energy, Climate and Marine research in Ireland. The MaREI Centre includes 13 Universities, Third Level Institutes and Research Organisations, has 103 industrial partners and has research funding of approximately €60m. It combines the expertise of a wide range of research groups and industry partners, with the shared mission of solving the main scientific, technical and socio-economic challenges across the energy, climate and marine domains. Researchers in the MaREI Centre have over 30 years of experience in conducting fundamental and applied research supported by competitively won national and international funding, and commercial contracts with government agencies and industry. MaREI's strengths lie in the multi-disciplinary nature of its research teams, allowing it to combine insights across areas such as Marine Renewable Energy Technologies, Materials & Structures, Observations & Operations, Coastal & Marine Systems, Bioenergy, Circular Economy, Energy Policy & Modelling, and Renewable Energy Management.
CAPACITY
CAPACITY project: The Climate Action Pathways & Absorptive Capacity (CAPACITY) project is funded by the Department of Environment, Climate and Communications (DECC). The objectives of the project are to i) develop and maintain a suite of energy system models to contribute to the evidence base for Irish climate and energy policy and ii) to support absorptive capacity building across relevant government departments, agencies and semi-state bodies. The CAPACITY project combines technical modelling expertise with engagement and capacity building activities in a unique way. It provides an opportunity for motivated and ambitious researchers to see their research make a difference in the policy domain. UCC and the CAPACITY project are members of the Climate Action Modelling Group (CAMG) within the Department of Environment, Climate and Communications. CAMG was established in 2015 to support the development of short-term and long-term evidence-based climate and energy policy in Ireland. The CAMG is a high-level technical group comprised of experts from a cross-section of relevant Government Departments and State Agencies as well as representation from academic institutions, including UCC.
Research Group
MaREI's Energy Policy and Modelling Group (EPMG) in UCC has been engaged in energy policy and energy modelling research for over 20 years. The results of this research have been published in journal papers, conference proceedings and reports which have directly informed the development of national and European energy and climate mitigation policy. EPMG are very engaged in disseminating research findings and have won research awards for impact, engagement, and communications of research findings. The focus of research in the Energy Policy and Modelling Group is on integrated energy systems modelling comprising i) sectoral energy demand and efficiency, ii) integrated electricity, gas and water modelling and iii) full energy systems modelling. EPMG is led by Prof. Brian Ó Gallachóir (Chair of Energy Engineering; Chair of the Executive Committee of the IEA Technology Collaboration Programme on energy systems modelling (IEA-ETSAP)), Professor Hannah Daly (Professor of Sustainable Energy), Dr Paul Deane (Senior Research Fellow in Energy Futures) and Dr Fionn Rogan (Senior Research Fellow in Energy Systems Modelling).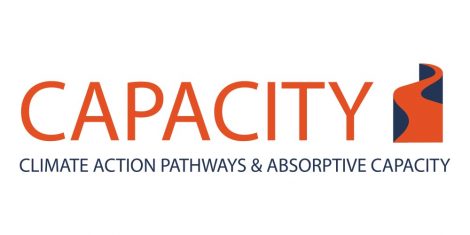 Feature Project
The CAPACITY project will further develop and update tools to facilitate insights and robust decision making about the appropriate long-term decarbonisation pathway for Ireland.
Find out More
Closing date for receipt of applications is 12 noon (Irish Local Time) on Friday, 17 February 2023. CVs and handwritten forms will not be accepted.
Late applications will not be accepted.