Research Fellow – CAPACITY
Would you like to work with a world-leading research group on a project directly contributing to the development of Ireland's future climate and energy policy? Applications are invited for the post of Research Fellow in Energy Systems Modelling to join the MaREI Centre for Energy, Climate and Marine, based at the Energy Policy and Modelling Group (EPMG) in UCC. The researcher will develop and support the evidence base for Irish climate and energy policy, working directly with the Irish Department of Environment, Climate and Communications (DECC) through the Climate Action Pathways & Absorptive Capacity (CAPACITY) project.
Post Duration: 4 years
Salary: €59,227 – €64,537 p.a. (IUA Salary Scale)
Project Title: CAPACITY
For an information package including further details of the post see: https://my.corehr.com/pls/uccrecruit/erq_jobspec_version_4.jobspec?p_id=063633
Informal enquiries can be made in confidence to Dr Fionn Rogan at ei.ccu@nagor.f.
Role
The Research Fellow title would be awarded to individuals who have personally secured their own independent external research funding inclusive of their salary following an open, transparent and competitive selection process by the research funding body or who have been appointed by the Higher Education Institution following an open competition. The Research Fellow would still be associated with a Principal Investigator who would act as their mentor and facilitate access to research infrastructure. The role also allows the Research Fellow the professional development opportunity to demonstrate the capacity for independent and self-directed research and scholarship and the management of a research team. The role allows the Research Fellow to assemble a portfolio of independent achievement and render themselves competitive for tenured academic positions or senior scientific roles in industry.
Key Duties and Responsibilities
Lead the development of the TIMES-Ireland model to inform Irish energy sector transformation, including development of new model features and model coupling approaches.
To manage model updates and integration of changes from team members.
To ensure best practice in version control and data integrity.
Perform holistic analysis of long-term energy sector developments and climate change mitigation policies as required by stakeholders.
To engage with policymakers and other stakeholders to communicate model results and build model capacity.
Lead the development of results visualisation and dissemination tools/approaches to support dissemination and communication of research results to diverse audiences, as well as stakeholder engagement.
To manage and conduct a specific programme of research and scholarship.
To independently identify research objectives and potential funding sources and to prepare and write bids for funding proposals.
To have a strong track record in securing external funding, including own salary.
To disseminate the outcomes of the research, including peer-reviewed academic publications of international standing.
To take a leading role in the further development of the research programme and in seeking and pursuing appropriate external funding.
To participate fully in the wider research and scholarly activities of the Research Centre, School and College.
To have some teaching and mentoring duties.
To supervise post graduate research students as supervisor or co-supervisor, as appropriate.
To mentor and assist students and early-stage researchers in the research group, School and College.
To take responsibility for, manage and conduct administrative and management tasks associated with the research programme.
To engage in appropriate training and professional development opportunities as required by the Principal Investigator, School or College.
To carry out any additional duties as may reasonably be required within the general scope and level of the post.
Selection Criteria
The successful candidate will be expected to have:
A PhD qualification and significant relevant research experience.
Expert knowledge in developing and applying energy system optimisation models, especially TIMES, and coordinating model development across a team.
Proficient use of programming languages such as GAMS, Python, etc.
Expertise in applying energy modelling tools to inform policy.
Proficient use of version control software (git) and software development platforms (GitHub).
Very strong written and spoken communication skills, including fluency in English.
The capacity to work independently on research projects.
The ability to assess and evaluate concepts/theories in order to develop original solutions and particular knowledge of, and expertise in research methodologies.
Track record of high quality peer reviewed publications.
Experience in post graduate and Post-Doctoral supervision.
Strong project management experience.
Ability to provide leadership to small research teams.
Ability to secure independent external research funding.
Ability to contribute to broader organisational and management processes.
Knowledge transfer and commercialisation experience is highly desirable.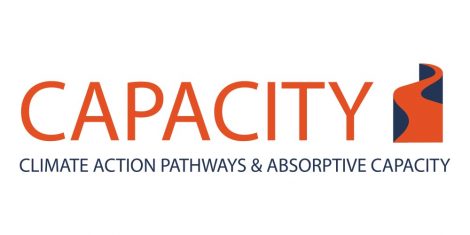 Feature Project
The CAPACITY project will further develop and update tools to facilitate insights and robust decision making about the appropriate long-term decarbonisation pathway for Ireland.
Find out More
Closing date for receipt of applications is 12 noon (Irish Local Time) on Friday, 17 February 2023. CVs and handwritten forms will not be accepted.
Late applications will not be accepted.