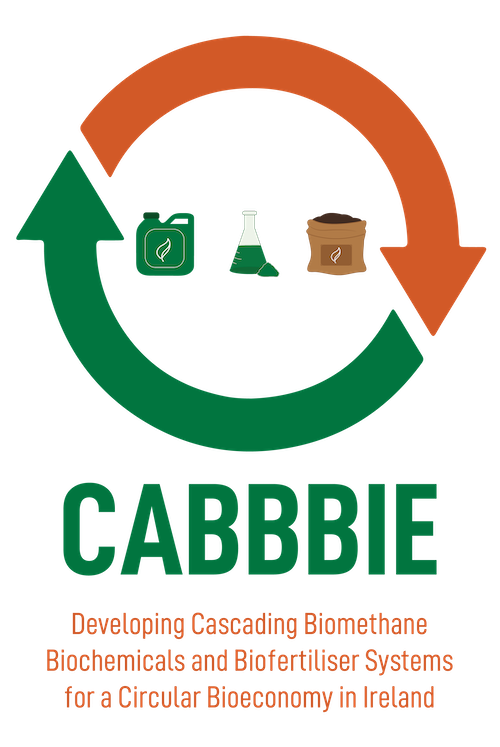 Title:

Developing Cascading Biomethane Biochemicals and Biofertiliser Systems for a Circular Bioeconomy in Ireland (CABBBIE)

Start Date:

01st of May 2023

End Date:

30th of April 2026

Funding Body:

Sustainable Energy Authority of Ireland (SEAI) and Department of Agriculture, Food and the Marine (DAFM) under the Research Development and Demonstration (RD&D) funding programme

Coordinator:

Dr Archishman Bose, Eli Lilly Lecturer in Process and Chemical Engineering, University College Cork (UCC), Ireland; Environmental Research Institute, UCC; Circular Economy, Energy and Environmental Systems (CEEES) Research group, MaREI, the SFI Centre for Energy, Climate and Marine.

Project Partners:

Dingle Innovation and Creativity Hub

Principal Investigators:

Dr Archishman Bose, Prof. Jerry D. Murphy, Dr David Wall, Dr Richard O'Shea, Dr Fatemeh Kavousi, Dr Geraldine Ryan, Dr Bernadette Power

Research Area:

Advanced Fuels in the Circular Economy, Circular Bioeconomy and Biorefinery

Website:
Introduction
In a circular bioeconomy, upgraded biogas (biomethane) from anaerobic digestion (AD) of biogenic feedstock can replace natural gas and diesel, decarbonising the hard to abate sectors of industry, heavy transport, and agriculture. However, current standalone biomethane production from biogas, using conventional physicochemical biogas upgrading (such as amine scrubbing) is both costly and energy intensive. This results in biomethane failing to be profitable without incentives and meet the sustainability criteria of the EU Renewable Energy Directive, Recast (RED-II) for biofuels.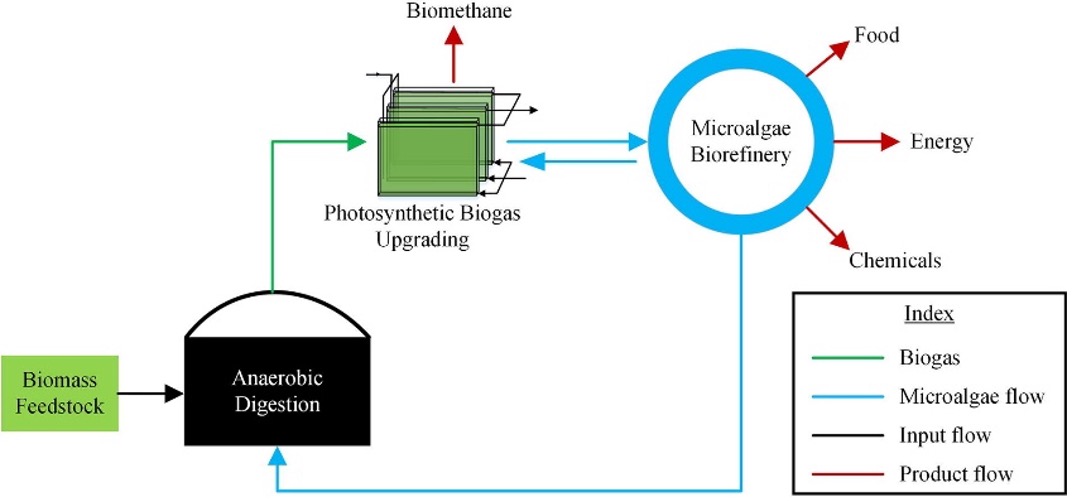 Photosynthetic biogas upgrading using nature's own "bio-factories", microalgae, may overcome the economic and environmental obstacles of biomethane production by co-producing biomethane and biofertiliser (digestate) with other bio-products via a Cascading Algal Biomethane Biorefinery System or CABBS (Figure below). This novel biorefinery can not only maximise the use of the biomass resource but also potentially lower the cost and environmental impacts of biomethane while potentially improving process performance and the flexibility of operations. It also presents the opportunity for direct CO2 utilisation on or near-site through the production of biochemicals from microalgae. By allowing flexibility in the choice of bio-products derived from microalgae, this process can be adapted to local requirements within a bioeconomy system and can also possibly develop into a negative emission technology. However, as this is a nascent technology, significant research is required to scale-up and optimise the process, particularly with a focus on the Irish bioeconomy. Further research is also necessary to determine the actual costs and social and environmental impact of such systems besides developing business models, policy support and social acceptance to ensure rapid scale-up and industrialisation of this versatile biorefinery process.
Aim
The four high-level objectives (research questions) of the CABBBIE project are as follows:
Investigate the scale-up of bubble column operations for biogas upgrading and establish process controls for continuous pilot-scale operations of photosynthetic biogas upgrading integrated with an anaerobic digester.
Select, cultivate and extract biochemicals critical to the Irish Bioeconomy from microalgae species able to grow rapidly at a high pH and under Irish climatic conditions.
Determine the system configuration and co-products that maximises the techno-economic, environmental and societal benefit of the biorefinery process using multi-criteria decision analysis.
Establish business models, policy requirements and roadmaps to enable replication of the biorefinery process across territorial contexts in the Irish bioeconomy by 2030.
Ultimately, the aim of the CABBBIE project is to provide a comprehensive pathway to commercialise photosynthetic biogas upgrading technology for an adaptive, flexible and secure Irish bioeconomy by 2050.
Work Packages
This project is divided into 6 interlinked multidisciplinary Work Packages (WPs) as described below:
WP1 – Project management
WP2 – Biomethane and biogas upgrading
WP3 – Microalgae selection and biorefining
WP4 – Sustainability and industrial symbiosis
WP5 – Bioeconomy business models, policies and roadmap for replication across territorial contexts in Ireland
WP6 – Communication, stakeholder engagement and disseminationWP2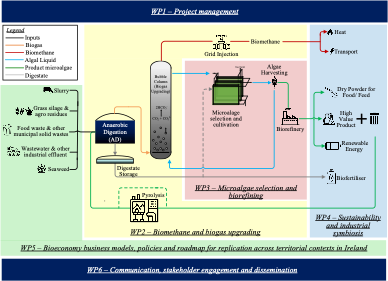 Contact
Dr Archishman Bose
Eli Lilly Lecturer in Process and Chemical Engineering,
Room 329, Food Science Building,
College Road, University College Cork,
Cork, T12 K8AF, Ireland
Phone: +353 85 7255565/ +353 21 490 3687
Email: ei.ccu@esob.namhsihcra