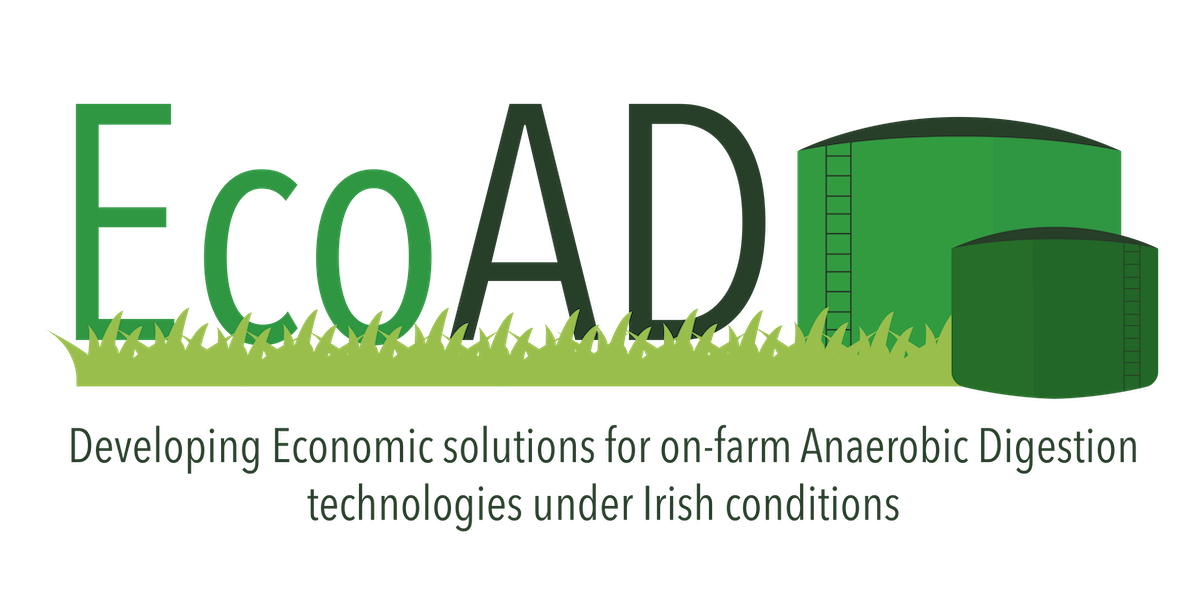 Title

Developing Economic solutions for on-farm Anaerobic Digestion technologies under Irish conditions (EcoAD)

Start Date

2020

End Date

2023

Funding Body

Sustainable Energy Authority of Ireland (SEAI) under the Research Development and Demonstration (RD&D) funding programme; Gas Networks Ireland (GNI)

Coordinator

Dr David Wall, MaREI, the SFI Centre for Energy, Climate and Marine, Environmental Research Institute, University College Cork (UCC), Ireland.

Principal Investigators

Prof Jerry Murphy, Dr Richen Lin, Dr Richard O'Shea

Research Area

Website
Introduction and Aim
Agriculture remains the largest contributor to greenhouse gas (GHG) emissions in Ireland accounting for 33% of total emissions. Ireland needs to initiate 'green agriculture' practices and carbon capture techniques.
On-farm anaerobic digestion for the production of biomethane is one method that can contribute to greening agriculture and broader decarbonisation in heat and transport. However, conventional anaerobic digestion systems for biomethane production may suffer from high cost and low digestion efficiency, thus hindering commercial application.
The EcoAD project intends to develop economic solutions for future on-farm anaerobic digestion technologies using typical Irish farm-based feedstock (animal slurries, excess grass silage, and straw). Finding the most efficient biomethane production scenarios, most importantly that are cost-effective, is of relevance in transitioning to a low carbon economy. Ultimately this project will deliver future best practices and assess the economic viability of on-farm biomethane production from novel integrated anaerobic digestion systems.
Work Packages
WP1 – Enhancing on-farm digestion efficiency through novel pretreatments
WP2 – Integrating electro-methanogenesis with AD to increase biomethane conversion
WP3 – Optimising the logistics of on-farm anaerobic digestion in Ireland
WP4 – Techno-economic analysis of on-farm anaerobic digestion systems