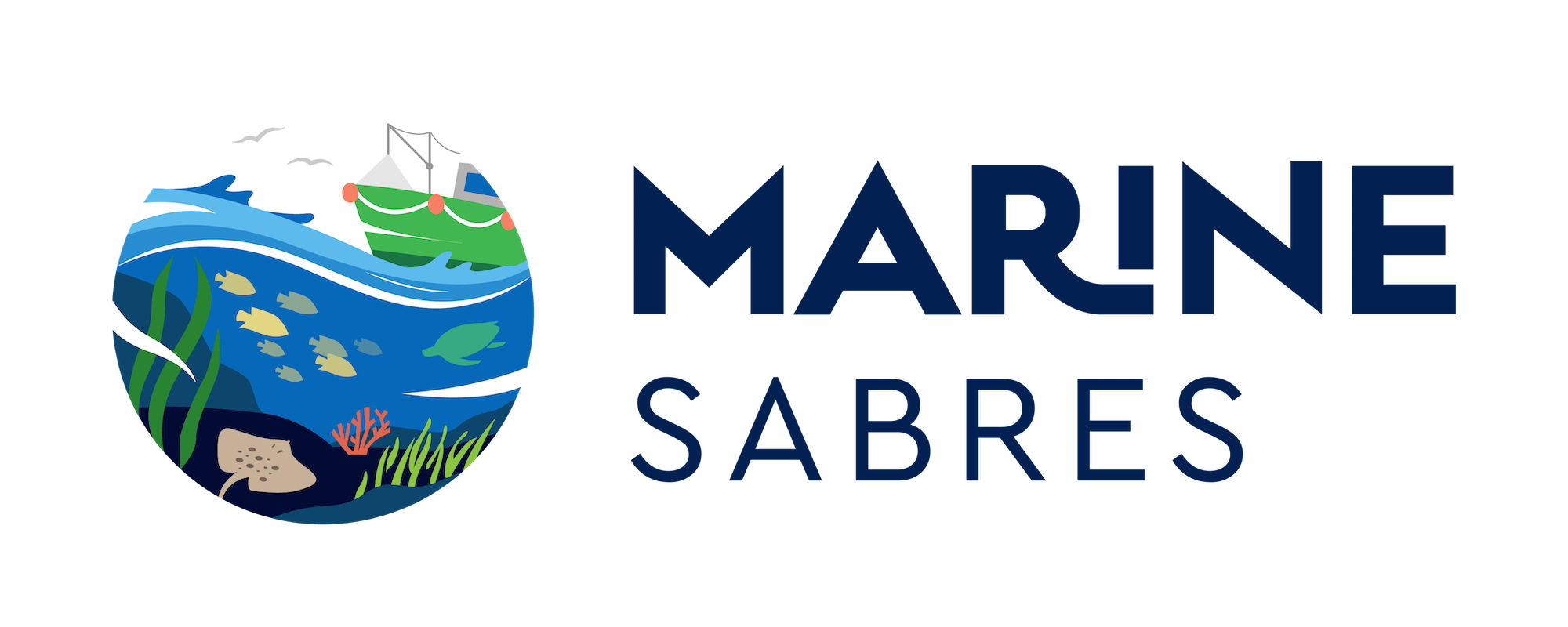 Title

MarineSABRES – Marine Systems Approaches for Biodiversity Resilience and Ecosystem Sustainability

Start Date   

September 2022

End Date 

September 2024

Funding Body

Horizon Europe

Coordinator

MaREI

Project Partners

1. MaREI UCC, 2. LifewatchERIC, 3. ARDITI (Agencia Regional para o Desenvolvimento da Investigacao, Tecnologia e Inovacao – Associacao), 4. DTU Danmarks Tekniske Universitet, 5. Blue Resource SJOKOVIN, 6. ECOLOGIC INSTITUT, 7. IASS Institute for Advanced Sustainability Studies, 8. MFRI Hafrannsoknastofnun, Rannsokna- Og Radgjafarstofnun Hafs Og Vatna, 9. AZTI Fundacion Azti, 10. HuFoSS Stichting Hummel Foundation For Sustainable Solutions, 11. UNIPI Universita di Pisa, 12. SAI Stofnun Vilhjalms Stefanssonar, 13. KU Klaipedos Universitetas, 14. ULPGC Universidad de Las Palmas de Gran Canaria, 15. WR Wageningen Research, 16. AAU Aalborg Universitet, 17. UAc Universidade Dos Acores, 18. NIOZ, 19. WWF Denmark, 20. CEFAS The Secretary of State for Environment, Food and Rural Affairs, 21. IECS International Estuarine & Coastal Specialists Ltd, 22. UoP University of Portsmouth

Principal Investigators 

Project Manager 

Zacharoula Kyriazi

Research Area

Marine, Biodiversity, Conservation,
Introduction
Marine Biodiversity loss is continuing to decline despite current conservation efforts. Reversing the decline in biodiversity requires rapid roll out of effective conservation measures that can also enable a sustainable and resilient blue economy. Social-ecological systems-thinking and Ecosystem-Based Management are globally recognized tools to enable balanced marine development and conservation. Marine SABRES will co-design as Simple Social Ecological Systems approach (the Simple SES) to rapidly enable and upscale EBM across Europe and abroad. Marine SABRES will set European marine management on a course to reverse biodiversity decline, it will conserve and protect biodiversity by integrating sustainable ecosystems and a resilient blue economy; enable managers to make sustainable decisions; empower citizens to engage with marine biodiversity conservation; promote sustainable development and in coastal and marine sectors. Marine SABRES is comprised of an interdisciplinary consortium including world leaders in the field of EBM and Social Ecological System distributed across Europe and focusing demonstration of practical management efforts in three Demonstration Areas (Tuscan Archipelago, the Arctic North-East Atlantic and Macaronesia) before upscaling throughout Europe and beyond.
Work Packages
WP1 – Project Management
WP2 – Effective Multi-Actor Involvement and Co- Creation
WP3 – Co-design the Simple Socio-Ecological System
WP4 – Co-develop, test and demonstrate the Simple Socio-Ecological System
WP5 – Developing Targeted Solutions
WP6 – Co-Produce and Upscale Decision Support System
WP7 – Project Communications, Dissemination, and Impact
Contact