Re-Wind project successfully installs a pedestrian bridge in Cork made from decommissioned wind turbine blades
Repurposing the blades could help solve a major waste challenge
On a former train track bed connecting the towns of Midleton and Youghal in County Cork, Ireland, workers recently excavated the rusted remains of an old railway bridge and installed a pedestrian one in its place. The bridge would have been an unremarkable milestone in the development of a new pedestrian greenway through the Irish countryside, if not for what it's made of: recycled wind turbine blades.
That makes it just the second "blade bridge" in the world. The first, installed last October in a small town in western Poland, officially opened in early January. The engineers and entrepreneurs behind these bridges are hopeful they represent the beginning of a new trend: repurposing old wind turbine blades for infrastructure projects.
Read the full article here.
Re-Wind Network has successfully installed a wind blade pedestrian bridge in Cork, Ireland. It uses two repurposed LM 13.4 wind blades from Nordex N29 turbines originally donated by Everun Ltd. for its main girders and has a span of approximately five meters when measured from the root end.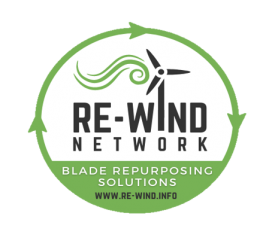 Feature Project
Re-Wind : Reuse and Recycling of Decommissioned Composite Material Wind Turbine Blades
Find out More