Researchers repurpose wind turbine blades as footbridge structure elements
A transatlantic research network is finding ways to repurpose decommissioned wind turbine blades as footbridges.
The Re-Wind Network is a partnership between Georgia Institute of Technology and City University of New York in the United States, Queen's University Belfast in Northern Ireland and University College Cork in the Irish Republic. It is looking at the possibilities for urban structures to be built using end of life blades.
Potential uses include bus shelters, barriers, street furniture and transmission or telecommunications towers. Recently Re-Wind has also focused on using them in footbridges, known as BladeBridges.
Two BladeBridges have been constructed and evaluated. The first is in Cork and was completed in January 2022, funded under the Irish Department of Transport's Project Ireland 2040 initiative.
Prospects for the uptake of BladeBridges look promising and Re-Wind members are looking at different ways to achieve this.
Read more here.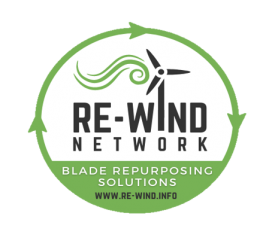 Feature Project
Re-Wind : Reuse and Recycling of Decommissioned Composite Material Wind Turbine Blades
Find out More