New Research paper on alternative energy management strategies and manure management
MaREI Director Jerry Murphy and several other MaREI researchers released a new paper entitled 'Alternative energy management strategies for large industry in non-gas-grid regions using on-farm biomethane'. This publication shows > 17% of biomethane resource is within 15km of industry allowing us to decarbonise the industry while improving manure management.
The agricultural sector in Ireland accounted for 33.9% of the total annual GHG emissions in 2018, with 9.6% of that coming from manure management. Anaerobic digestion (AD) is a sustainable technology, which can not only degrade organic matters, but also reduce GHG emissions from manure management processes and agriculture, help farms comply with the Nitrates Directive, replace fossil-fuel sourced natural gas in energy systems, and improve Ireland's energy security. Ireland's abundance of agricultural resources can be utilised in AD systems to lower GHG emissions in agriculture and contribute to EU renewable energy and emissions targets.
To view the full research paper follow the link.
New @scienceirel @MaREIcentre @eriucc @UCCResearch publication shows > 17% of #biomethane resource is within 15km of industry allowing us to #decarbonise industry while improving #manure management. Funding from @SEAI_ie @GasNetIrl. Full paper here:https://t.co/j3C2ad2xn3 pic.twitter.com/FpkNLTdJuj

— Jerry D Murphy (@JerryDMurphy66) August 23, 2021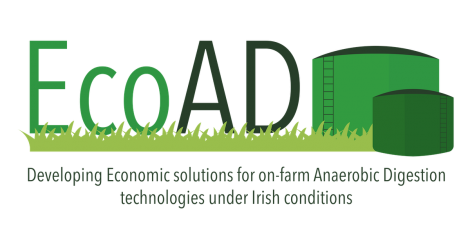 Feature Project
The EcoAD project intends to develop economic solutions for future on-farm anaerobic digestion technologies using typical Irish farm-based feedstock (animal slurries, excess grass silage and straw).
Find out More