What is Horizon Europe?
Horizon Europe (2021-2027) is the 9th European Union Framework Programme for Research and Innovation and is the biggest and most ambitious programme of its kind ever with a budget of over €95 billion. Horizon Europe will be instrumental to delivering Europe's goals under the Green Deal, it will tackle climate change, help to achieve the UN's Sustainable Development Goals and boost the EU's competitiveness and growth.
Horizon Europe facilitates collaboration and strengthens the impact of research and innovation in developing, supporting and implementing key EU policies while tackling global challenges. Horizon Europe will support the development of excellent knowledge and technologies, job creation and deliver R and I that brings about positive societal change and benefits to citizens.The MaREI Centre will lead and partner consortia in Horizon Europe, our goal is to build upon our excellent and impactful work achieved under H2020 (see below) with partners from industry, academia, public bodies and NGOs, and with citizens and communities. At MaREI, our research priorities are strongly aligned with the orientations of Horizon Europe and our track record as a high performing research centre is underpinned by the expertise and experience of our excellent staff, coupled with our world class infrastructure. If you would like to discuss collaboration with the MaREI Centre please contact our EU Grant Manager – Cathal O'Mahony.
MaREI and H2020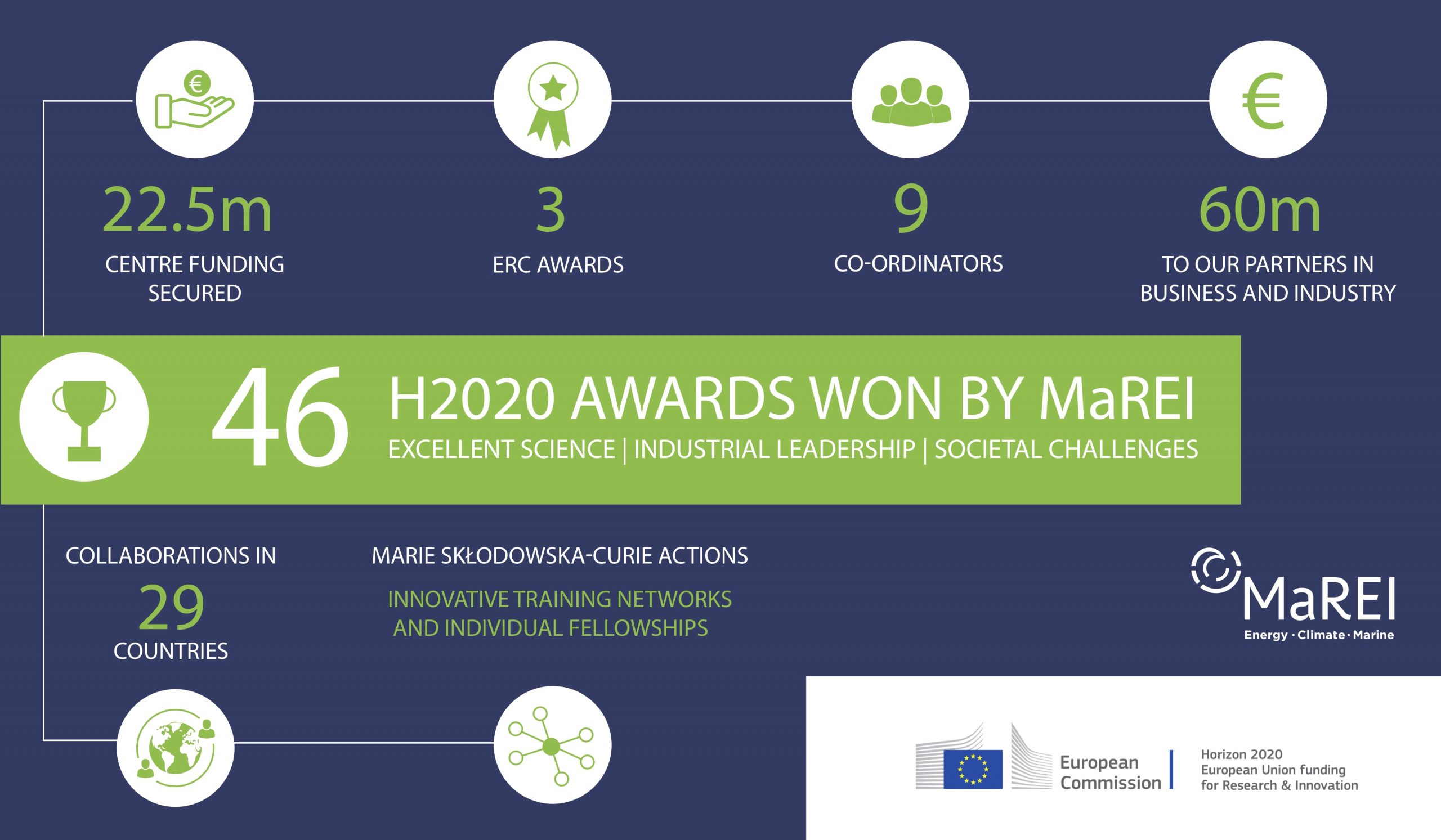 Researchers within the MaREI Centre achieved success within all pillars of H2020, comprising 46 awards in total which included approximately €22.5 Million centre funding secured, 3 ERC awards, 9 Co-Ordinations, and €60 Million to our partners in business and industry
Details of our H2020 projects are shown here – with completed projects shown on the top, and active projects underneath. If you require any information on MaREI activity in H2020 please contact our EU Grant Manager – Cathal O'Mahony ei.ccu@ynohamo.c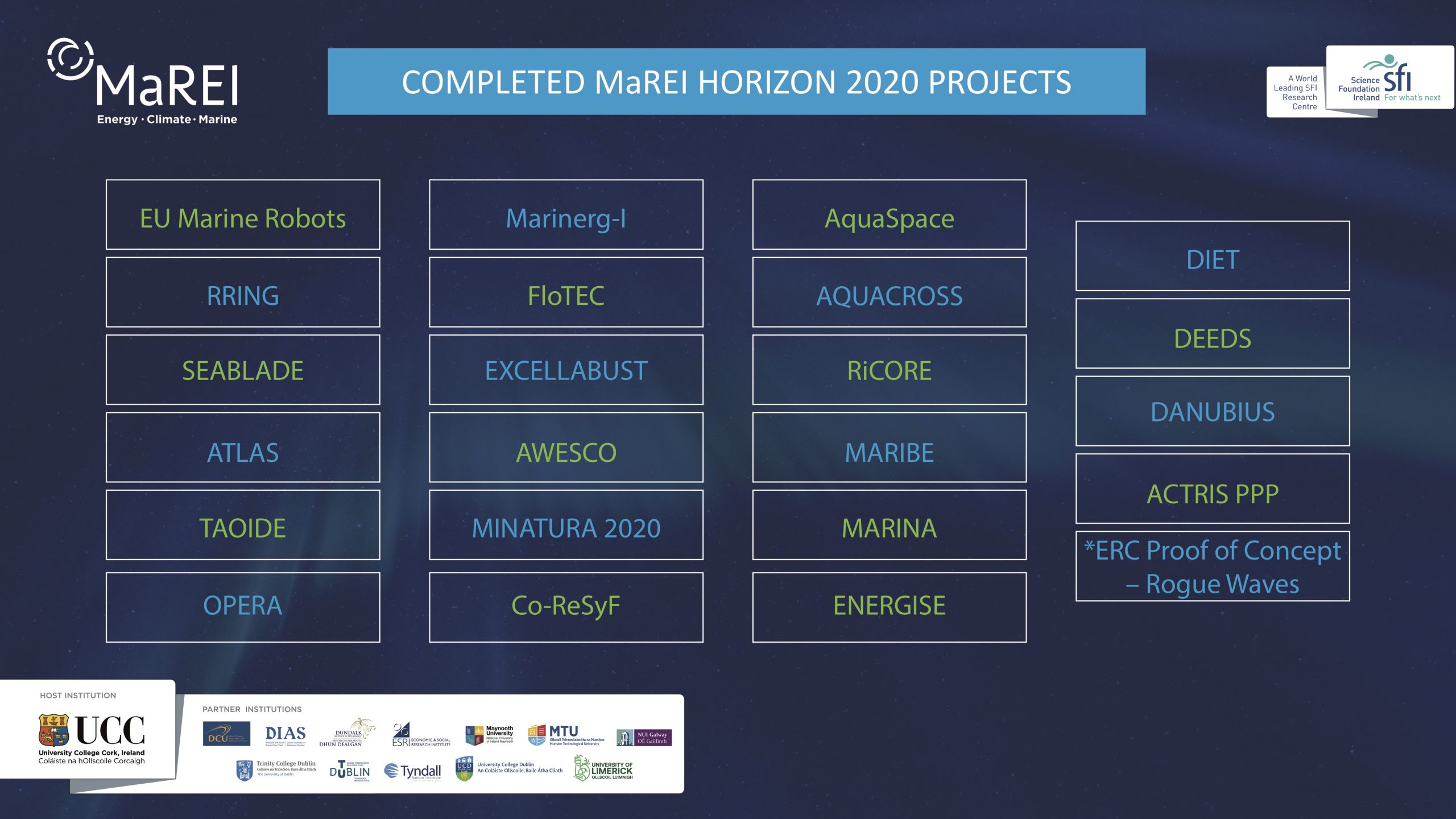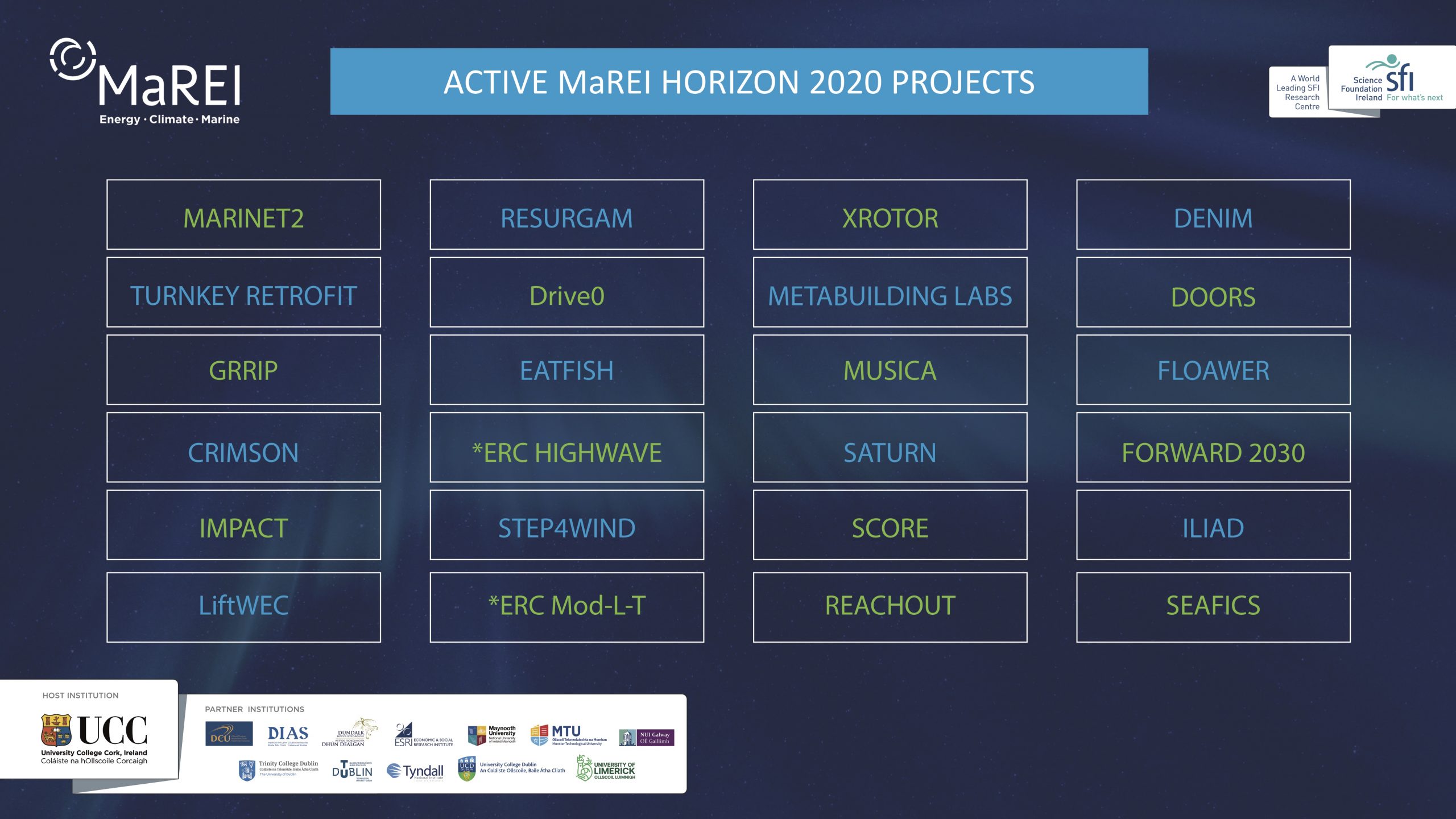 Video highlighting Tidal Energy turbine blade testing in SFI MaREI centre completed in 2020/21 in NUI Galway with funding from Horizon 2020, SEAI and SFI.  A great example of some of the work completed by MaREI researchers underneath H2020