Device Design, Testing & Evaluation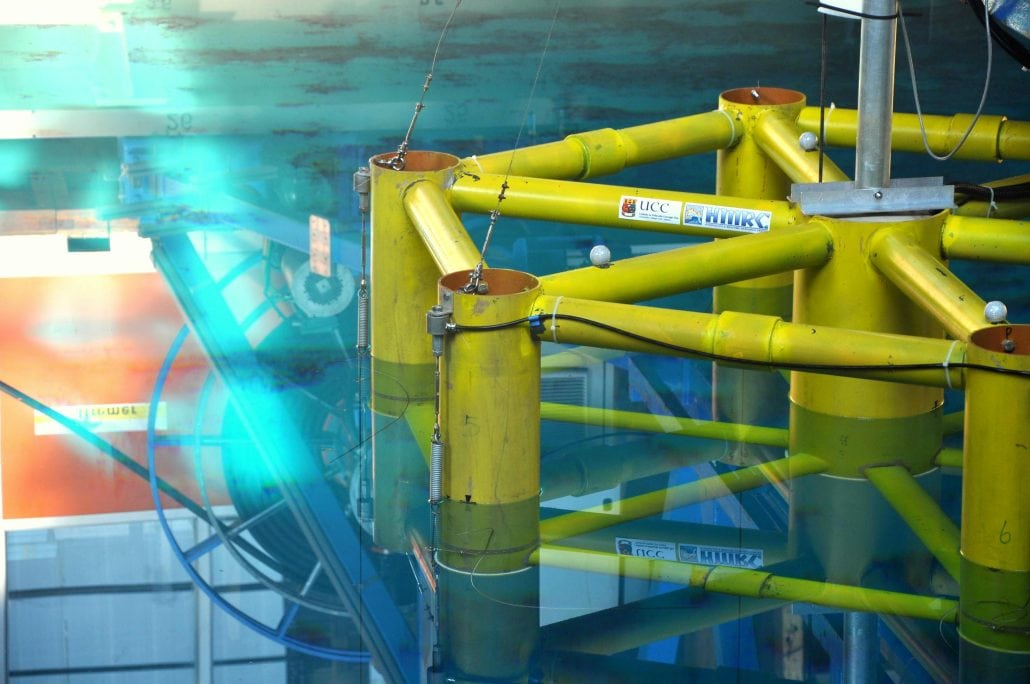 MaREI's 'Device Design, Testing & Evaluation' capabilities focus on the design and optimisation of marine renewable energy devices (including wave, tidal and offshore wind) and marine structures. The 'Device Design, Testing & Evaluation' team work closely with the 'Control Systems', 'Power Take-Off' and 'Modelling and Simulation' teams to provide a holistic and integrated approach to the optimisation and advancement of MRE Technologies. Physical testing of prototype devices is facilitated through infrastructure available at LIR-National Ocean Test Facility, which includes wave tank testing, tidal testing, electrical power take-off and micro-grid simulation capabilities. Custom in-house design and numerical tools are utilised by MaREI researchers to support key design decisions and to progress designs through the 'Technology Readiness Levels' (TRLs) towards commercial readiness.
Research objectives are focussed on maximizing the extraction of energy and optimising the performance of marine renewable energy devices and marine structures, with an associated focus on the reduction of costs to an acceptable level. Design activities consider aspects such as maximum loadings under extreme loading conditions, and include dissipation, diffraction, radiation, large motions and hydro-structure interactions. For more information relating to MaREI's 'Device Design, Testing & Evaluation' capabilities, please contact one of the team members below.
Core Research Areas Include
Formulation of novel marine renewable energy device concepts
Optimisation and development of prototype devices and concepts
Physical testing and validation of prototype devices
Development of software tools to aid design process
Integration of mooring system, power take-off and electrical control design considerations

ONGOING PROJECTS
SFI MaREI Industry Projects with ESBi, GRS Energy, etc.
Read More