Internal MaREI Awards Winners
The MaREI Awards are a unique opportunity to highlight the great work being done by talented individuals in our research community. We celebrated the excellent achievements of our community during 2019 and to date in 2020. The winners were announced during the MaREI Symposium on November 27th.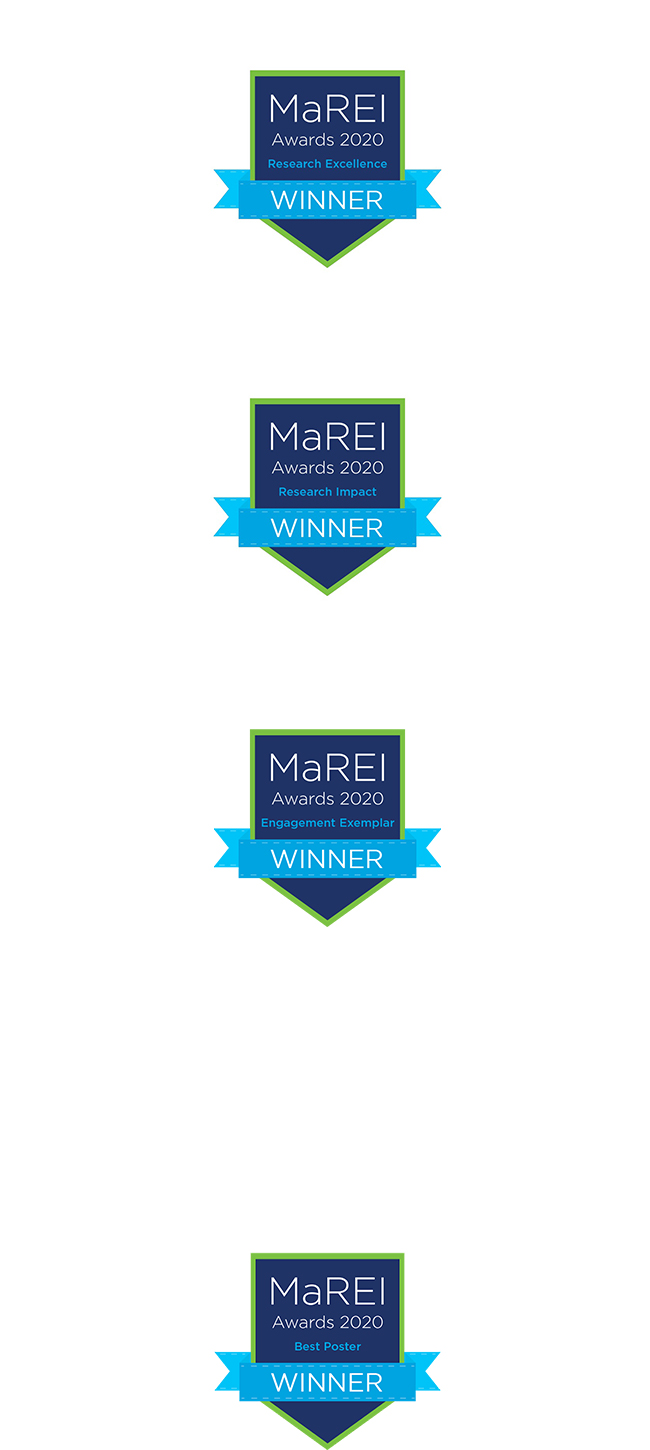 Research Excellence
This award will recognise the accomplishments of a MaREI researcher who has contributed significantly to the advancement of science in the past year. Nominations should be based on a scientific breakthrough and / or an exceptional paper in 2019/2020.
WINNERS – 1st prize: Vikram Pakrashi and Basuraj Bhowmik UCD
2nd prize: Maarten Brinkerink UCC
Research Impact
This award will recognise a researcher who has made, or is making, an outstanding contribution to research impact, in terms of informing policy, supporting industry or empowering society. Research impact can be defined as "the demonstrable contribution that excellent research makes to society and the economy".
WINNERS – 1st prize: William Finnegan NUIG
2nd prize: Laura Mehigan (UCC)
Engagement Exemplar
This award aims to recognise exceptional contributions made by MaREI researchers and/or support staff to civic or stakeholder engagement. It recognises researchers who successfully engage with audiences beyond the scientific community, and do so in effective and novel ways. The focus is on a significant engagement achievement in 2019/2020 that may be categorised in terms of
Excellent Communication: that informs and inspires the public about research.
Meaningful Consultation: for projects that have engaged in two-way dialogue and incorporated public views.
Successful Collaboration: for engaged research projects that have involved collaborating with citizens, communities or the wider public, leading to co-generation of knowledge, solutions and citizen science.
WINNERS – Team prize: Dingle 2030 (UCC)
Best Poster
RA1 – Offshore Renewable Energy – Aldert Otter – Emulating aerodynamic loads on floating wind turbine scale models
RA2 – Materials & Structures – Sumair Imtiaz – Dense Growth of Silicon Nanowires on Stainless-Steel Fiber Cloth for Flexible and High-Performance Lithium-Ion Battery Anodes
RA3 – Observation & Operations – Kirsten Fossum – Paper Highlight – npj Climate and Atmospheric Science: 'Sea-spray regulates sulfate cloud droplet activation over oceans'.
RA4 – Coastal & Marine Systems – Cian Luck – Estimating protected species bycatch from limited observer coverage: A case study of seal bycatch in static net fisheries.
RA5 – Advanced Fuels in the Circular Economy – Aoife Long – Renewable gas pathways in EU Energy and Emissions policy
RA6 – Energy Policy & Modelling – Siddharth Joshi – High-resolution assessment of global rooftop solar PV's technical and economic potential using big data and machine learning
RA7 – Energy Management – Orlaith McGinley – Evaluating existing One-Stop-Shop and deep retrofit services for homes